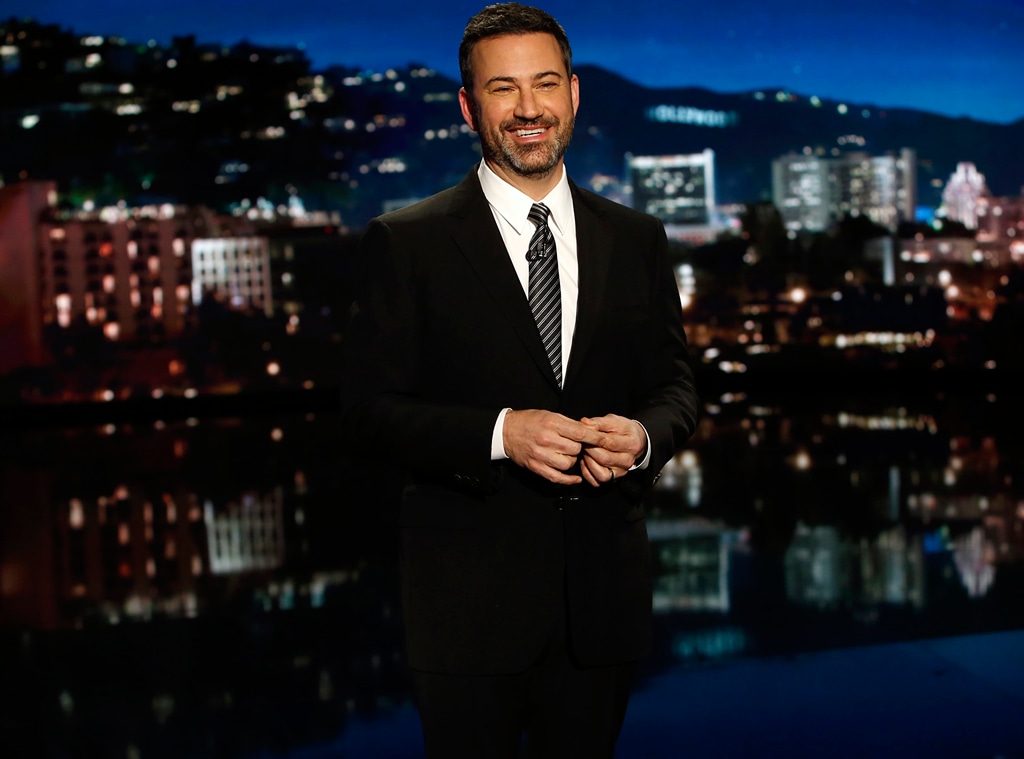 ABC
A lot can change in 15 years.
Babies are suddenly teenagers ready to get behind the wheel of a car. Social media websites can debut, dominate, and then thoroughly disappear. (We're looking at you, Myspace.) And late-night TV hosts can arrive on the scene, written off as aimless and unfunny by critics on first blush, only to mature into cultural powerhouses with an incisive comedic point of view.
On that last front, we're talking about, of course Jimmy Kimmel, whose ABC late-night chatfest-turned-institution is celebrating its 15th anniversary on air. And while Kimmel has become the current late-night landscape's elder statesman and moral conscience, willing to drop the comedic facade and deliver searing monologues on issues that move the man to tears, it wasn't always the case. In fact, when ABC first put him behind the desk, it was hard to see what impact he'd make on form at all.
When ABC launched Jimmy Kimmel Live after the Super Bowl on January 26, 2003, it had been out of the traditional late-night talk show business for quite some time. In fact, it's last stab at the format was way back in the 1980s with an ill-fated revival of The Dick Cavett Show. The network was using Nightline as a bit of counter-programming against the NBC and CBS stalwarts, and was looking for a replacement for Politically Incorrect with Bill Maher after that show's total ratings collapse thanks to some choice comments from its always-controversial host following the horrific events of 9/11. Hungry to get into the game, the network made an all-court press for...David Letterman.
ABC offered the late-night giant, whose contract was nearing expiration at CBS, Nightline's timeslot and, presumably, a truckload of cash. And while he admittedly entertained the idea, he ultimately passed, citing a deep respect for Nightline host Ted Koppel and a reluctance to bump the newsman's show into obscurity. Smarting for Letterman's rebuffing, the network next looked to a rising star out of the Comedy Central ranks. That man? Jon Stewart.
Stewart's contract at The Daily Show was, like Letterman's, near expiration, and he was considering a change of scenery. When Letterman was thought to be decamping for ABC, he was rumored to be CBS' top choice for replacement. When that didn't happen, ABC set their sights on him instead, and he was said to have been remarkably interested in the gig. But for whatever reason, and much to the bafflement of, well, just about everyone, the network decided what they wanted was one of the co-hosts of another, albeit lesser Comedy Central fixture, The Man Show.
And that's how, after a Super Bowl that saw the Tampa Bay Bucaneers spank the Oakland Raiders in sunny San Diego, CA, the network's third choice debuted as late-night's third-rate host. And if that description sounds harsh to you, know that it isn't too far off.
While he was graced with the A-list celebrity as his first guest (George Clooney), as well as a player from the winning team (Bucaneers' defensive tackler Warren Sapp), the show that Kimmel and his team put forth on that first night hardly made the case for its continued existence. While there is very little photographic or video evidence of that first hour available for internet sleuths to find, a lone review from The Hollywood Reporter remains. And boy, it is not kind. It's been reported that Kimmel has a budget for writers, but nothing in the premiere indicated any had been hired," reads one choice line. "Clearly in over his head as an interviewer, Kimmel seemed utterly unprepared to ask anything of any interest," goes another. Ouch.
It's worth nothing that the Jimmy Kimmel Live of 2003 bears little resemblance to what we're used to today. Think about all the things that come to mind when you think of JKL: The Matt Damon "feud," Mean Tweets, the Halloween Candy YouTube challenge, Lie Witness News. We wouldn't bear witness to the first of those for another three years.
Additionally, the show debuted with an interesting conceit that never really took off, which saw Kimmel saddled with a new celebrity co-host each week, perhaps to help lighten the load for the inexperienced host. Week one saw Snoop Dogg in the role, right after swearing off smoking weed and subsequently losing some of his charisma for a hot minute. Not exactly the most fortuitous timing.
Unlike the promises made to Letterman and Stewart to hand over Nightline's timeslot, ABC did not bump Koppel for Kimmel and positioned JKL in the midnight or 12:05 a.m. timeslot. In fact, it wasn't until the show's 10th anniversary that it was promoted to the big leagues to compete against The Tonight Show and The Late Show, if you can believe it.
Even the man himself recognizes that his show is completely unrecognizable from what debuted all those years ago. And he's basing that off of one single viewing of the hour which he endured for the 10th anniversary. "It was among the most painful experiences of my life," he told Adweek late last year, citing his "horrifying" hair and "clownish suits," as well as his "ridiculous" set: "The fact that there were images moving behind me on the stage, I look back now and I go, how was that OK with any of us? It obviously looks terrible. It's distracting. There are so many areas in which we've improved and refined the show."
With that said, Kimmel has admitted that he misses a bit of that slapdash nature those earlier years held. "There was a rough charm to the show that I do miss," he continued. "The show was live and so it was a lot sloppier, and sometimes it was flat out wild. And that was fun. It was stressful, but it was also fun."
But like the comedian at the helm, the show grew up and changed, maturing into its most recent incarnation. Spurred on by life events and the unstoppable cultural progression, Jimmy Kimmel Live has seen itself become appointment television not only for its witty and viral recurring segments, but for its host's unparalleled passionate responses in the face of tragedy, either personal or national. In those lackluster early moments, it was hard to see the path for the guy who also created Crank Yankers to become the man who sheds tears while imploring for common sense gun control or universal health care while routinely beating his competitors in the coveted adults 18-49 demo. Yet here we are, with him locked into his contract at ABC at least through 2020. And considering that year holds in store another—shudder—presidential election, we're already beginning our campaign to keep Kimmel around long enough to get us through it as only he knows how—laughing through the tears.
Jimmy Kimmel Live airs weeknights at 11:35 p.m. on ABC.