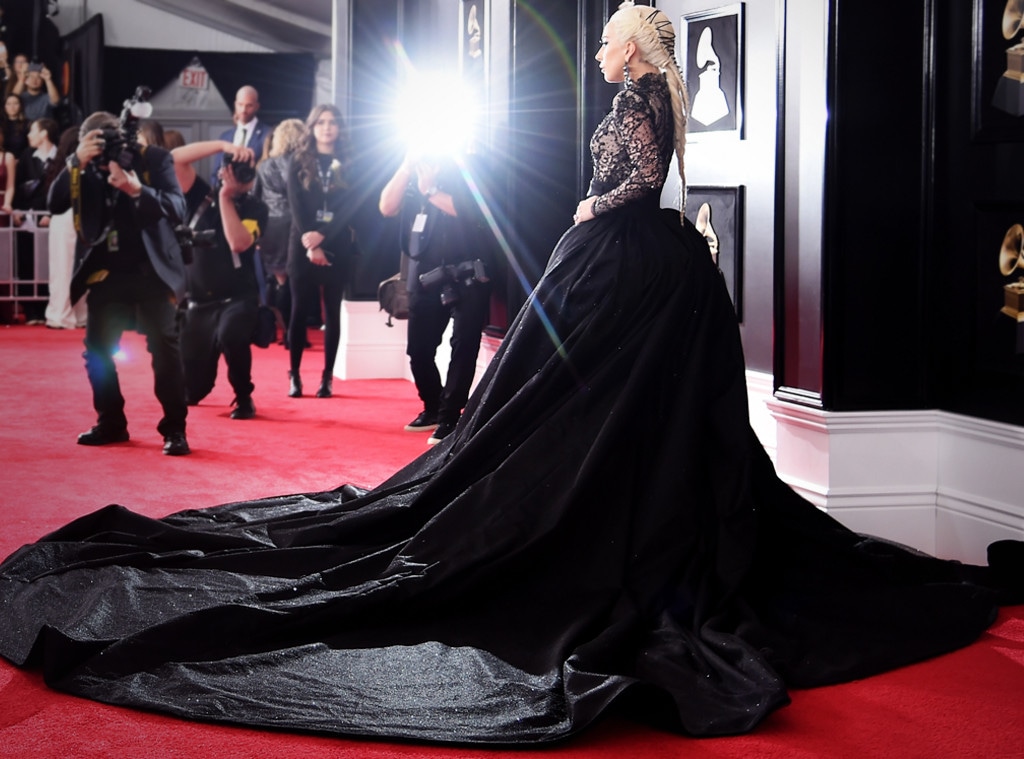 Dimitrios Kambouris/Getty Images
Mother Monster made a stunning appearance at the Grammy Awards 2018.
In a custom Armani Privé gown, Lady Gaga glided onto the carpet with an assistant ready to perfectly lay out the train, so everyone could see the glory of the dress. And then, we basked in it. From the waist up, the dress is sheer with black lace atop a cream undergarment, which paired well with the white roses that are pinned to the shoulders.
These obvious details are enough to make her look a long-lasting red carpet memory. However, as the night went on, new information regarding the "Joanne" singer continued to roll in. There is much more to her Grammys look than meets the eye.
The star brought the shoelace braid trend to the red carpet.
As she turned to walk off the carpet, we noticed that the star's shoelace braids, which we've seen grow in popularity on social media. With bleach blond hair, hairstylist Frederic Aspiras braided into two small cornrows that trail the outer edge of her hair. Then, her hairstylist laced black ribbon in the same fashion that you'd lace your sneakers to create a regal hairstyle fit for Game of Thrones' Daenerys Targaryen and spot on Twitter's trending list.
Dimitrios Kambouris/Getty Images
Kevin Winter/Getty Images
Lady Gaga changed her nail color before her performance of "Joanne."
On the red carpet, the singer revealed black nail polish to match the dark romance of her ensemble. However, during her Grammy performance, we noticed that her nails were pink. Her manicurist Naomi Yasuda told E! News a secret to the beauty change.
"A trick that I use for a lot of my celebrity clients who are wanting two looks in one night is to do a full gel manicure with the lighter color first (RCM Silk Slip) and then paint a polish overtop for the second look," she revealed to us in an email. "When you're ready to go back to the base, you can remove with nail polish remover and it will not ruin the gel manicure underneath."  
First, the nail technician used Red Carpet Manicure LED Gel Polish in Silk Slip to give the star a pink-toned manicure. Then, she painted Red Carpet Manicure Black Stretch Limo Lacquer on top. So when the star got off of the carpet, Naomi simply removed the top coat, revealing the original pink polish—genius.
Her dress is actually a black lace bodysuit and a maxi skirt.
And just when you thought you knew everything about Gaga's look, the star appeared in the audience wearing the black bodysuit from her red carpet look. Then, she added a hat to reassert her signature look.