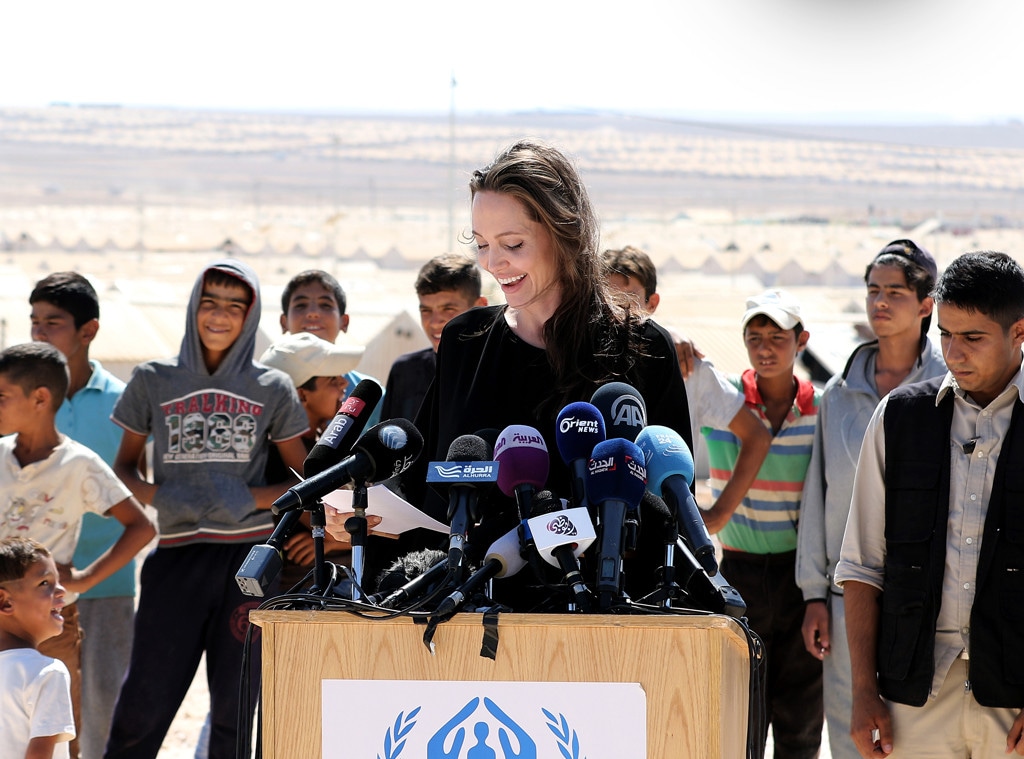 KHALIL MAZRAAWI/AFP/Getty Images
Angelina Jolie shared her love of humanitarian work with her daughters on Sunday.
According to People, the 42-year-old actress traveled to the Za'taari refugee camp with Zahara, 13, and Shiloh, 11. There, the family members visited with people who had fled from the violence of the country's long-running civil war.
During the UNHCR visit, Jolie addressed the crowd and called for a better political solution.
"It is heartbreaking to return to Jordan and witness the levels of hardship and trauma among Syrian refugees as the war enters its eighth year," Jolie said. "We in UNHCR are deeply grateful to the Jordanian people, for their generosity and humanity towards the victims of the conflict."
According to Jolie, Jordan, Lebanon, Turkey and Iraq host about 5.5 million Syrian refugees in total. Jolie referred to these countries as "an example to the world, at a time when solidarity with refugees is in short supply."
The actress also referred to the current situation as a "crisis" and said UNHCR, the UN Refugee Agency, didn't have the funds to fully provide the families in need with basic necessities. In fact, she said the UNHCR response to the crisis was only 50 percent funded last year and that this figure has since dropped to 7 percent.
"After seven years of war, most Syrian refugees have exhausted any savings they had. The vast majority of them already live below the poverty line, on less than three dollars a day. Imagine what that would mean for your family," she said. "Here, it means families going without sufficient food; children unable to get medical treatment; young girls vulnerable to early marriage; and many Syrians facing their seventh winter without proper shelter."
Near the end of her speech, Jolie said, "Humanitarian aid is not a long-term solution." 
"And to be clear, no one wants to get off aid relief more than Syrian families," she said. "For such an educated, capable people, it is soul-destroying to be made this dependent." 
She also encouraged Security Council members to visit the region and to speak with the refugees to find solutions.
Children crowded around the actress as she made her speech.
While this is Jolie's fifth visit to Jordan, this is Shiloh's third visit and Zahara's first, per People.