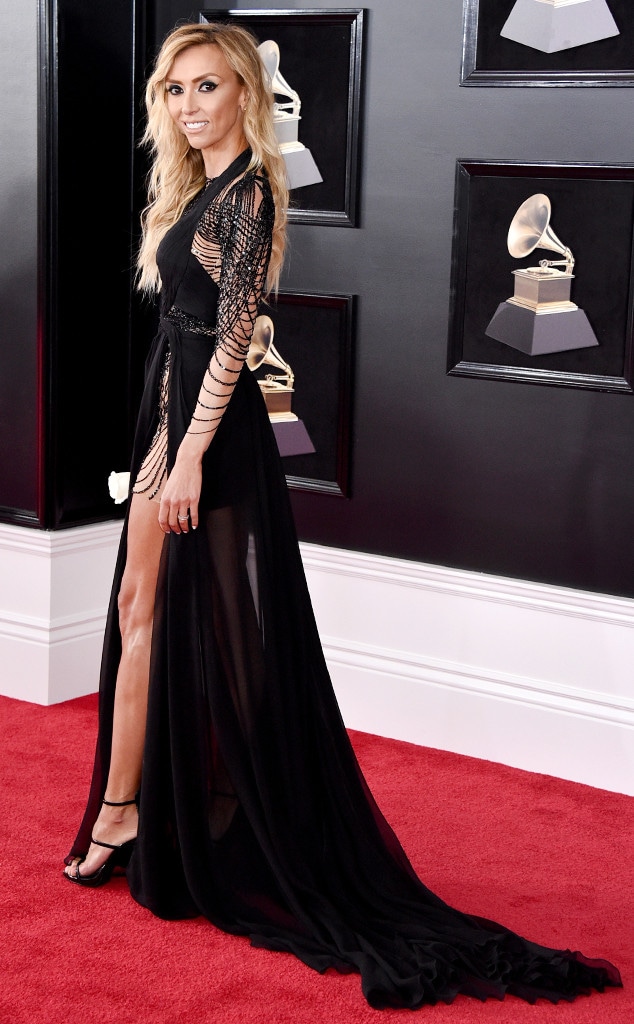 John Shearer/Getty Images
Once again, Giuliana Rancic has set the red carpet fashion standard.
Today, at the Grammy Awards 2018, the E! Live From the Red Carpet host appeared in a black asymmetrical dress, designed by Mikael D. The gown features intricate beading, which is weaved into a sleeve over one arm, strung over her chest, laced through a cutout over her hip and hung down her upper thigh. The black beading functions as both sheer paneling and an artistic twist to give it a stop-and-stare quality—a requirement for the red carpet host.
To pair with her gown, the star wore minimal accessories. Her black Giuseppe Zanotti shoes feature three straps, which complement the cutout design of the dress. And, her diamond ear cuff, courtesy of Hearts on Fire Jewelry, adds a bit of sparkle to her all-black ensemble.
Her makeup is just as attention-grabbing as her dress. As the base, the host opted for silver-toned shadow, which you can see clearly in the inner corners of her eyes. Then, her makeup artist applied a thick layer of black liner to the top and bottom lash line. The intense liner is the focus of her beauty, so the nude lipstick and natural, rose-toned blush are the perfect additions to complete her look.
With a powerful stare and a standout dress, her hairstylist chose to textured waves—an natural, effortless style.
RELATED ARTICLE: Watch Bruno Mars' Style Transform Before Your Eyes