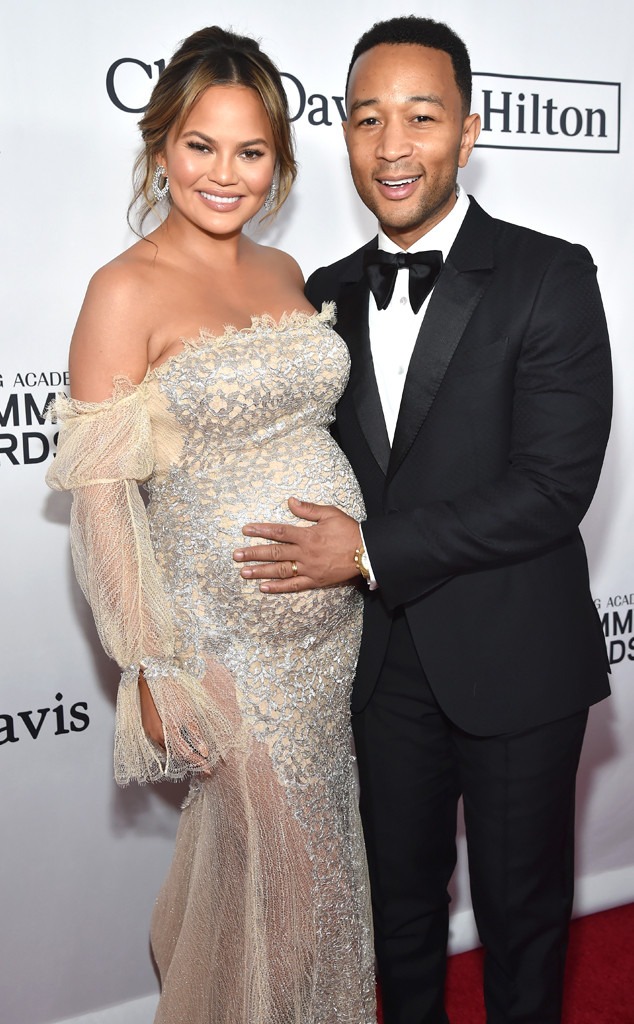 Kevin Mazur/Getty Images for NARAS
John Legend and Chrissy Teigen had a pretty epic date night at Clive Davis' Pre-Grammy on Saturday—and while the pregnant personality and the sultry singer looked good, they also did some good last night too!
On Saturday evening, the pair gave a $200K donation to the Time's Up Legal Defense Fund and if that wasn't a generous enough feat, check this out—the duo wrote that they gave the money, "on behalf of the heroic gymnasts of the USA Gymnastics Team."
Teigen, who is expecting her second child with the "All of Me" crooner, has been an outspoken advocate for the victims of former U.S.A Gymnastics and Michigan State University doctor Larry Nasser, who was sentenced earlier this week to 40 to 175 years in prison for sexually abusing girls under the guise of medical treatment. The former Team USA Gymnastics doctor plead guilty to seven counts of felony first-degree criminal sexual conduct in November 2017.
The sentence was handed down by Judge Rosemarie Aquilina in Ingham County Circuit Court in Lansing, Mich. on Wednesday after a week of emotional testimony from 156 of his victims. 
"It is my honor and privilege to sentence you because, sir, you do not deserve to walk outside of a prison ever again," Judge Aquilina told Nassar. "I've just signed your death warrant." The judge additionally awarded restitution to survivors for an amount to be determined. 
Meanwhile, Teigen has done what she can to help both the Time's Up Movement as well as Nassar's outspoken victims. The Lip Sync Battle host pledged to pay the $100K if gymnast McKayla Maroney, a survivor of the former doctor's abuse, was fined for breaking her NDA by speaking at Nasser's sentencing.
On Jan. 16, Teigen tweeted, "The entire principle of this should be fought - an NDA to stay quiet about this serial monster with over 140 accusers, but I would be absolutely honored to pay this fine for you, McKayla."
Despite the offer, Teigen did not end up paying the fine because USA Gymnastics stood down.
"USA Gymnastics has not sought and will not seek any money from McKayla Maroney for her brave statements made in describing her victimization and abuse by Larry Nassar, nor for any victim impact statements she wants to make to Larry Nassar at this hearing or at any subsequent hearings related to his sentencing," USA Gymnastics said in a statement.
According to Time's Up's GoFundMe Page, Teigen's money will go to providing "subsidized legal support to women and men who have experienced sexual harassment, assault, or abuse in the workplace and while in pursuit of their careers."
The Fund will ultimately be housed at and administrated by the National Women's Law Center, an established, national women's rights legal organization. A network of lawyers and public relations professionals across the country will work with the Center's Legal Network for Gender Equity to provide assistance to those ready to stand up. Access to prompt and comprehensive legal and communications help will mean empowerment for these individuals and long term growth for our culture and communities as a whole.