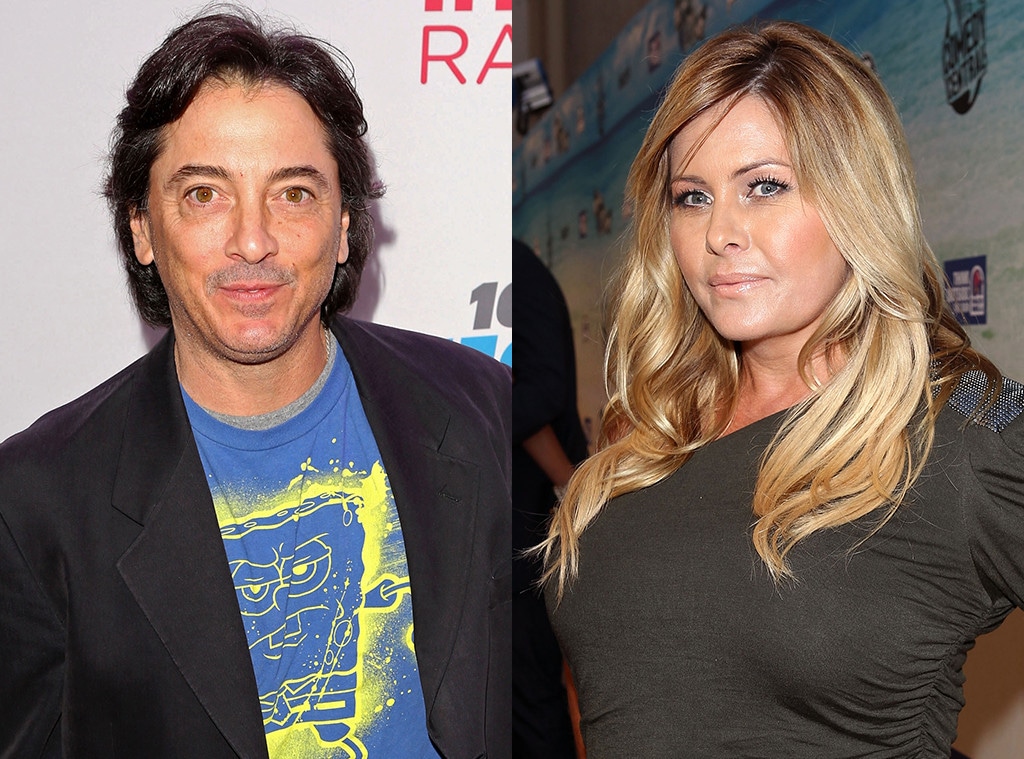 Getty Images
Scott Baio has taken to Facebook Live to address and deny accusations of molestation made by his former Charles in Charge co-star Nicole Eggert.
In a series of tweets, the 46-year-old actress claimed on Saturday that the 57-year-old actor "molested" her repeatedly from the time she was 14 until she was 17.
The tweets began, "Ask @scottbaio what happened in his garage at his house when I was a minor. Creep."
The former Baywatch star also refered to herself as a "molested child" and that the alleged abuse had happened at the ages of 14, 15, 16 and 17.
In reaction to one twitter commenter, she wrote,"What is ur explanation for him fingering me at age 14?" 
Baio's wife, Renee Baio, responded by tweeting Eggert that her husband's legal team had served Eggert with two cease-and-desist letters.
Then Baio tweeted, "I'm about to do a Facebook live to prove her claims are 100% lies! #NicoleEggert."
In a surprising move, Baio and his wife, who could be heard off camera, directly addressed the claims to the camera on Facebook Live.
The actor-turned-reality star said, "I'm here today to talk about some allegations that have been made against me that aren't true by somebody named Nicole Eggert. The reason I'm doing Facebook Live is because nobody can edit me, nobody can change what I said. These are my words. And what I'm telling you is the truth."
He continued, "I'm going to knock down all these false claims against me. My reputation is being damaged. My family is being put through this and I'm done. I'm done. So, I'm going to walk you through this methodically and hopefully succinctly and please be patient because what I'm being accused of is horrible. I'm being accused of inappropriately touching her when she was a minor, and having sex with her when she was a minor...."
He denies the claims but says that once Eggert was 18 they had a consensual sexual relationship instigated by her and that she "seduced" him.
"Now, any normal, heterosexual, red-blooded, American guy... the outcome would have been the same, the same thing would have happened. She seduced me. She came in the house and started kissing me."
Baio also claims that Eggert was recently scheduled to go on Dr. Oz and that a producer from the show had contacted him about her claims. The actor says his legal team sent the show a "persuasive" letter and her upcoming appearance was cancelled.
In the Facebook Live video, the Joanie Loves Chachi actor also said that until a few years ago that she'd been good friends with him and his wife. In the live video, Baio also that in 2012, Eggert began making the claims that he'd had sex with her when she was a minor.
Baio ended his video by saying, "I don't know what else to put out there. She's my best friend in the world, then all of a sudden I'm the bogeyman. The problem with almost all he said/she said cases is they're he said/she said. Now, go prove it or disprove it...the real problem with this is people with legitimate claims aren't taken seriously, and that's too bad."
Then, on Sunday, Baio responded to the allegations again on Facebook. 
"Nicole Eggert has been claiming I had sex with her before she was 18 at least since 2013," he wrote. "She is provably wrong, and because we have been telling her that since last year without results, our only conclusion is that she is deliberately lying." 
To prove his point, Baio shared a letter he claims his lawyers sent to The Dr. Oz Show on Jan. 17 after they learned Eggert was scheduled to appear on the show to discuss the allegations. The letter describes the accusations as "totally and completely false" and cites press interviews in which the attorneys say Eggert "contradicted" her recent claims.
"This letter was sent to the Dr. Oz show when she attempted to pitch her story to them. After they reviewed this evidence of her deceit, which is not only in her own words, but actually in her own voice, they cancelled the planned show." Baio wrote. "Other media has since done the same."
Baio claimed his letter "proves beyond doubt that she initiated our one and only sexual contact and that it was well after she turned 18." 
"When Nicole started tweeting about this again late last year, shortly after the major stories broke about sexual harassment in entertainment, my attorneys sent her and Alex Polinsky a letter advising and requesting that they take their allegations to law enforcement for a full investigation. They have refused to do so," he wrote.
He then added, "Only after Nicole Eggert was proven to be dishonest in her 'sex at 17' allegations did she create a new story about sexual contact at an even younger age. For the record, they are false too. But more tellingly, given her years long history of making claims of underage sex, why has she never mentioned this until her primary claim was proven wrong? Why is she unwilling to go to law enforcement with her claims? Is it not clear that this new story is just another false claim to distract you from her earlier lies?"
E! News has reached out to Eggert for comment.