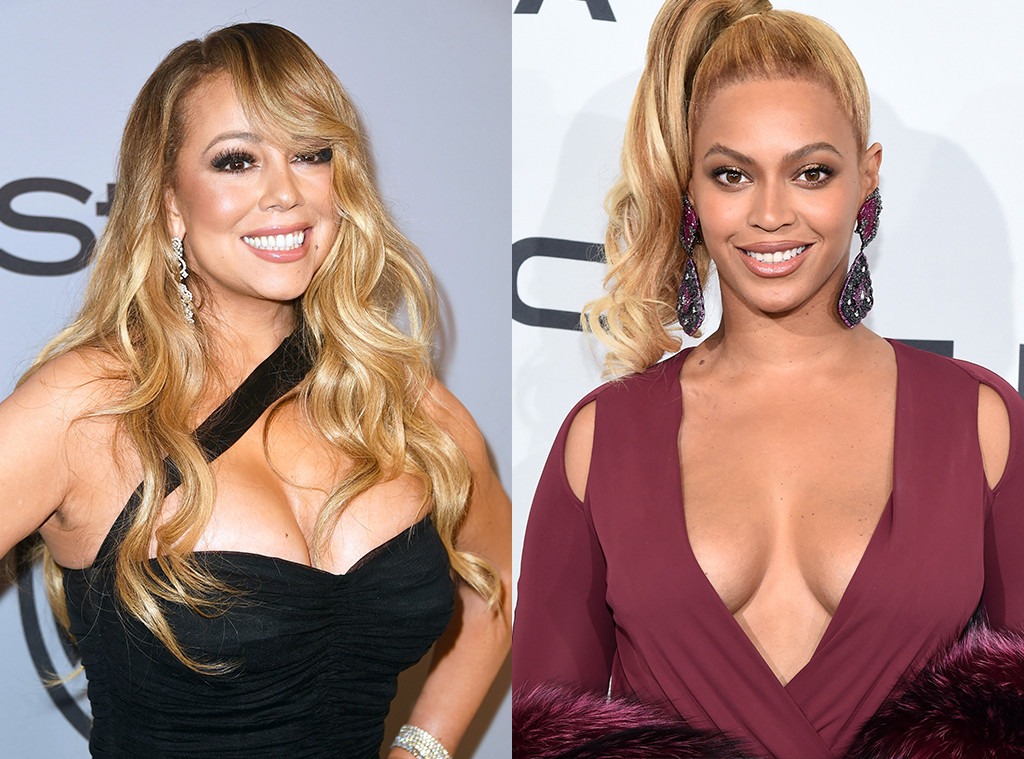 Getty Images
It was another double diva kind of night for Beyoncé and Mariah Carey!
The two music icons reunited at Roc Nation's festive pre-2018 Grammy Awards brunch at the One World Observatory at the Top of One World Trade Center in New York City. They greeted each other with a hug and a kiss on the cheek and were later seen chatting. And they matched; Both singers wore ponytails.
Jay-Z, founder of the Roc Nation entertainment company, arrived at the event before Bey. Mariah chatted with him as well.
Bey and Jay also enjoyed some moments alone while holding hands, kissing and enjoying the view of the city, E! News has learned.
Watch:
James Corden Excited and Nervous to Host Grammys Again
Beyoncé and Mariah were last photographed together in early 2016 at the Heartview Global Foundation gala in Los Angeles and had been spotted together a few times in years past.
Other guests at the Roc Nation brunch included Fifth Harmony's Normani Kordei, who was also spotted chatting with Beyoncé, DJ Khaled, Big Sean, La La Anthony, Sean "Diddy" Combs and girlfriend Cassie, Susan Sarandon, Remy Ma, Brooklyn Beckham, Jaden Smith, Thomas Rhett and wife Lauren Atkins, T.I, and Nick Jonas and Iggy Azalea—who had hung out at a pre-Grammys party on Friday. The two also had a late dinner with his brothers.
At the Roc Nation brunch, Iggy and Nick were seen talking. The rapper was spotted chatting with Diddy in the VIP area and also hung out with New England Patriots owner Robert Kraft. Jay-Z was also seen walking around, smiling and greeting other people with hugs. Guests were served Jay-Z's D'USSÉ Cognac. 
The 2018 Grammy Awards will air live from Madison Square Garden in New York City on CBS on Sunday, January 28 at 7:30 p.m. ET / 4:30 p.m. PT. James Corden is the host.