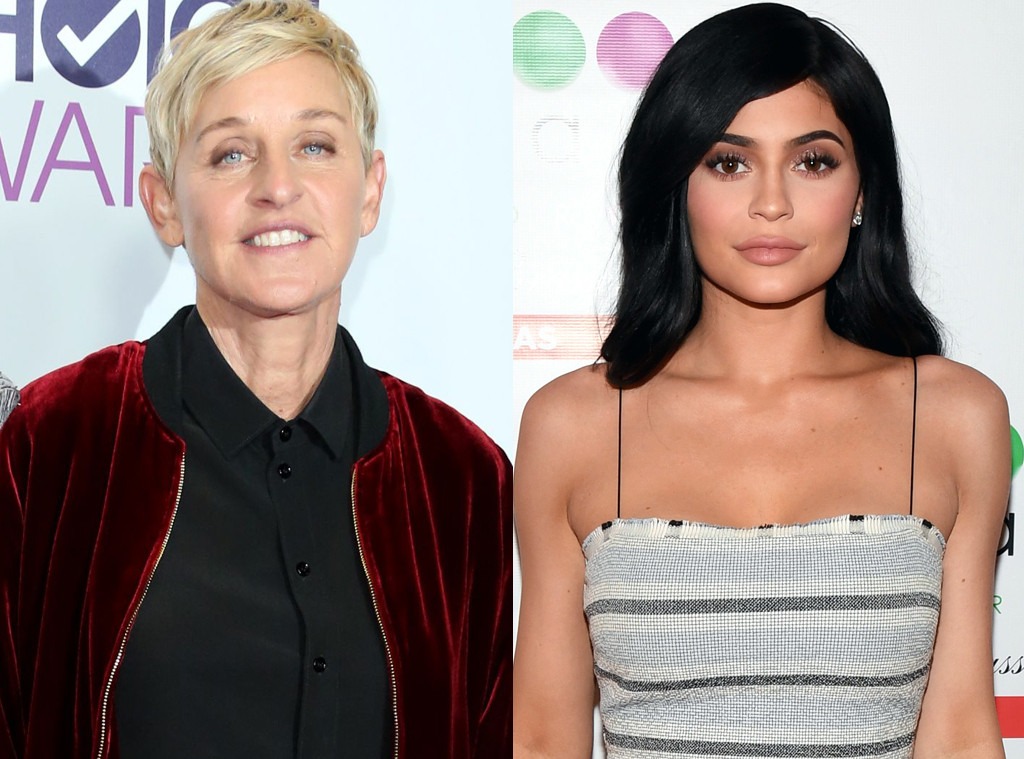 Matt Baron/REX/Shutterstock; Ethan Miller/Getty Images
It seems as though Ellen DeGeneres won't rest until she gets to the bottom of this pop culture conundrum.
As Kylie Jenner and Travis Scott continue to remain quiet on confirming any and all pregnancy speculation, one familiar face is determined to find out the truth once and for all.
Beginning last fall, Ellen has been a voice for the people and tried her best to solve the mystery surviving Kylie's (possibly) expanding family.
It all began on Halloween when The Ellen DeGeneres Show host dressed up as "lesser-known Kardashian sister" Karla Kardashian on her talk show.
"I've got a new baby bump under my lady lumps," Karla, or rather Ellen, told the audience. "You know what that means: Either I'm pregnant or I put my butt pad on backwards."
Kourtney Kardashian and Kendall Jenner later arrived on stage to set the record straight and say they aren't pregnant. As for the other sisters, that investigation was just beginning.
When Kris Jenner appeared on the show less than a week later, Ellen reminded the self-proclaimed momager that she has "lots of pregnant children right now."
"Oh, I can feel where this is going," Kris shared. "She's trying to trick me into confirming pregnancies."
And when the discussion of season 15 of Keeping Up With the Kardashians came up, Ellen joked that this will be the season when "they announce who's pregnant—who's really pregnant." Kris, however, remained coy.
As 2018 kicked off, Ellen wasn't giving up. In fact, she was more determined than ever to get answers when Khloe Kardashian stopped by to promote her new season of Revenge Body.
In a game titled "Burning Questions: Pregnancy Brain Edition," Khloe continued to maintain her poker face as the host tried to coax her yet again to confirm rumors that Kylie is also expecting.
"So your sisters have played—Kim has played, Kendall has played and Kourtney has played, and the pregnant sister, Kylie, has not," Ellen said, drawing a smirk from Khloe. "But when she's here, she's gonna play."
"You're cute," Khloe added.
Questions about cravings and Christmas card appearances—or lack thereof—followed before Ellen made up her mind.
"She must be pregnant. There's too much secrecy around it," Ellen argued. "Look at your eyes! Y'all, she's pregnant! I can tell by her eyes! I will make a bet right now that she is pregnant."
And we bet if anyone can solve the mystery, it may just be Ellen. Keep on keeping up, girl!
Keeping Up With the Kardashians returns this September, only on E!