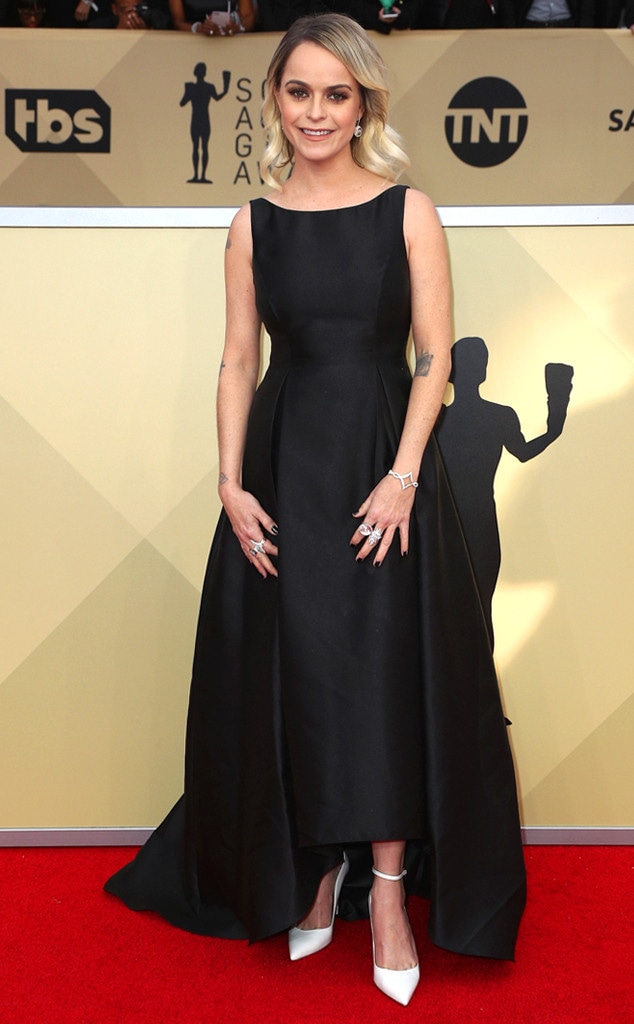 Frederick M. Brown/Getty Images
Usually Taryn Manning's public outbursts are reserved for her scenes as Tiffany "Pennsatucky" Doggett in Orange is The New Black.
But at LAX on Wednesday, TMZ approached Manning about the $200 dress she wore to the 2018 SAG Awards last Sunday. The actress told the reporter to "shut up" after he complimented her, adding, "It's whack that the stylist didn't tell me [the price of the dress.]" 
Despite expressing her appreciation for the gown's affordability, Taryn said, "I want to be in a superstar gown... The designer got a lot of press; she should pay me a lot of money."
In the aftermath of her comment, Manning sought forgiveness via Instagram last night.
"I first want to say I'm sorry for the comments I made while being bombarded by paparazzi about my stylist and my dress," she wrote. "Let's be clear, I loved my @adriannapapell dress and I'm friends with my stylist @chaunielle_brown. I felt so beautiful and I was proud to be there to support my amazing cast of strong women and celebrate our nomination."
Taryn said she felt "used" as a result, continuing, "But styling should be a collaboration between the artist, stylist and the designer. I was completely caught off guard when all of the press about my dress was about the cost, which I knew nothing about, and I felt used for someone else's gain."
Her apology concluded, "There was nothing out there about why I was there in the first place. I would have loved to embrace that my dress was affordable at SAG, especially since so much about fashion is unattainable, but I wasn't given that chance. Every artist dreams of wearing couture on a red carpet if given the opportunity. But I am happy to be the proof that there is more to feeling confident, beautiful and happy on the inside than just a price tag #love"
Manning has certainly had a wild ride since last weekends awards. Let's just hope Taryn gets the full superstar treatment for her next red carpet.