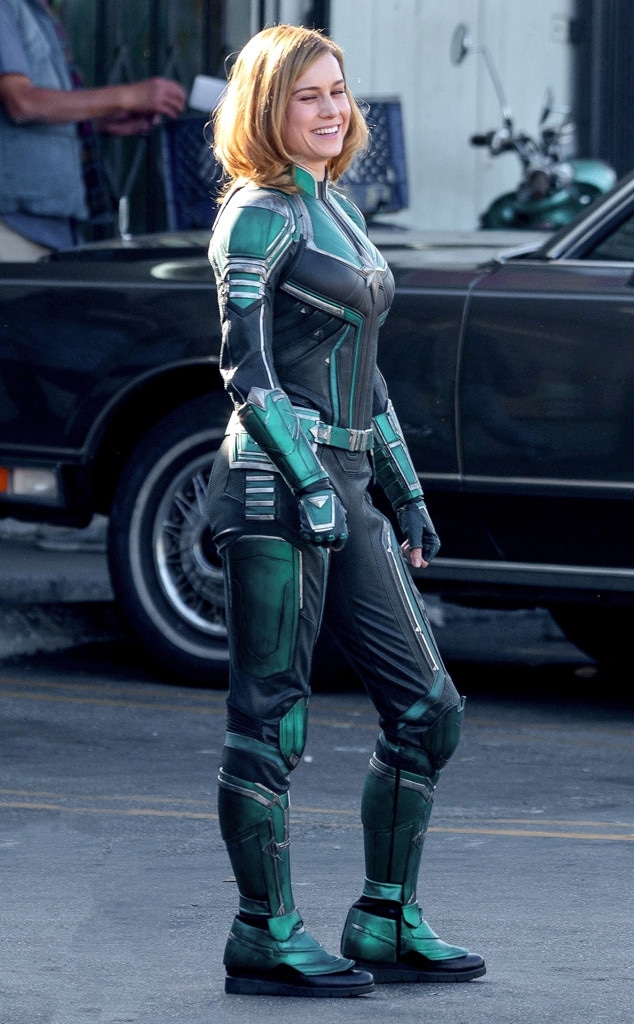 BACKGRID
Marvel fans got their first look at Brie Larson in costume as Captain Marvel when she was photographed on set in Atlanta Wednesday. But, those who had been expecting to see her in the character's blue and red suit were disappointed to see she was outfitted in black and green.
In the 1990s-set Captain Marvel, Larson takes flight as Air Force pilot Carol Danvers. She gains her superpowers after an explosion, which fuses her DNA with an alien's. The Kree's Mar-Vell (Jude Law), the original Captain Marvel in the comics, initially wore a black and green costume, leading some fans to wonder if her modern blue and red look will appear later on in the movie—i.e. this costume could be a flashback to Carol's high-tech, militaristic Kree race origins. Walt Disney Studios, which is distributing the film, declined to comment on the paparazzi shots.
Carol Danvers first appeared in the 1977 comic Ms. Marvel #1; it wasn't until 2012 that she renamed herself Captain Marvel to continue the legacy of the late, original holder, Mar-Vell. Over the years, Kamala Khan, Karla Sofen and Sharon Ventura have used the Ms. Marvel name.
Captain Marvel—co-directed by Anna Boden and Ryan Fleck, produced by Kevin Feige and co-written by Meg LeFauve and Nicole Perlman—is scheduled debut March 8, 2019 nationwide. The buzzy blockbuster—Marvel Studios' first to feature a female lead—stars Samuel L. Jackson as Nick Fury, and Ben Mendelsohn and DeWanda Wise have also been cast in top-secret roles.
Before Captain Marvel hits theaters, the Marvel Cinematic Universe will release Black Panther (Feb. 16, 2018), Avengers: Infinity War (May 4, 2018) and Ant-Man and the Wasp (July 6, 2018).