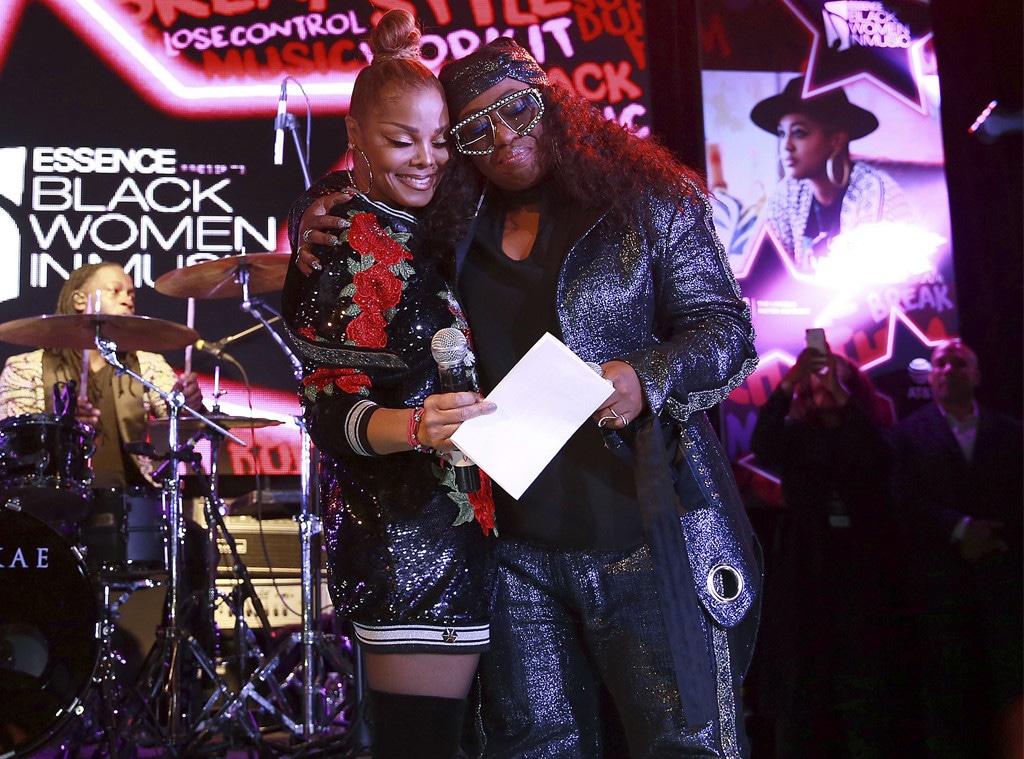 9335415e
In a surprise appearance, Janet Jackson sang Missy Elliott's praises at Essence's 9th Annual Black Women in Music event, hosted at the Highline Ballroom in New York City Thursday night.
Jackson was one of many artists who paid tribute to the multitalented musician. "Some act, some choreograph, some write hit songs, some create whole new sounds, some women are able to make their mark in one of these fields, but there's only one woman who has made her mark in all these fields," she said. "Not only have you made your mark, but she's done so with boldness and courage." Celebrating Elliott's contributions to the entertainment industry—which span four decades—Jackson continued, "Creativity is a beautiful thing, and when creativity flows so freely from a musical genius, all we can do is express gratitude. I am so grateful for Missy's beautiful soul. I am grateful for her creativity, her energy, grateful for her soaring inspiration. I'm grateful for how she stood toe-to-toe with the guys, showing them that a woman can do it all, take charge, lead the way, innovate and create without fear. Grateful for how she's cleared the way, the path, for new generations of young talent to follow." Jackson added that she appreciates Elliott's loyalty, as "it means more to me than she could ever know."
Bennett Raglin/Getty Images for Essence
Bennett Raglin/Getty Images for Essence
The "Rhythm Nation" singer then presented Elliott with the magazine's "Visionary" award.
Elliott, who has teamed up with Jackson on songs like "Burnitup!" and "Son of a Gun," cried during the tribute. "That was a surprise," she said. "I've known Janet over a decade—and this is not just someone I do music with. I can call Janet any time of night and she will listen," Elliott said. "The times that I may have felt like giving up, she's always given me an encouraging word."
After giving Jackson a hug, Elliott took a moment to share some inspirational words with the audience. "I wouldn't want to be any other color but black. I'm black and I'm proud. There's something about our DNA that can't be taught. It comes from a different place," the "Get Ur Freak On" rapper explained, adding, "I want y'all, all of you women in here, to know that you're beautiful. You've gotta believe in yourself, because there are going to be times that people tell you [that] you can't do it or you don't look the part. But I'm a walking testimony [that you can]."
In closing, she reiterated how much she valued her award. "Essence magazine has over the decades shown me what strong power black women look like," Elliott said. "I appreciate that."