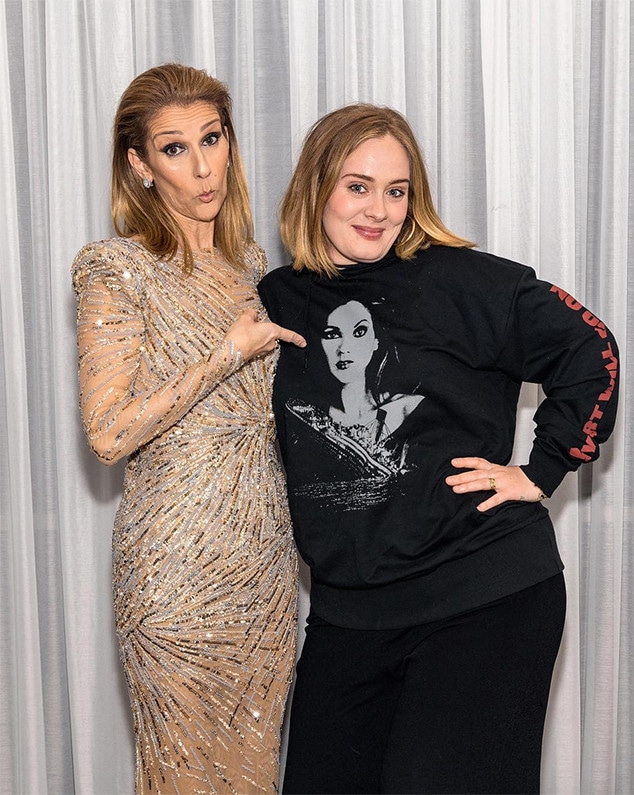 Instagram
Céline Dion may as well have dedicated "Because You Loved Me" to Adele.
In recent weeks, "on doctor's orders," the seven-time Grammy was forced to cancel seven concerts—on Jan. 6, Jan. 9, Jan. 13, Jan. 16, Jan. 17, Jan. 19 and Jan. 20—at The Colosseum at Caesars Palace in Las Vegas. Last week, via Facebook, Dion's team explained that she had been suffering from "congestion and irritation of the vocal chords due to a lingering cold, and her physician has instructed her to rest until these symptoms clear up completely." Dion's team added that she is expected to resume performances at The Colosseum as scheduled March 27.
Adele managed to catch the singer's Jan. 12 show—one of four Dion was able honor this month. "Queen Celine! What a show, an absolute highlight of my life, thank you so much for the attention to your crowd and insane humor," she said on Instagram. "Happy new year lady."
Adele wore the singer's "Titanic hoodie," which retails for $114.95, to the concert.
Early Friday morning, Dion shared an Instagram picture from her pre-show meet-and greet-with Adele. "I had a pretty rough time during the last couple of weeks...a lot of people have been hit with cold and flu bugs...but I'm doing much better now. Wasn't able to do all my shows, but was thrilled that Adele came to one of them...." Dion told her followers. "I love her so much!!"
Dion credited Cashman with taking the photo.
AEG Presents, AXS, Caesars Palace, The Colosseum and Dion profusely apologized for the canceled concerts and offered fans refunds. In a Facebook message, they denied responsibility for expenses related to the cancellation of any of Dion's performances, such as hotel and travel.
Dion is "truly sorry" for canceling so many shows. "I know that I'm disappointing you, the people who support me the most," she said on Twitter Jan. 13, "and it hurts me beyond words."