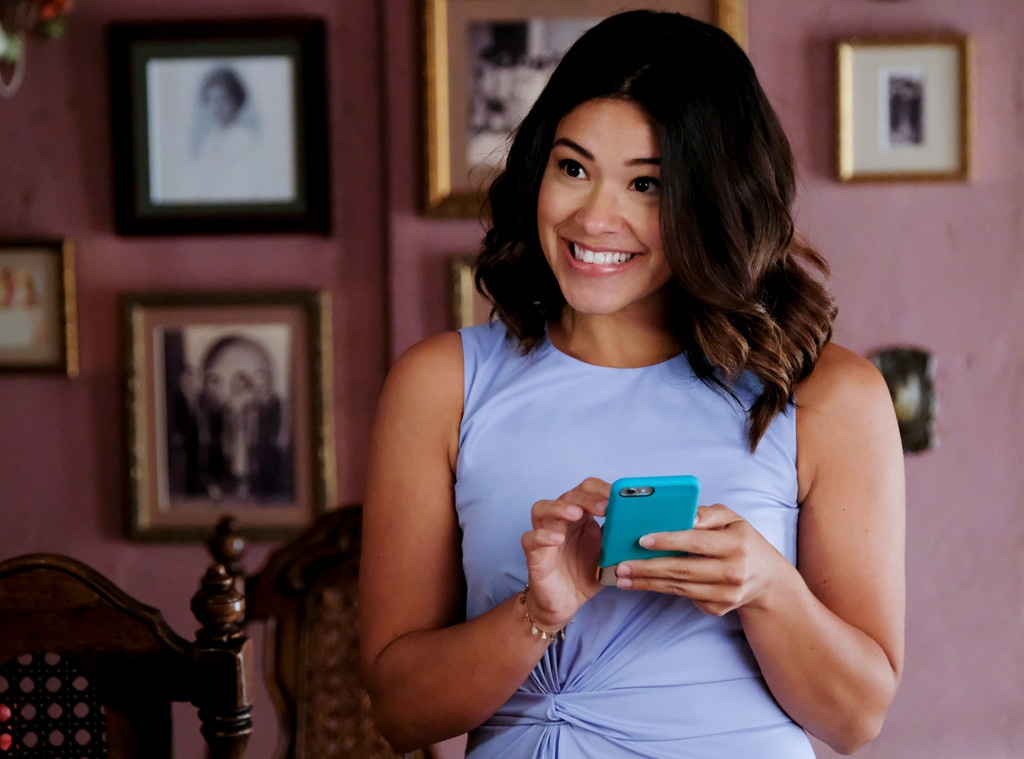 Scott Everett White/The CW
Is your hair selfie-ready?
Shine, bounce, longevity through your Instagram-documented day—getting your hair ready for the camera is more than a notion. And, while Snapchat can fix your makeup, there aren't any filters that will correct your hair. 
Cue Jane, the Virgin's Department Head of Hair, Michelle Rene Elam, who is responsible for Gina Rodriguez's healthy tresses on set. 
"There are many steps we do to prepare the actor's hair for a long day under camera lights that are very different from day-to-day styles," the beauty pro told E! News. "Styles often have to remain exactly the same for many hours. They need to be full of life, frizz-free and hold no matter the weather or demand of the scene."
While it can take hours to complete one scene, the hair has to look the same in every take—a large ask for a complicated style. This is why many of Jane's best looks focus on shine and bounce, rather than intricate styling.
"We achieve [longevity] by layering products to seal in the style, as well as using anti-humidity products," she shared. "We also create a shape that will endure the continuity it needs, so we are not fighting the look all day. Sometimes a simple tendril just won't stay where it is supposed to, and ends up right in their lip stick."
The first layer, which is applied before adding heat to cast members' hair, is a protectant, specifically the White Sands Liquid Texture Spray with a medium or firm hold.
Why texture spray? "If we don't protect the hair then the styles don't shine, move, and flow as they should," she continued. "[The texture spray] doesn't build up or weigh down the hair, therefore we can use as much as needed to create a barrier from the heat on the fresh hair being designed," she stated.
From there the stylist uses a combination of Oribe Royal Blowout, Marula Rare Oil Dry Mist, White Sands Spray Leave-in Conditioner, Paul Mitchel Styling Treatment Oil, Aquage Shine Spray and Bio Silk Therapy Thermal Shield Protection Spray to properly condition and hydrate hair for the cameras.
Watch:
How to Use Dry Shampoo Like a Celeb
"We often layer 2-3 products to get the right protection/shine, focusing on the ends for the older hair and also considering the roots for the newer growth," she said as a recommendation to get hair camera-ready, as well as combat damage.
According to this pro, when it comes to capturing the beauty of your hair, one product just isn't enough.