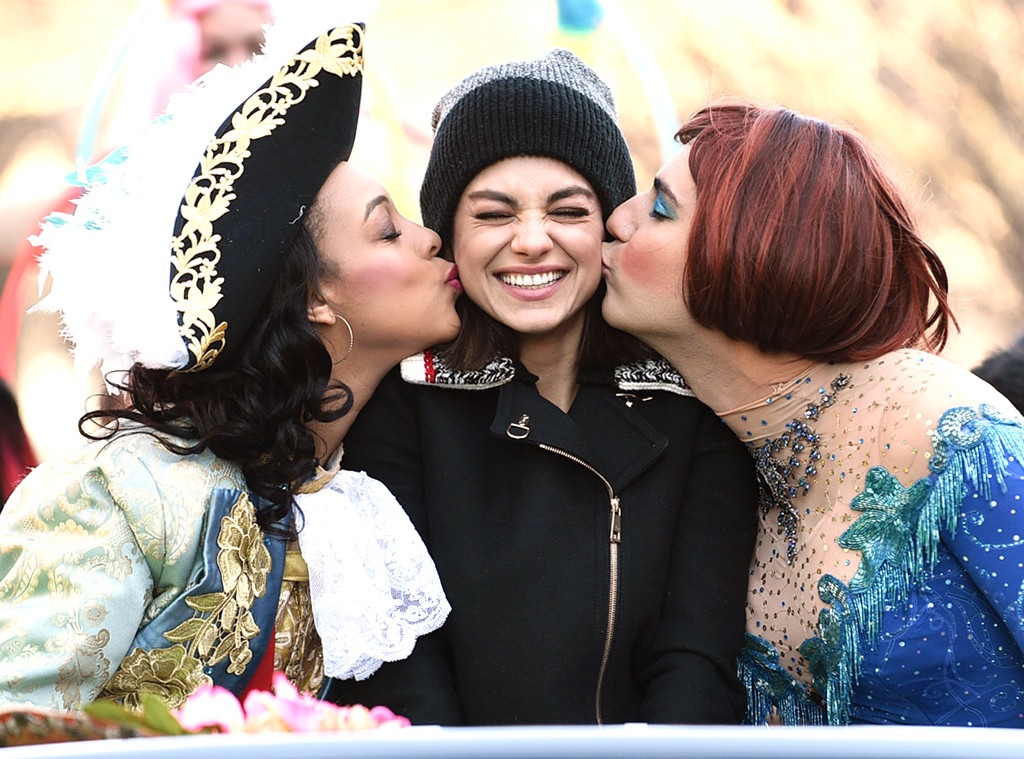 Bill Davila/startraksphoto.com
UPDATE: Harvard University's Hasty Pudding Theatricals group has announced a new policy regarding cast members following a backlash, while Mila Kunis accepted their Woman of the Year award and helped clarify their decision.
__________________
Mila Kunis arrived in freezing Cambridge, Massachusetts on Thursday to accept the annual Woman of the Year award from Harvard University's Hasty Pudding Theatricals group and helped them make a surprising announcement over its longstanding tradition of banning women from performing in its shows, following a backlash.
Many people had hoped the actress would refuse the award and boycott the events, or at least speak up against the group's decades-long policy of excluding female collegiate performers. Hasty Pudding Theatricals, the oldest theatrical organization in the United States, instead has male actors perform in drag.
A couple of hours after Kunis arrived, Hasty Pudding Theatricals President Amira T. Weeks announced that the group will accept women at its next round of auditions, breaking with more than 200 years of tradition, the Harvard Crimson reported.
At a Q&A event, Kunis told students and press, "To clarify, not just audition—will be accepted into."
She confirmed the group is committed to casting women. When asked how she feels about it, Kunis said, "I'm here. I wouldn't be here otherwise."
"It wasn't a stipulation. It was just something that to me, was very important," the actress said. "And I think that, to clarify, this is something that this program has always wanted to do. It has nothing to do with me or today. It simply is something that was going to happen inevitably."
"If you're going to ask somebody to not show up, it's a pretty weak stance to take," she said, adding, "Most of Hasty Pudding is women. They are just simply not onstage."
About 20 women had auditioned for this year's Hasty Pudding show in protest. Women on campus had sought to audition for the group for the past three years  but none had ever received a callback, the Harvard Crimson said.
Kunis was the guest of honor at a parade earlier in the day. She was all smiles as she rode in a Bentley convertible in Harvard Square, escorted by police. She received kisses from Hasty Pudding Theatricals' president and cast vice president.
Fans gathered around and scrambled to take photos and videos.
"Oh my gosh, Mila Kunis!" a woman shouted.
The crowd also yelled in unison, "Mila! Mila! Mila!"
Near the parade route, a small group of women protested the Hasty Pudding event, holding signs that read slogans such as "Take your misogyny and shove it up your farkass" and "The patriarchy is a drag."
Jessica Rinaldi/The Boston Globe via Getty Images
Hasty Pudding Theatricals has invited the public to express their thoughts about its longstanding casting tradition.
Its website had stated, "For decades, women have held critical positions within the Hasty Pudding Theatricals as presidents, producers, writers, composers, and executive advisors. Having an all-male cast is an artistic decision. Men in women's roles is the Hasty Pudding's artistic trademark and its artistic merit comes from the fact that it challenges traditional perceptions of masculinity. This brand of parody and satire is what makes the Pudding unique."
"In considering an augmentation to the roots of what has made the Pudding famous, it is imperative that we take proper steps and make thoughtful considerations to ensure the continued success of our organization," the group says. "This is a conversation that has been ongoing for some time, and we look forward to continuing this dialogue with our members, officers, alumni, and the broader community."
Watch:
Mila Kunis, Kristen Bell & Kathryn Hahn on Holiday Traditions
"Oh my God, this has been such a fun day so far. It's great. If you look at the list of women who have been honored, it's an incredible list to be a part of. I signed the wall and I signed it next to Helen Mirren," Kunis said at a Q&A event at Harvard. "I was like, 'Yeah! F--k yeah. It was great."
Other previous recipients of the group's Woman of the Year awards include Octavia Spencer, Kerry Washington, Renée Zellweger, Scarlett Johansson, Sandra Bullock and Amy Poehler, who joked about Hasty Pudding's exclusion of women when she accepted the honor in 2015.
"You know it's time for a change when the Augusta National Golf Club has lapped you in terms of being progressive," she said, referring to the Georgia club's 2012 decision to admit women.
The organization also hands out annual Man of the Year Awards. Ryan Reynolds received one last year. The 2018 honoree has not yet been announced.