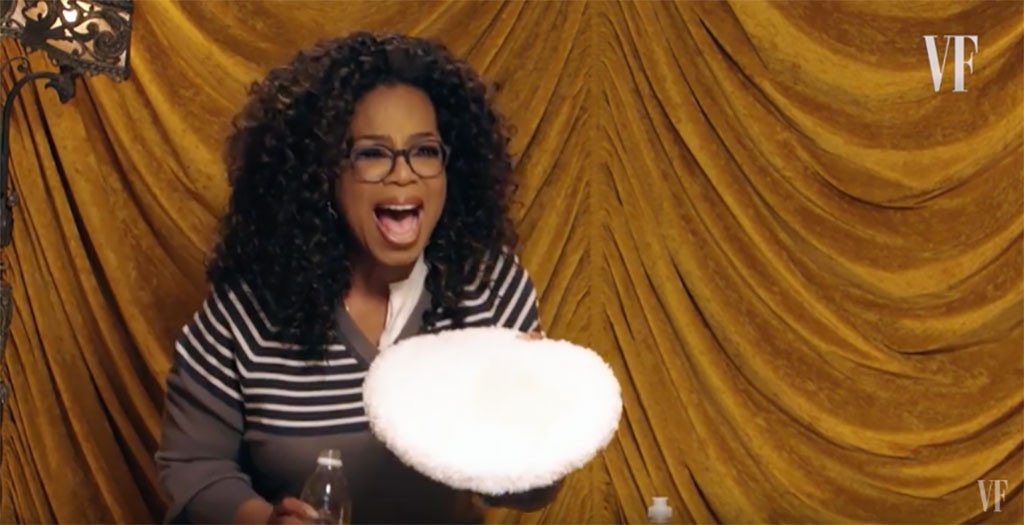 YouTube
You're going to wish you got as excited about anything as Oprah Winfrey is about cleaning up dog poop. 
That's right: the Oprah Winfrey—media maven, overall icon and car giveaway enthusiast—is also a master at the art of cleaning dog feces stains. In honor of Vanity Fair's "Secret Talent Theater," the master took fans behind the scenes as she got to work. 
"I've had to learn this secret talent over the years because I've had 21 dogs and no matter how well-trained they are, accidents happen," she said. "The truth of the matter is nobody wants to clean up your dog's poop, so I always like to do that myself."
While she didn't have real poop on hand, Winfrey poured gravy as a substitute for a diarrhea effect on a piece of fuzzy carpet. First step: club soda.
"It loosens the stain, bubbles it up—don't know how that happens—and makes it easier for you to blot so that you're not just pressing it further down into the carpet," she explained. Pro tip: letting it bubble up a bit helps!
The TV host was clearly in her element. "I love the bubbling part. This excites me," she said. "Look at that—fizz, bubbling, sizzling. Fantaaaaastic! I love it."
Whether the stain is gravy, red wine or "poo," grab some dish washing liquid next. "Who even knew we spilled poo over here?" she asked with glee. For the final step, go back over any remaining stain with club soda and watch it all disappear. 
"It's actually whiter than the original!" Winfrey pointed out with phenomenal enthusiasm. Blot, fluff and you're done. 
As the mogul concluded in her signature sing-speak voice, "Stain removal!" Is there anything Oprah can't do? The answer is clearly no.