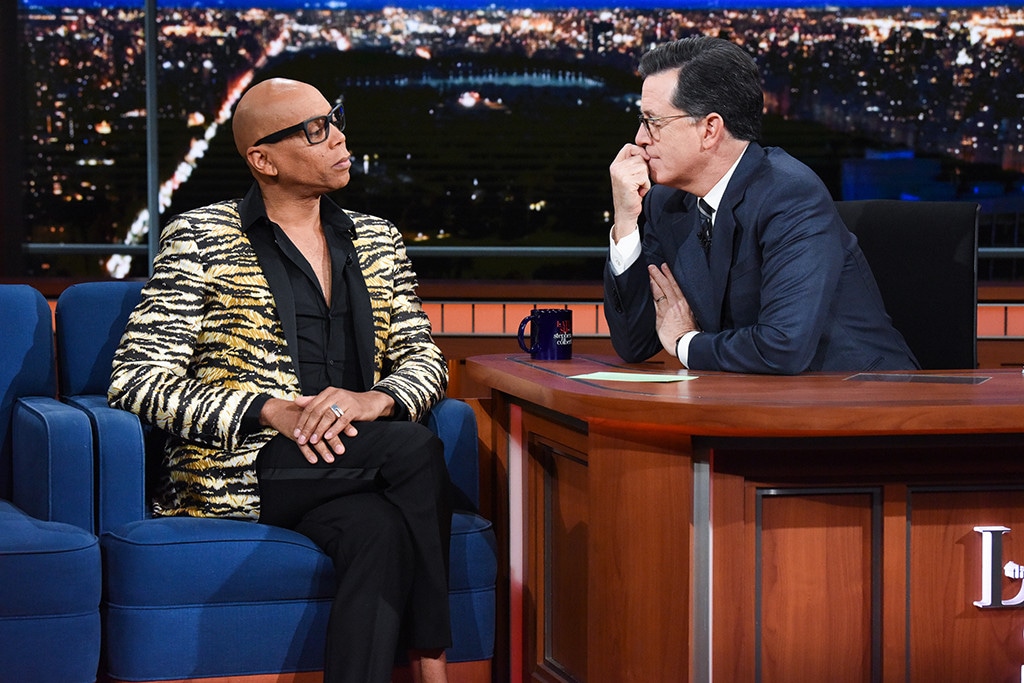 Scott Kowalchyk/CBS
Stephen Colbert, you're in for a special lesson, okurrr?
As to be expected, RuPaul brought a new level of fierceness to The Late Show set Wednesday night when he sat down for an interview with host Stephen Colbert. While it started out as a typical Q&A, the Emmy-winning host of RuPaul's Drag Race eventually turned the chat into a vocabulary lesson for Colbert. 
After revealing to Colbert that he is rocking "executive realness" in his suit and tie, RuPaul dropped one of his signature phrases, "Okurrr!" 
"Ok, let's get to that," Colbert asked. "Ok, that phrase was my next question...the Drag Race has birthed a language all of its own. Can you translate for me?" Ask and you shall receive, Stephen!
RuPaul proceeded to explain "tea" ("tea is truth") and "okurrr" (it's a declaration of 'Yes I hear you and I agree'). However, RuPaul admitted he has some trouble rolling his r's for the latter. 
"What's a 'squirrel friend?'" Colbert inquired. "You have friends. You have girlfriends. Well, these are friends who enjoy nuts," Ru explained simply. "I love 'em."
"Really? Salted or...?" the host continued. "Any way I can get 'em, honey. I love me some nuts," RuPaul quipped back. "Are you a squirrel friend? Will you be my squirrel friend?"
Colbert had the perfect answer: "Okurrr!"