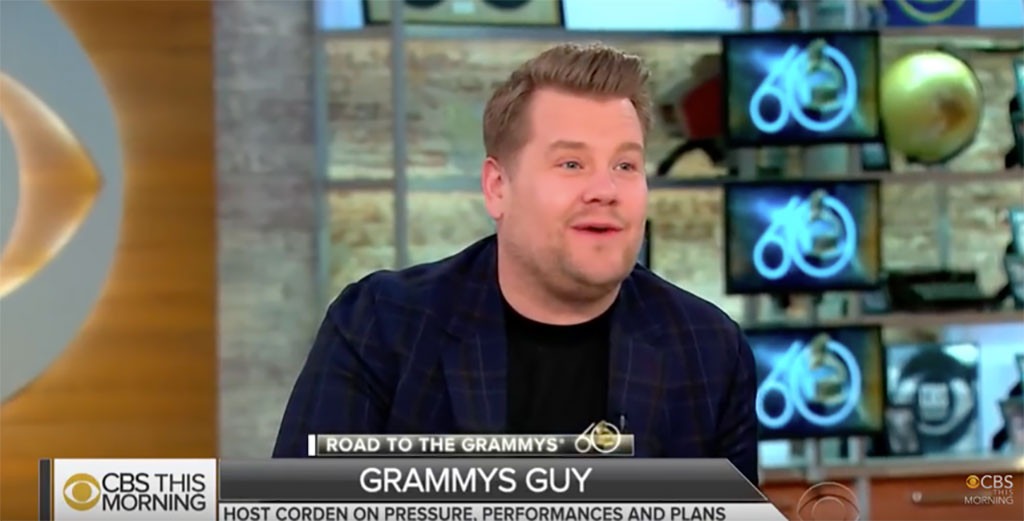 YouTube
James Corden doesn't think he'll be invited to the royal wedding, but there's another invitation he really has his eye on. 
During an appearance on CBS This Morning Wednesday, the 2018 Grammys host got to chatting about the upcoming wedding between Prince Harry and American star Meghan Markle. Naturally, the future nuptials have caused quite the frenzy in the United States but, as Corden pointed out to the morning news anchors, his native country doesn't react with the same level of enthusiasm. 
"I think inherently as British people we just don't get quite as excited about anything as America does and to our detriment many times," the late-night host said. 
Eddie Mulholland/Daily Telegraph/PA Wire
"The greatest thing about America and certainly the greatest thing about growing up in Britain and looking at America is a boundless optimism and positivity, which certainly in the past 12 months since living here with various changes in administrations and government...I find myself going—I almost want to shout from the top of the Empire State Building to America: don't lose that thing," he explained.
"Don't lose the very thing that makes genuinely America great. Forget America great again...America great is a boundless, joyful enthusiasm that anything is possible."
As Corden continued, "When someone like Prince Harry is getting married, we go, 'Oh, great. We should get a little, tiny flag,' and America goes, 'This is amazing!'"
As such, co-host Gayle King jokingly reminded him how to spell her name as his plus one to the wedding. "I don't think I'll be there," he said. Instead, he has his hopes set on Harry's bachelor party. 
"I just want to go on the bachelor party. That's all I'm interested in with Harry," he said at the table. "Wedding sure…he's going to have a hell of a bachelor party—that's what I'm looking forward to." 
With the couple's vows scheduled for May 19 at St George's Chapel at Windsor Castle, Corden has a little over three months to score an invite to the guys' trip. It shouldn't be too difficult, however, considering the men are actually pals.
Hey, Prince Harry, are you listening?