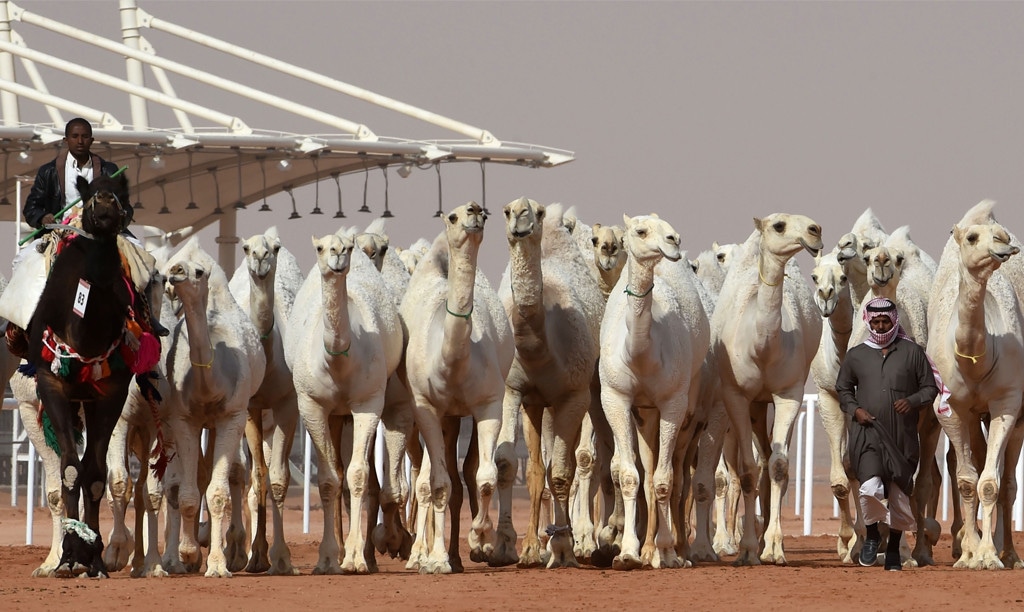 FAYEZ NURELDINE/AFP/Getty Images
Happy Hump Day?
12 camels have been disqualified from a beauty pageant in Saudi Arabia after getting Botox injections. Yes, you read that right. According to The National, the animals were disqualified from the King Abdulaziz Camel Festival after receiving the cosmetic enhancements.
"They use Botox for the lips, the nose, the upper lips, the lower lips and even the jaw," Ali Al Mazrouei, son of a top Emirati breeder, told the publication. "It makes the head more inflated so when the camel comes it's like, 'Oh look at how big is that head is. It has big lips, a big nose.'"
According to the festival's website, "The King Abdulaziz Camel Beauty Contest has been eagerly looked forward to each year since they were launched in the year 2000. The Contest attracts not only direct participants, including those who make their livelihood from the events, but also those who enjoy the increasing number of activities associated with the King Abdulaziz Camel Festival."
The National reports that before the festival began in Al Dhana a veterinarian was caught "performing plastic surgery" on camels, giving them Botox and reducing the size of their ears. There's a desperate desire to win the competition because the prize money for the festival totals $57 million, with $31.8 million reserved just for the pageants.
30,000 camels have already arrived to the festival, which will take place throughout the rest of the month.