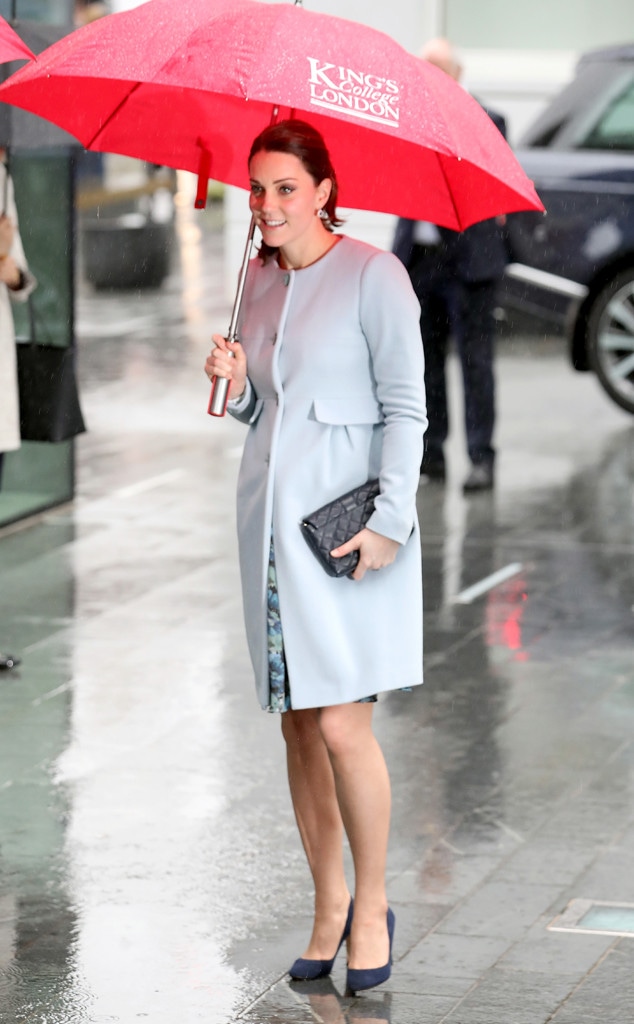 Chris Jackson/Getty Images
Kate Middleton is addressing an issue that affects mothers across the globe: postpartum depression.
According to a King's College London study published in the British Journal of Psychiatry earlier this year, 25% of pregnant women experience mental health issues.
To learn more about the subject, the Duchess of Cambridge visited the Maurice Wohl Clinical Neuroscience Institute at King's College London on Wednesday.
During her tour of the institute, the royal learned about challenges surrounding maternal mental health, biological factors that can influences a mother's mental health and support that is available to new mothers. She also stopped by a laboratory—part of King's College London's Institute of Psychiatry, Psychology and Neuroscience—and received a briefing on perinatal research from several doctors and professors.
The institute also works on new treatments to help patients affected by Alzheimer's disease, Parkinson's disease, schizophrenia and epilepsy. A lighthearted moment occurred when Kate was speaking with the scientists. One of the professionals told her about an experimental therapy that used an avatar to help people with schizophrenia deal with hearing loss.
Kate replied, "as in the movie Avatar;" however, she was told the avatar didn't resemble the character from James Cameron's 2009 film.
"She was interested in the fact that we look at the whole range of issues including PTSD and self-harm," said Professor Louise Howard, who teaches women's mental health. "She was interested in understanding the whole breadth of the issues and how to make people more robust."
After her visit, Kate stopped by the Mother and Baby Unit at the Bethlem Royal Hospital in south-east London. According to Kensington Palace, the unit specializes in the treatment of antenatal and postnatal mental health issues, including postnatal depression and postpartum psychosis.
While visiting the unit, Kate spoke with mothers who've experienced these challenges. According to the South London and Maudsley NHS Foundation Trust, she also visited a sensory room where mothers were playing with their children, as well as a video room where mothers are filmed interacting with their babies to document their growing relationship with them.
In addition to speaking with patients, Kate spoke with several staff members, including nurses, midwives, psychiatrists, psychologists and social workers. Per the Trust's website, the Duchess spoke to the professionals about the country's maternal mental health services, as well as the importance of turning research into clinical practices.
"The arrival of a baby should be the happiest time in a woman's life, but for some women this is not the case—our research shows that one in four women experience mental health problems during pregnancy or shortly after the baby is born," Dr. Gertrude Seneviratne, lead of Perinatal Mental Health Services, said.
She then added, "Mothers often arrive here in much mental distress, feeling that they can't do things for themselves, but by keeping mother and baby together and providing a range of specialist treatment and therapy, women do recover and can bond with their child." 
"Today is a very special occasion for us," she concluded. "It means a great deal to staff and patients that The Duchess was able to spend some time meeting them – especially as she is a mother herself."
The Mother and Baby Unit at the hospital is a 13-bed unit that helps mothers who've struggled with their mental health while pregnant or following the birth of their baby. According to the Trust, the unit offers a range of services, including medication, Cognitive Behavioural Therapy (CBT), couple or family therapy, occupational therapy and parenting skills.
Kate wore a baby blue coat by Séraphine for the occasion, as well as a floral dress by the same maternity designer. Kate has worn both pieces before. Royal admirers could see her growing baby bump underneath her coat.
Kate and Prince William expect to welcome their third child in April.