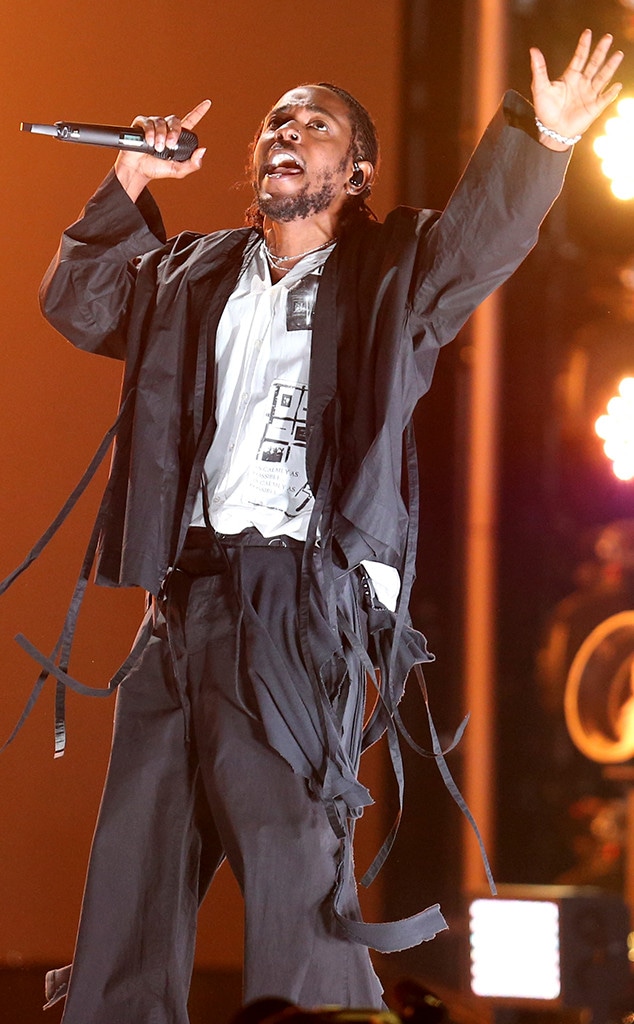 Matt Sayles/Invision/AP
Too soon to say the night belongs to Kendrick Lamar? 
The bar for the 2018 Grammy Awards has officially been set, thanks to a stellar opening performance from the rap superstar. Lamar kicked off Sunday night's festivities with a politically-charged medley of hits from his fourth studio album, DAMN., including "XXX," and "DNA" and "King's Dead" from the upcoming Black Panther soundtrack.
An American flag was displayed in the background as soldiers dressed in army fatigues performed around Kendrick. Later dressed in red jumpsuits, the dancers fell to the ground as simulated gunshots rang out. U2 and comedian Dave Chappelle also joined Lamar, who offered commentary in between songs. 
"I just wanted to remind the audience that the only thing more frightening than watching a black man be honest in America is being an honest black man in America," Chappelle said onstage.
At one point he also asked, "Is this OK for CBS?"
It's safe to say this won't be the only time Kendrick will grace the Madison Square Garden stage over the next few hours. A total of seven Grammys are Lamar's to claim tonight, and he's already won three for Best Music Video, Best Rap Song and Best Rap Performance all for "HUMBLE."
Kung Fu Kenny is also nominated for Album of the Year for DAMN., Record of the Year for "HUMBLE," Best Rap Album and Best Rap/Sung Performance for "LOYALTY" featuring Rihanna. 
Lamar, 30, trails Jay-Z as the second-most nominated artist of the evening. 
Kendrick has a pattern for starting the Grammy Awards off strong. In 2016, the Recording Academy honored the L.A. native with the first award of the evening, Best Rap Album for To Pimp a Butterfly. Over the course of his career, Lamar has won seven Grammys. 
More than 30 artists from nearly every music genre are expected to perform tonight. Past winner and current nominees including Rihanna, Elton John, Bruno Mars, Little Big Town and more make up the star-studded lineup. 
The 2018 Grammys and K.Dot are just getting started, y'all!