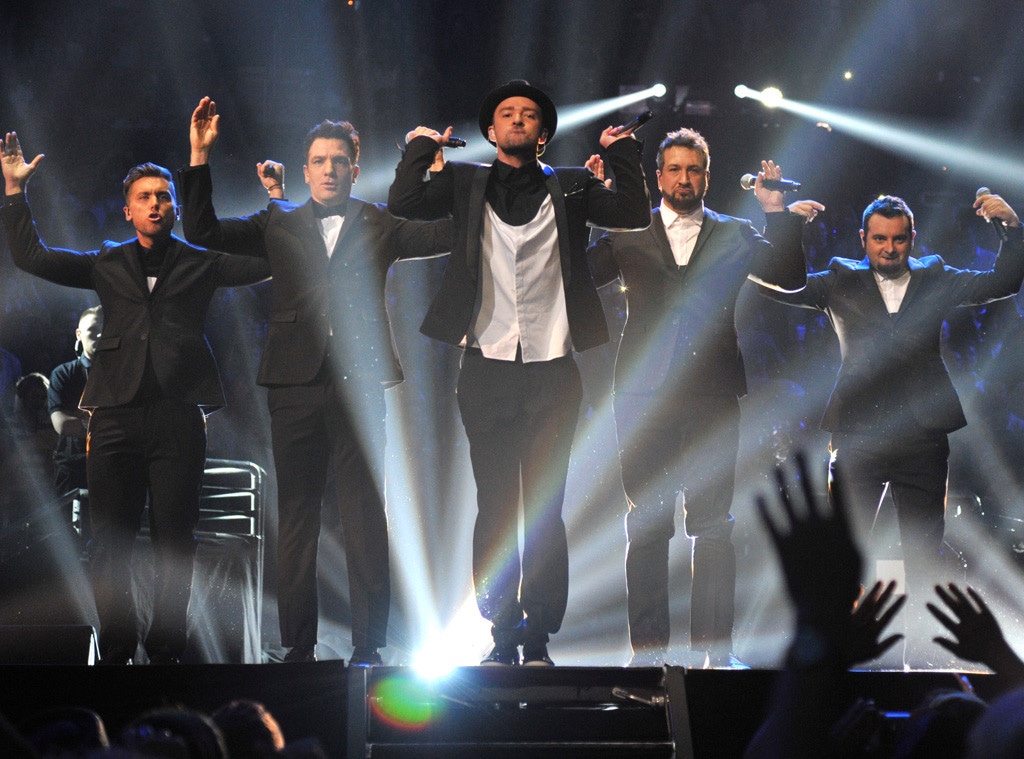 Kevin Mazur/WireImage for MTV
'N Sync just keeps tearin' up our heart! Joey Fatone has once and for all squashed speculation that the early 2000s boy band would join Justin Timberlake at the 2018 Super Bowl. 
The singer was stopped by TMZ during a recent outing in Los Angeles, and was asked to respond to rumors that a 'N Sync reunion would take place during the Pepsi Super Bowl Halftime Show. As he put it, "I'm here right now. If I was doing something, I'd be at rehearsals right now... There's your proof. Nothing."
"And there's nothing wrong with that!" Fatone added. "S--t, he's doing his thing."
Fans have been clamoring for Timblerlake, Fatone, Lance Bass, JC Chasez and Chris Kirkpatrick to get back in sync ever since their last performance at the 2013 MTV Video Music Awards.  
'N Sync previously performed at the 2001 Super Bowl halftime show alongside Britney Spears, Aerosmith, Mary J. Blige and Nelly. And who could forget the 2004 spectacle, when J.T. accidentally exposed Janet Jackson's bare breast in a move that would go down in pop culture infamy? 
Speaking of Jackson and other artists letting Timberlake shine solo, E! News previously reported that the world-famous songstress would not return to the Super Bowl stage with Timberlake. 
Our insider explained at the time, "Justin will be playing his old stuff during his Super Bowl performance. He plans to perform the 'classic J.T.' stuff. Justin's team has really been pushing to lock in this deal and he's very excited for the opportunity."
Are you disappointed by the news that an 'N Sync Super Bowl reunion won't happen after all? Let us know in the comments! 
Super Bowl LII will air on Sunday, Feb. 4 from the U.S. Bank Stadium in Minneapolis, Minn.