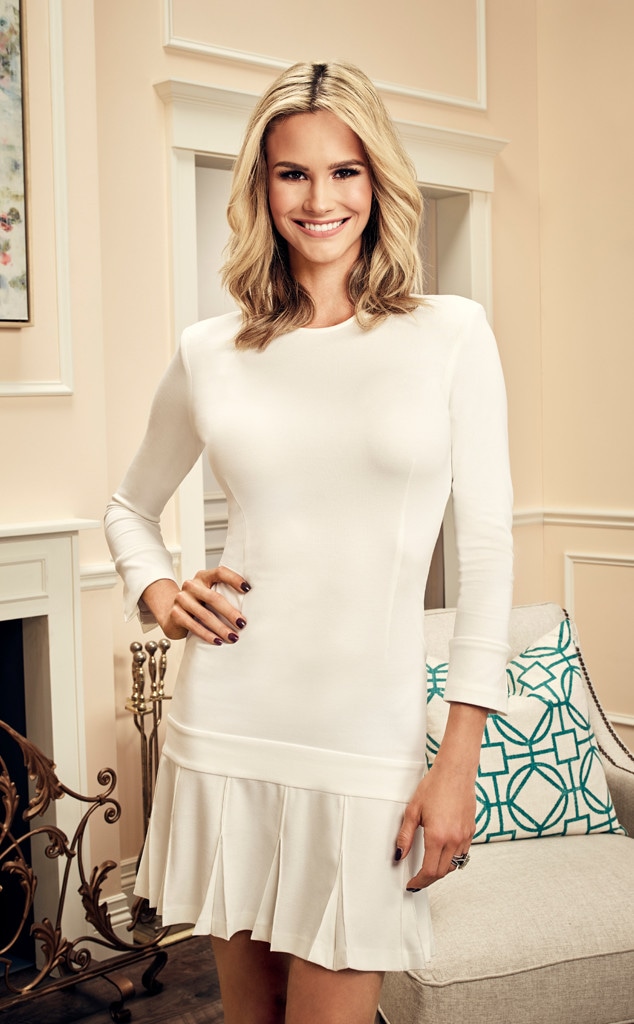 Bravo
Meghan King Edmonds is handing in her orange and leaving Bravo's The Real Housewives of Orange County. The three-season Housewife made her announcement on her blog.
"Today is a bittersweet day for me.  After three seasons of the rollercoaster that is The Real Housewives of Orange County I've decided to hang up my OC Housewife hat," she wrote.
In her blog, Meghan said she arrived at "this multi-faceted decision after much thought, and then I thought some more." The reality star cited the show's emotional and physical tolls as her reasons for exiting the long-running reality show. She's currently pregnant with twins.
"As you might suspect filming this show takes a massive emotional toll: I'm literally filming my real life in real time and engaged in situations and circumstances which can be contentious," she said. "Then, when the show airs, we relive some trying of the most trying moments in our lives and then endure the public's reaction; we never come out as winners to every viewer.  But what you might not suspect is the physical toll: filming is grueling!
"After my first season I knew what to expect for round two, but even still, filming during IVF and then the beginning of pregnancy during my second season was difficult. I was hormonal and tired all the time. But my third season takes the cake: I had a newborn and had to hire a full time live-in nanny (my cousin) so as to allow me the flexibility to meet my obligations of continuous days and long hours of filming, traveling, etc.," she continued.
Meghan said she was grateful for the opportunity and "loved" being a Real Housewife. The decision to exit came during the season 12 reunion, she said.
"As I was filming the season 12 reunion I knew in my heart I was done: this wasn't my place anymore. (The funny thing is that going into the reunion I was so committed to coming back for season 13; just one more season before the twins were born.) I was only 5 weeks pregnant when I filmed the reunion and I was already exhausted. I knew that I was going to have a long pregnancy growing the twins and it would be next to impossible to film. I could do it, but did I really want to?"
Meghan said she officially came to the conclusion to leave over Thanksgiving and that's when she told Andy Cohen. "He was completely understanding. In fact, all of production has been nothing but understanding and supportive of me and my decisions every step of the way.  I have only praise for everyone behind the scenes from the tiptop of the totem pole down to the production assistants doing coffee runs for the crew," she wrote.
Season 12 of The Real Housewives of Orange County also starred Vickin Gunvalson, Tamra Judge, Shannon Beador, Kelly Dodd, Peggy Sulahian and Lydia McLaughlin. No official cast announcement for season 13 has been made.
For more on Meghan's decision, check out her blog.
(E! and Bravo are both part of the NBCUniversal family.)