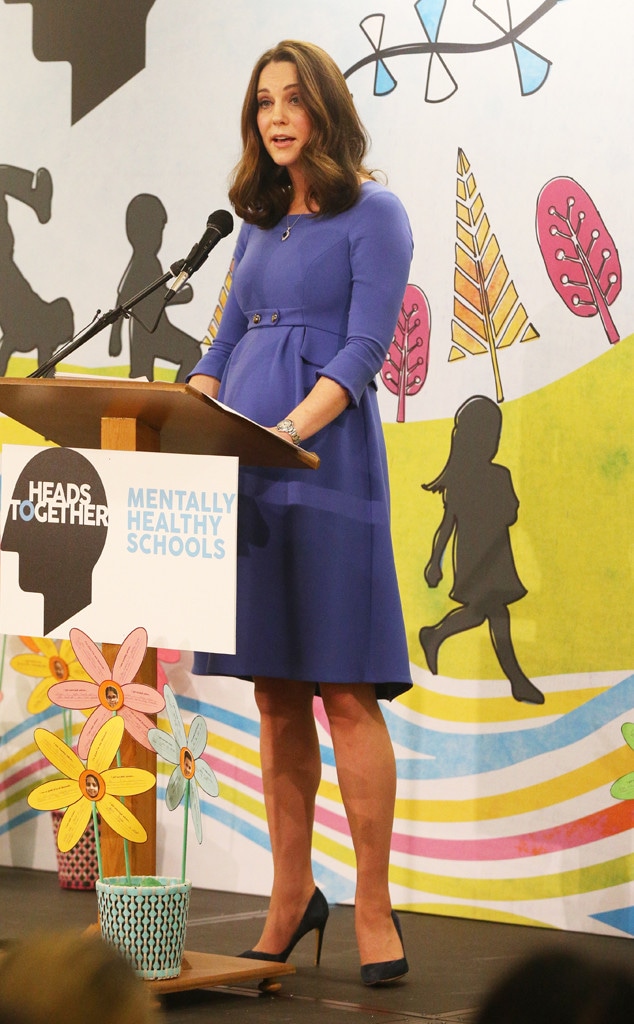 Jonathan Brady - WPA Pool/Getty Images
Duchess of Cambridge Kate Middleton is taking the next steps in her mental health movement. 
Sporting a colorful scarf, blue Seraphine dress and coordinating Sportmax coat that she first wore while pregnant with Princess Charlotte, the expectant royal arrived to the Green Junior School in London on Tuesday with a special goal: to launch the Heads Together Mentally Healthy Schools website. As a longtime advocate for national mental health resources for all ages and a leader of the Heads Together royal initiative, Middleton has worked with her Royal Foundation to develop the primary school online portal with an £800,000 grant.
While the site has started as a trial for 50 schools, the plan is to make the website widely available to every primary school in the United Kingdom this year. The site is broken up into four categories, including teaching resources, risks and protective factors, mental health needs and overall approach for school leaders.
Jonathan Brady - WPA Pool/Getty Images
Samir Hussein/Samir Hussein/WireImage
Once inside, Middleton sat down with some youngster for a mental health exercise. "What does is mean to be resilient?" she asked as one of the questions. Soon, it was time to address the room. 
"I see time and time again that there is so much to be gained from talking of mental health and taking the mental health of our children as seriously as we do their physical health.
When we intervene early in life, we help avoid problems that are much more challenging to address in adulthood," Middleton said as she delivered her speech. "My own commitment is to the youngest and most vulnerable in their early years - babies, toddlers and school-children—and to support all those who care for them."
The future mom of three turned her focus to teachers, whom she believes are vital to supporting children's mental health. "You see our children as they grow, learn and play, as they build their social skills that will make the difference to their futures. You are uniquely placed to help children speak out about their mental and emotional challenges, and direct parents and carers to the right support," she continued. "I am all too aware, however, of how much we ask teachers to take on. Teachers want to help, but don't have the time to go hunting for the best information and advice out there. You need resources you can trust. And you need to have easy access to them at all times. That is what this pilot is all about."
As the speech came to a close, Middleton made a request. "Please let us know what works, what doesn't, and what else you would like to see," she urged. "This project has been collaboration from day one. It will only succeed if we continue to work together."