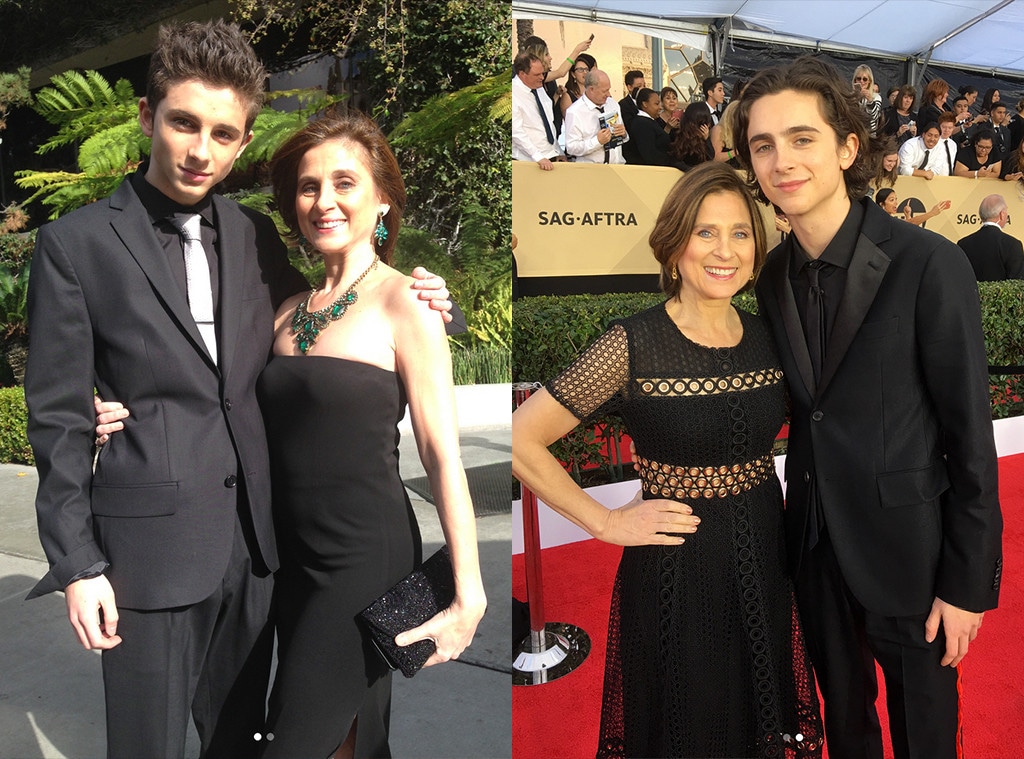 Instagram
Timothée Chalamet is getting some major brownie points with his mom today!
Instead of bringing a hot date to the red carpet, the 22-year-old actor, who was there to celebrate his roles in Call Me By Your Name and Lady Bird, brought along his mother, Nicole Fender, to the 2018 SAG Awards on Sunday night.
Soon after the glittering award show, the nominee took to Instagram to post a photo of the mother/son duo on the red carpet and a throwback pic of them five years ago when they were also all gussied up.
The proud son wrote, "Same date, 5 years later: THE QUEEN #sagawards." 
Despite the difference in time (and the hair style), the young actor was still all about about spending time with his doting mama!
Watch:
Saoirse Ronan & Timothee Chalamet Talk Names Being Butchered
Earlier in the evening, Timothée discussed his thoughts on the Time's Up Movement, and said that he believed that the dialogue is resonating with young men in and out of Hollywood.
"Thank God it is. I think at the level of campus sexual assault, for people my age this was a dialogue that was somewhat already happening," he shared with E! News' Giuliana Rancic. "With the centralization, the Times Up movement and hopefully at award shows like this, conversation's getting out there."
Timothée added, "Thank God. Equality at the work place. 50/50 by 20/20. These are messages getting out there."
Recently, the Hollywood star made headlines after announcing that he would donate his salary from Woody Allen's A Rainy Day in New York to three charities.
His co-star Rebecca Hall also announced she would be doing the same.
For complete coverage of the 2018 SAG Awards, watch E! News Monday, Jan. 22, at 7 and 11 p.m.!