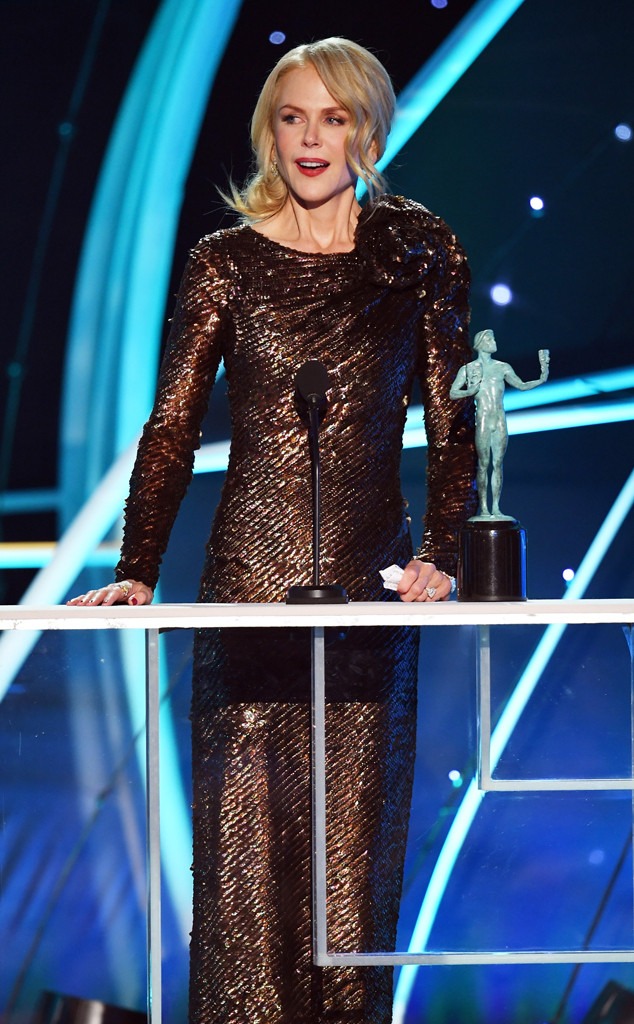 Kevin Winter/Getty Images
Nicole Kidman is not one to pass up an opportunity.
The actress was awarded the Actor at the 2018 Screen Actors Guild Awards for her stunning work at Celeste Wright in HBO's Big Little Lies, and when she took the stage to accept the award, she used the moment to not only offer the usual round of "Thank you"s to the people in her life, but also beg the entertainment industry to keep telling the sort of stories that have put women front and center.
Nothing that she was nervous, had worked until 1:00 a.m. the night before and was sick with the flu, Kidman began her speech by addressing her fellow Outstanding Performance by a Female Actor in a TV Movie or Limited Series nominees, as well as the other female actors who've inspired her over the years.
"I would like to acknowledge the other actresses in this category. Reese Witherspoon, Laura Dern, my girlfriends first and foremost, but my beyond talented acting partners. I share this with you," she said. "And also, I want to say, Susan Sarandon and Jessica Lange, I revere you. I've watched you and I've learned for you. And there's others: Meryl Streep, Jane Fonda, Judy Davis, Isabelle Huppert, Shirley MacLaine, Judi Dench. The list is so long and I would love to say so many more names, but I can't right now. I want to thank you all for your trailblazing performance you've given over your career."
She then turned to the industry at large. "And how wonderful it is that our careers today can go beyond 40 years old because 20 years ago, we were pretty washed up by this stage in our lives," she continued. "That's not the case now. We've proven, and these actresses and so many more are proving that we are potent and powerful and viable. I just beg that the industry stays behind us because our stories are finally being told. It's only the beginning and I'm so proud to be part of a community that is instigating this change, but I implore the writers, directors, studios, and financiers to put passion and money behind our stories. We have proven we can do this. We can continue to do this, but only with the support of this industry and that money and passion."
Of course, it wouldn't be a Nicole Kidman speech if she didn't throw in a heartwarming shout out to her husband Keith Urban and their children. "And to my family, I am nothing without you. What a blessing. Thank you to all the actors that gave me the chance to say this."
Say it with us now: Aww!
For complete coverage of the 2018 SAG Awards, watch E! News Monday, Jan. 22, at 7 and 11 p.m.!