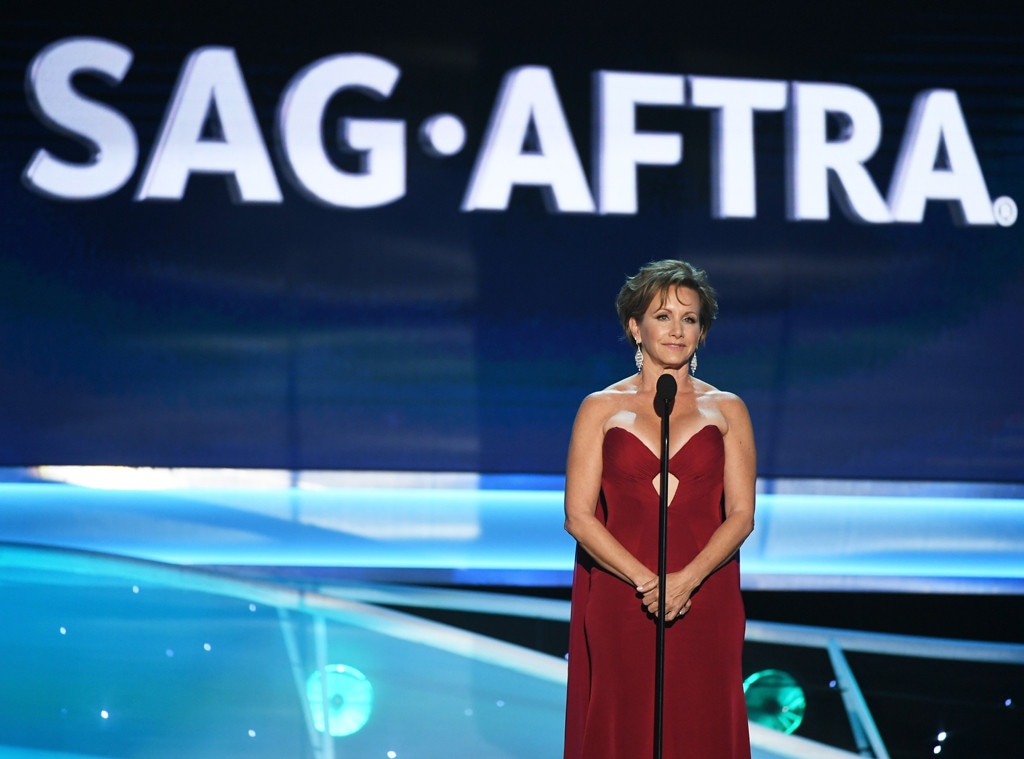 Kevin Winter/Getty Images
SAG-AFTRA president Gabrielle Carteris is standing in solidarity with her organization's members. 
The Hollywood insider took the stage at tonight's 2018 SAG Awards with an inspiring speech that touched on the ever-growing Time's Up movement, applauding the women that have come forward with their own stories of sexual abuse and the men who support them. 
Carteris shared, "I am incredible inspired by the women and men across the country who have shared their truths with such courage and such candor. Truth is power, and women are stepping into their power." 
She noted Hollywood being in the "midst of a massive cultural shift," adding, "We are, with brave voices saying 'Me Too' and advocates who know time is up, we are making a difference. You are making a difference. It's amazing. Change is coming and we are the agents of that change." 
Watch:
Kristen Bell Talks "Time's Up" Movement at 2018 SAG Awards
She continued, "Men and women are the agents of that change. We can and must create an environment in which discrimination, harassment, and abuse are no longer tolerated. Make no mistake, this is not a moment in time. This is a movement and our strength, our strength comes in our unity."
Since its inception in early 2018, more than $18 million has been raised to establish a legal defense fund for women and men who have experienced abuse in the workplace. Tonight, stars including Molly Shannon, Gina Rodriguez and Kumail Nanjiani showed their support by wearing the Time's Up pins that were first sported at the 2018 Golden Globes. 
Carteris concluded her speech by addressing SAG-AFTRA's commitment to the movement's main pillars. 
"Unions play a significant role in the lives of workers across the country," she explained. "Our commitment to safe workplaces, inclusion, and creative and economic equality; these are the things, these are the things that make us stronger. At SAG-AFTRA, we fight for the actors, broadcasters and recording artists worldwide who we represent and protect. We are the collective voice lifting up the individual."
For complete coverage of the 2018 SAG Awards, watch E! News Monday, Jan. 22, at 7 and 11 p.m.!