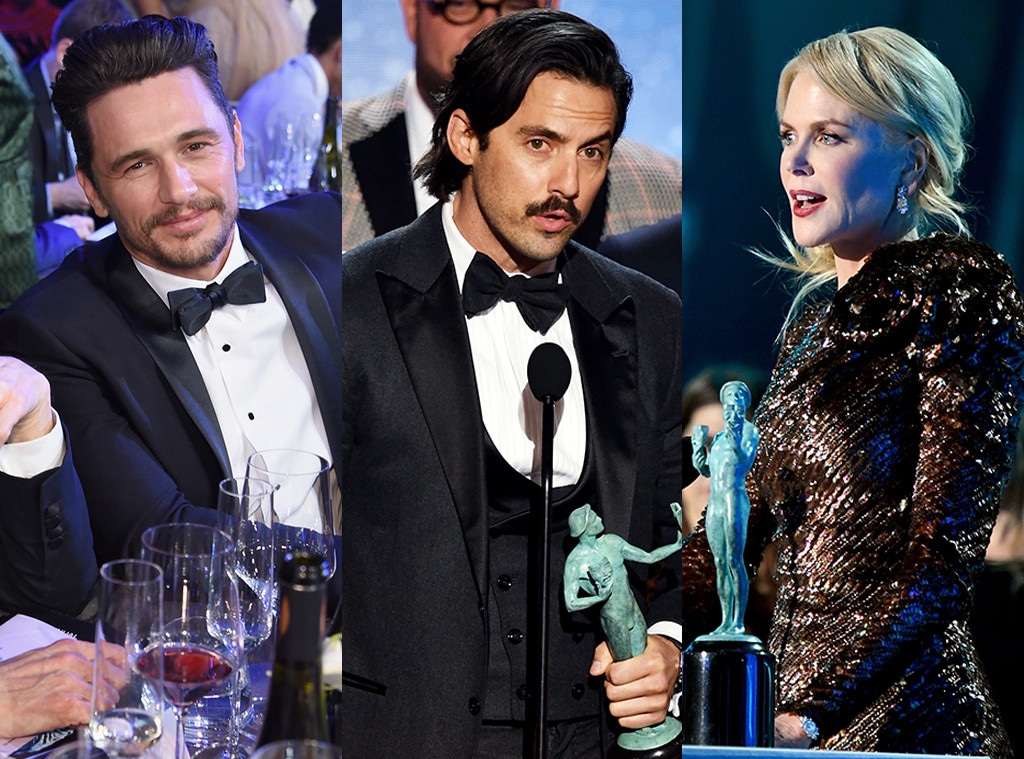 Getty Images
The SAG Awards are a reliably insular affair, the statuettes given to actors by actors in a compact two hours that tend to offer few off-script surprises.
Not everything went according to plan last night, such as when the teleprompter had to back up for Brie Larson and then "ensemble in a drama series" flashed onscreen when the cast of Three Billboards Outside Ebbing, Missouri was accepting for Outstanding Performance by a Cast in a Motion Picture. Technical difficulties happen, though.
But during an awards season where tensions are still running high from the accusations of bad behavior against a number of well-known men, and now the resulting discussion about what behavior qualifies as possibly forgivable, if not at all acceptable, everyone was paying closer attention than usual to every word being said on the red carpet and during the ceremony. Kristen Bell, the first-ever host of the historically host-less show put in a valiant effort and struck a suitable tone. The show didn't have all the capital-M moments that the Golden Globes had earlier this month (what show without Oprah does?), but here's what resonated:
1. Everyone's With Her: It was no surprise that Julia Louis-Dreyfus won her third and fourth SAG Awards for Veep, for best performance by a female actor in a comedy series and as part of the HBO comedy's winning ensemble—bringing her overall SAG Award winnings to nine, including the Actors she won playing Elaine on Seinfeld and being part of that sitcom's unique foursome. 
What made her and Veep's wins feel weird was that Louis-Dreyfus, who finished undergoing chemotherapy for breast cancer just 11 days ago, wasn't there to share in the moment.
"Julia, we're thinking of you and we love you, and we're happy to accept the Actor on your behalf," presenter Connie Britton offered.
Matt Walsh, who plays incompetent press secretary Mike McClintock, appropriately bumbled the acceptance speech on behalf of the rest of the 15-actor ensemble, surprisingly collecting what's only their first win out of five nominations as a cast. But of course Selina Meyers had the last word, weighing in via Twitter a little later: "I wish I could have been @SAGawards tonight but have to admit it's pretty fun to watch in my pj's. So honored to win. So proud to be a union member. So happy for my @VeepHBO bozos for winning ensemble award. Miss being at the table with you all. How was the chicken?"
Kevin Winter/Getty Images
2. Sterling Reception: With his win last night for best performance by a male actor in a drama series, Sterling K. Brown completed the hat trick for the TV arc of awards season, adding the SAG Award to his Emmy and Golden Globe wins for his role as the preternaturally perfect Randall Pearson on This Is Us.
Brown retook the stage not long afterward to share in the 13-person win for best performance by an ensemble for a drama series, ceding the floor to patriarch Jack Pearson, Milo Ventimiglia. Papa Pearson thanked the people "that watch with us every Tuesday night and embrace the show that reflects positivity and hope and inclusion."
If This Is Us isn't the show that can make this country agree on at least one thing, then we don't know what is.
3. The Royal She: Elisabeth Moss' reign came to an end at Claire Foy's feet, the British actress winning her second straight SAG Award for performance by a female actor for her role as Queen Elizabeth II on The Crown. Foy wasn't there, necessitating presenters Kelly Marie Tran and Dakota Fanning to carry away the Actor in her absence, so that's where this story ends, but it's interesting that SAG-AFTRA voters weren't all about Moss in The Handmaid's Tale the way the HFPA and TV Academy were.
Christopher Polk/Getty Images for Turner Image
4. Another Big Moment: The pile of awards for Big Little Lies promised to be smaller this time because Emmy and Golden Globe winners Nicole Kidman and Laura Dern ended up in the same category, as the SAG Awards don't have supporting categories for TV shows and there's no separate award for the cast of a limited series. But there was still as much love on display among the co-stars as there has been for the past six months, with Kidman—bouncing back from a late night of shooting and a bout of the flu—winning her third major award for playing a picture-perfect housewife with a life-threatening secret in the HBO limited series (which will be back for a second season at some point). Alexander Skarsgård, who turned in a skin-crawling performance as Kidman's abusive husband, won for male actor in a TV movie or limited series.
"Yeah, that makes sense," Skarsgård, who also won a Golden Globe and Emmy, joked onstage. "A lot of people have been talking about who the greatest male actor, ever, is. Is it Mr. Robert De Niro? Or, the tall dude from True Blood? The thespians have spoken, thank you very much for that."
Kevin Winter/Getty Images
5. He's Everywhere You Want to Be: Morgan Freeman, in a fairly succinct speech for a recipient of the annual SAG Life Achievement Award, made a salient point. Of course. He pointed out—sagely and sonorously—that the Actor trophy bestowed on artists of both sexes is an anatomically identifiable man. "I'm going to tell you what's wrong with this statue," said the prolific actor, who's played everything from chauffeur to prisoner to God. "It works from the back. From the front, it's gender specific. Maybe I started something."
How many people can wink with their voice like that?
Kevin Mazur/Getty Images for Turner Image
6. Facing Francophobia Head-On: Aziz Ansari was nominated, but he didn't go. James Franco did show up, however, taking the temperature of the room and deciding it would be OK, less than two weeks after his Golden Globe win for The Disaster Artist resulted in not more Oscar buzz but tweets from two women who accused the actor of misconduct, and then a Los Angeles Times report detailing allegations made by them and three more women. (And then Scarlett Johansson asking for her Time's Up pin back.)
The applause when his name was read during his category sounded perhaps a hair less enthusiastic than the response to Gary Oldman, Timothée Chalamet, Denzel Washington and certainly for Daniel Kaluuya, who got the loudest reception in the room despite Oldman being the lock to pick up even more steam en route to Oscar for Darkest Hour.
Which he did. But should Franco end up with an Oscar nomination when they're announced on Tuesday, he's at least broken some of the ice.
For complete coverage of the 2018 SAG Awards, watch E! News Monday, Jan. 22, at 7 and 11 p.m.!