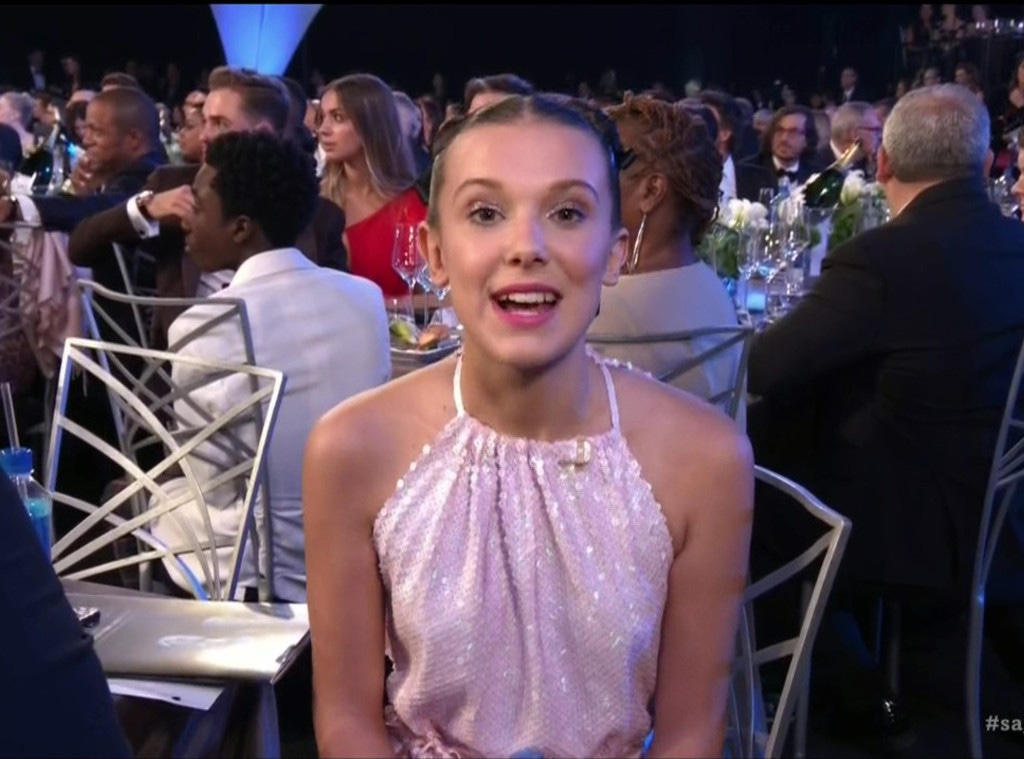 E!
Girl power is alive and well at tonight's 2018 SAG Awards.
As has become tradition during the annual ceremony, film and television stars kicked off the evening with the "I Am an Actor" introduction. Chosen nominees, presenters and attendees, whose identities are kept under wraps until the show airs, share words of wisdom or heartfelt anecdotes from their experience in show business and time being represented by SAG-AFTRA. 
This year, Best Supporting Actress nominee Allison Janney, Black-ish star Tracee Ellis Ross, Best Actress in a Drama Series nominee Millie Bobby Brown and host Kristen Bell were all spotlighted in the opening segment. 
Janney kicked things off with a nod to I, Tonya and her earliest days in Hollywood, sharing, "When I was a little girl, I dreamed of being an Olympic figure skater. But by the age of 12, I was 6 feet tall and could barely get around one revolution let around a triple Axel. At the same time I was cast in my first play in the pivotal role of the undertaker's son in Oliver. And after that, it was an actor's life for me."
Watch:
Allison Janney Wanted to Be a Real-Life Figure Skater
As for Ross (who became a member of SAG-AFTRA in 1995 thanks to an Infinity commercial), she focused on past aspirations of making a difference and the world... and building a pretty epic shoe collection. 
"When I was a little girl," the actress said, "I dreamt of growing up and being a courageous who could use my voice for important issues that affect all of us…and have a lot of shoes. Well I am happy to report that both are true."
She continued, "I utilize my voice any my agency for equity and justice for our industry and beyond, and I have so many shoes. OK, like I have a lot of shoes!"
Jordan Strauss/Invision/AP
The inspiration continued with Millie and ended with Kristen, who both reflected on their humble beginnings as ambitious young women with intentions to become stars. 
"Just a few years ago," the Stranger Things star said, "I would sit at home in England and perform impressions from Joan Rivers to Amy Winehouse. I'm now here nominated at the Screen Actors Guild Awards. To all the young girls, I believe in you. Believe in your dreams, follow your hearts."
Bell, who earned her SAG card doing commercials as a teenager in her native Michigan, brought equal doses of hope and comedy, concluding, "When I was young I used to record Disney movies on my cassette player. I would sing every lyric in the Disney canon, knowing and believing that one day I would be apart of that magic. I'm Kristen Bell and I am a narcissist. Just kidding! I am an actor and tonight I am also your host." 
Keep tuning into the 2018 SAG Awards on TNT and TBS. The night has only just begun! 
For complete coverage of the 2018 SAG Awards, watch E! News Monday, Jan. 22, at 7 and 11 p.m.!