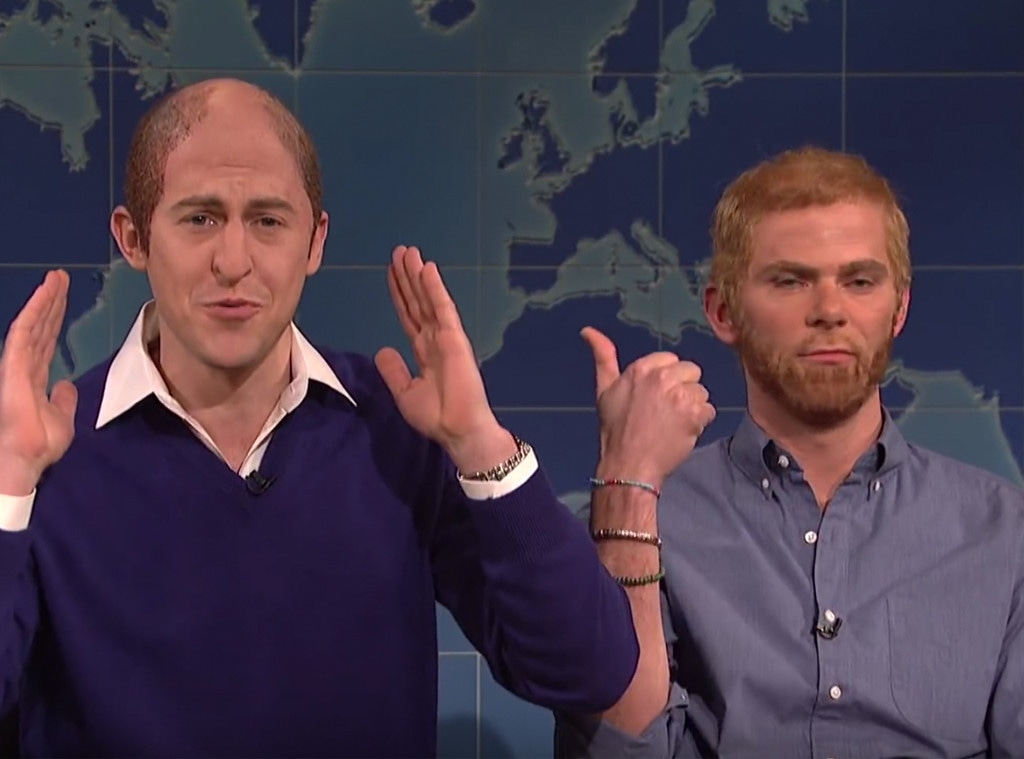 NBC
SNL addressed a hairy situation Saturday night. 
On the heels of Prince William's newly debuted buzz cut earlier this week, SNL wasted no time addressing the shave on "Weekend Update" with help from the royal and his brother themselves—well, not quite. 
Alex Moffat and Mikey Day assumed the roles of the father of three and his engaged younger sibling, Prince Harry—complete with their best British accents and signature coifs. 
As the hilariously bickering brothers, it wasn't long before William's new 'do came up in the conversation with co-anchor Michael Che. "Michael we'd like to apologize. Unfortunately William's hair was unable to make it this evening. It's devastating," Day quipped in character. 
"Hilarious—yes, a bald joke," the late-night William retorted. "Buzzed the sides this week. Rocking the Bruce Willis look—broke the Internet.'
"Bruce Willis shaves it all, man. You look like British Larry David," "Harry" quipped.  
The two quickly got into a playful war of words as William compared his brother to red-headed Ron Weasley. 
"Ok, just shut up about the hair," the faux William rebuffed. 
"What hair?" "Harry" added as a final jab. "I'm sorry. I'm sorry. I made him mad. I love you. I love you."
Of course, the segment would not be complete without mention of Prince Harry's fiancée, Meghan Markle. 
"We love American telly. My brother's fiancée Miss Meghan Markle is on the American program, Suits," "William" pointed out. "The only difference between that show and this is that people watch this one."
As "Harry" shot back, "What is it that you're always watching—oh yeah, Kate's handbag."
Check out the hilarious sketch above!