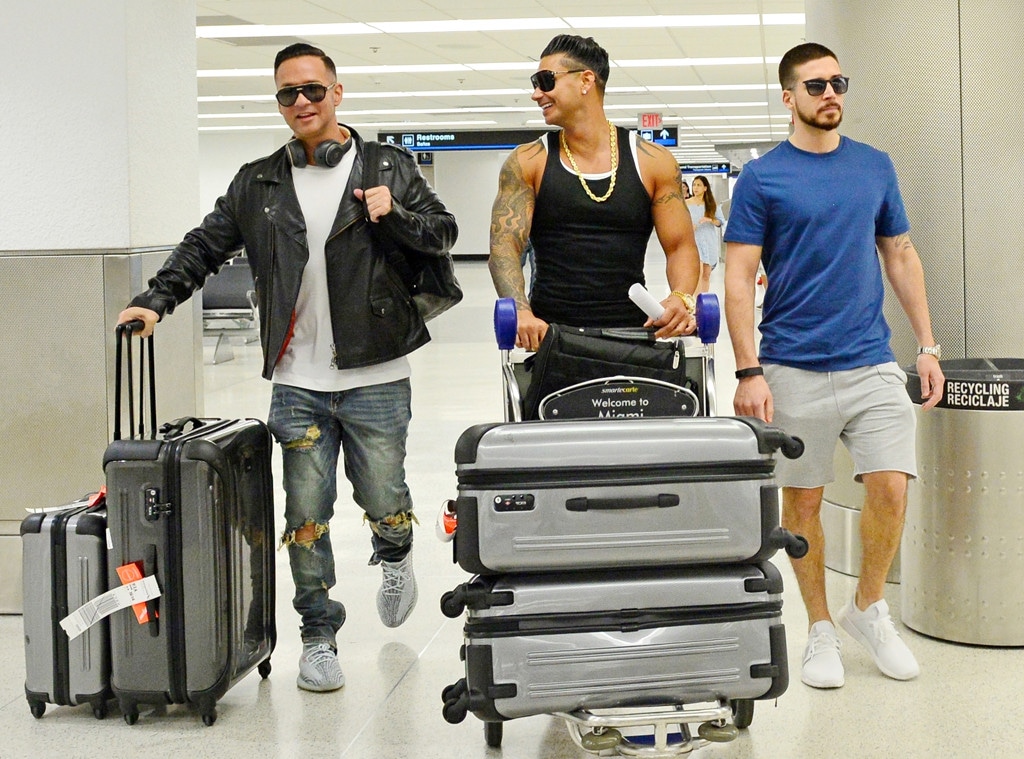 BACKGRID
UPDATE: After getting stuck in New York on Friday and missing the first day of filming, Mike "The Situation" Sorrentino touched down in Miami on Saturday. He was greeted at the aiport by "Pauly D" DelVecchio and Vinny Guadagnino, 
______
It's time to get back to that GTL lifestyle!
Five years and one month after the cast of Jersey Shore packed up for good, the overly tanned boys and girls are back to the beach for a sure-to-be epic MTV reunion, Jersey Shore: Family Vacation. However this time, instead of hitting up the Garden State's famed Seaside Heights, the gang (or at least most of it) headed to Miami earlier this week to begin a wild month of debauchery.
On Friday, the cast came together for the first day of filming and judging from the beers at 10 a.m. and the beach side beer bongs at their waterfront mansion, rest assured that fans can (and should) expect a wild ride on the nostalgia train.
They may have grown up, got married, had babies (and some legal problems), but that doesn't mean their fist-pumping, party style has aged one bit!
Ronnie Ortiz-Magro, Vinny Guadagnino, Deena Cortese, Jennifer "JWoww" Farley, "Pauly D" DelVecchio,  Nicole "Snooki" LaValle were all photographed yesterday enjoying the Miami way of life.
However, Mr. Party Boy himself, Mike "The Situation" Sorrentino, was missing as he was stuck in New York. The same day he pleaded guilty to a charge of tax evasion and he faces a maximum sentence of five years in jail.
But fret not, the court approved Mike's request to travel to Florida for the Jersey Shore Family Vacation reunion show while under probation. 
In December, E! News reported that Sammi "Sweetheart" Giancola would not be joining the show because of past drama with ex-boyfriend Ronnie.
Earlier in the week, the MTV stars took to their social media accounts to document their journeys down to Miami.
On Thursday, Deena (who traveled with JWoww and Snooki, wrote, "Got my coffee.. 4 suitcases and a little bit of meatball fire left in my soul...[Peace] out Jersey !! See you in a month."
Snooki prepared by packing a few bottles of her self-titled tanning lotion.
"Off to Miami b--ches. Why am i awake. I miss my fam already," she posted on Instagram.
JWoww, who like Snooki is also now a mother of two, took her kids to get burgers before peacing out for Florida.
"Daddy will be taking good care of you while bad moms meet @jerseyshore," she joked on social media. 
Ronnie and Pauly also shared an update from the plane, writing, "And we are off!"
Jersey Shore: Family Vacation is slated to hit MTV later in 2018.