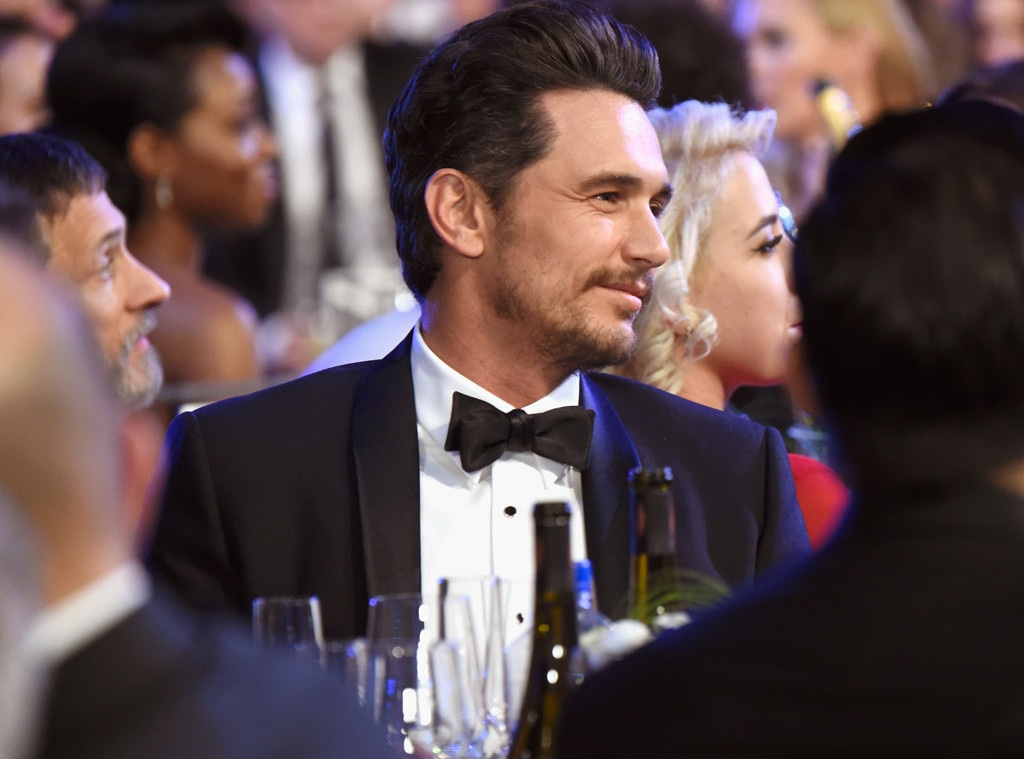 Kevin Mazur/Getty Images for Turner Image
James Franco attended the 2018 SAG Awards on Sunday after skipping a previous award show amid sexual misconduct allegations, but skipped the red carpet.
Two weeks ago, after James appeared at the 2018 Golden Globes wearing a Time's Up movement pin supporting sexual harassment victims, several of his former acting students accused him of sexual misbehavior, speaking on Twitter and in an interview with the Los Angeles Times. The actor said on The Late Show With Stephen Colbert, "The things that I heard that were on Twitter are not accurate," while his attorney disputed all of the women's allegations.
James did not walk the red carpet at the SAG Awards. The live broadcast of the show showed him seen sitting in the audience. 
Amid the accusations, James was a no-show earlier this month during the 2018 Critics' Choice Awards, when he won the award for Best Actor for his role in The Disaster Artist. He had also won a Golden Globe for his role. James is nominated for a SAG Award for Outstanding Performance by an Actor in a Leading Role for his Disaster Artist performance, marking his third individual nomination since 2002 and second nod for a big-screen movie role. 
His brother Dave Franco and wife Alison Brie, who is nominated for her role in Glow, did walk the red carpet. There, she talked about the allegations against James in an interview with E! News' Giuliana Rancic.
"I think that above all, what we've always said is it remains vital that anyone that feels victimized should and does have the right to speak out and come forward. I obviously support my family," Alison said. "Not everything that has been reported is fully accurate, so I think we're waiting to get all the information. But of course now is the time for listening and that's what we're all trying to do."
Watch:
Alison Brie Addresses James Franco Allegations at SAG Awards
The SAG Awards took place a day after the annual Women's March 2018 rallies. At the Los Angeles event, Scarlett Johansson gave a speech in which she said, "My mind baffles—how could a person publicly stand by an organization that helps to provide support for victims of sexual assault while privately preying on people who have no power. I want my pin back by the way."
The actress' rep later confirmed that Johansson was referring to James. His rep had no immediate comment on her remarks.
In his Late Show interview, James had also said, "I completely support people coming out and being able to have a voice because they didn't have a voice for so long. So, I don't want to shut them down in anyway. It's, I think, a good thing, and I support it."
Actress Ashley Judd, who was one of the first women to go public with allegations of sexual harassment against Harvey Weinstein and is one of scores who have spoken out against sexual misconduct in general in recent months, said that she thinks what Franco said was "terrific."
"He has gone to great lengths to be more self-reflective and self-aware and accountable," a longtime friend of James told E! News exclusively last week. "He has taken responsibility for his life and his actions. He is really hurt because he didn't know that we would be in a place where giving someone a voice would be giving someone a license to speak without any accountability."
For complete coverage of the 2018 SAG Awards, watch E! News Monday, Jan. 22, at 7 and 11 p.m.!