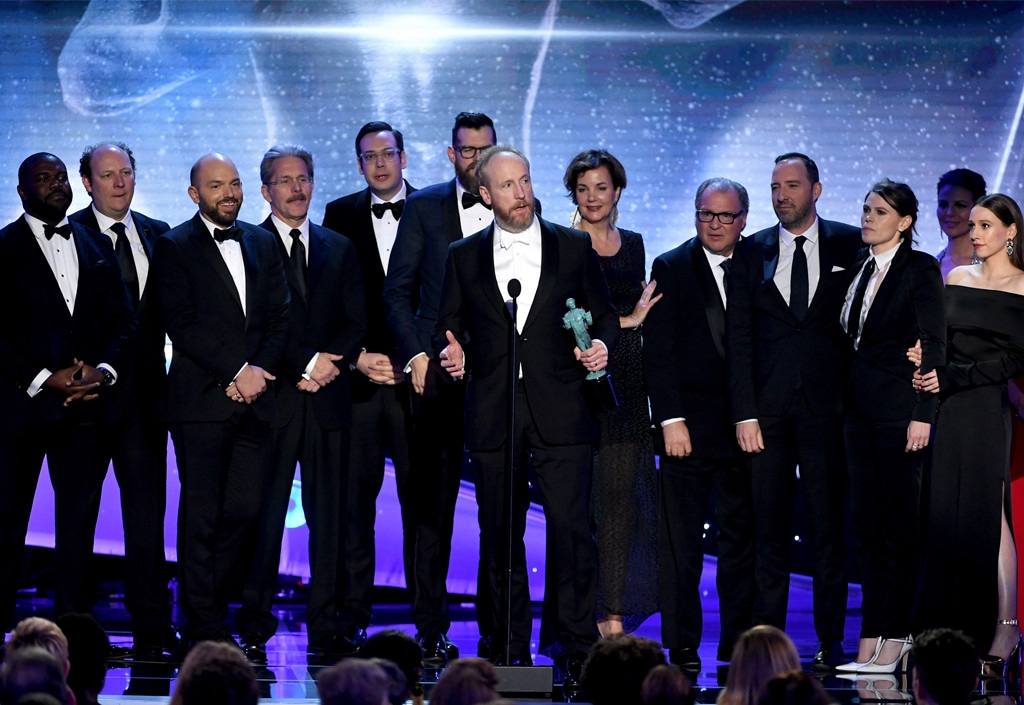 Kevin Winter/Getty Images
Veep finally wins!
The HBO comedy finally took home the award for Best Ensemble in a Comedy Series at the 2018 SAG Awards on Sunday night, marking its first win in the category. Series star Matt Walsh, who plays White House press secretary Mike McLintock, was selected to speak on behalf of the 15-person cast, and he did not disappoint.
"Well, we have a large cast, so I was hand chosen because I play a spokesperson and I'm very well-spoken on the show and in real life and so I was selected because I'm very good at large events and large audiences." Cue stuttering and awkward pauses. After explaining why Julia Louis-Drefyus, who had just won Best Female Actor in a Comedy Series, and Anna Chlumsky were not present (They are doing plays in New York City), his co-star Timothy Simons finally yelled, "You're blowing this!"
Walsh then quickly got it together...sort of. "We do sincerely love that you gave us this wonderful Grammy," he joked. "So thank you. SAG Award, sorry. Thank you!" 
Veep beat out the ensembles from Black-ish, Curb Your Enthusiasm, GLOW, and Orange Is the New Black from to bring home one of the night's big awards. 
Orange Is the New Black had previously won this award the past three seasons, marking their first loss in the category.