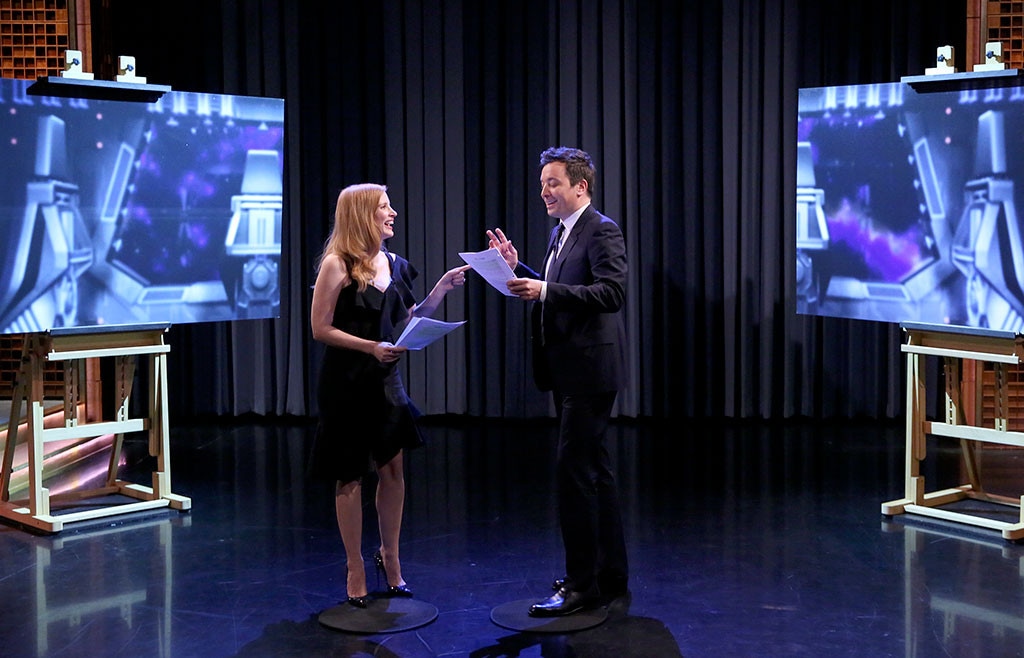 Andrew Lipovsky/NBC
"I barely got to speak there."
That's right, Jimmy Fallon. When it comes to men and women in film, there's clearly an imbalance—one his Thursday night guest Jessica Chastain is trying to prevent. 
"Female roles have been so underwritten, especially compared to male roles," the Molly's Game star told the late-night host and his audience. So, to demonstrate the need for better female representation specifically in film and television, the two decided to read some scenes, except Fallon would play the female role and the Golden Globe winner would play the male role. 
In the first scene, the two played a man and woman who bumped into each other on the street, but you barely get to hear from the woman because the man speaks the entire time, waxing poetic as the woman stands silently listening. Needless to say, the point was all too clear. 
For the second example, a man and woman are catching their breath after being chased in an action sequence. The man ends up speaking the entire time, describing how he's going to save the day, and concludes by asking the woman to stay there and wait. "I didn't get to speak at all on that one," Fallon pointed out. 
Fortunately, he would get to speak much more in the third scene, where the man and woman are aboard a spaceship trying to fight enemy starships. The late-night host did get his chance to shine as his character thoroughly explained a well-thought potential fight plan to the crew. However, it was time for Chastain's character to chime in with a simple and dismissive, "No thanks." Ouch. 
As the star pointed out, she and many actresses in the industry are working toward changing the power imbalance and achieving equality for women in the workplace across all industries through the newly launched Time's Up movement. 
"Luckily the industry—it's changing a lot lately," Chastain said. "We have campaigns like Time's Up—they're working toward positive change."