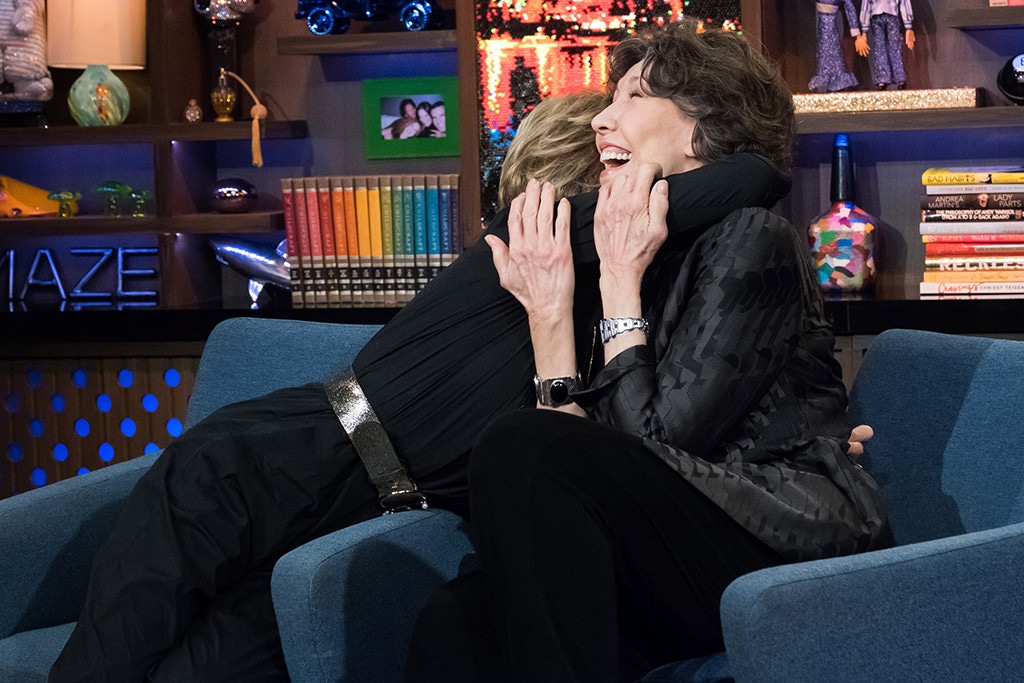 Charles Sykes/Bravo
Hours before the fourth season of Grace and Frankie started streaming on Netflix, Jane Fonda and Lily Tomlin appeared on Bravo's Watch What Happens Live With Andy Cohen Thursday. At 80 and 78 years old, the living legends have seen it all—and that's why Andy Cohen wanted to know if the stars have done it all, too. So, he asked them to play a game of "Never Have I Ever."
Cohen read a series of questions, asking the duo to drink if they had done any of the following:
• "Never have I ever been high or drunk at an award show."
• "Never have I ever confronted a critic for writing a bad review."
• "Never have I ever lied to get an acting role."
• "Never have I ever hooked up with a fan back in the day.
• "Never have I ever passed gas in the middle of a scene."
• "Never have I ever gone to see my own movie by myself in a movie theater."
Needless to say, the actresses could've probably used another round of drinks after the game ended. In the same episode, Cohen also asked Fonda if she has ever tried ayahuasca or molly. Though she has done both, Fonda admitted, "I don't like any of it. I like cannabis to go to sleep."
During the after-show, Cohen asked them to share their best memories of the 1980 hit 9 to 5.
"When we got stoned," Fonda said.
Tomlin clarified, "We didn't really get stoned, though."
"No," Fonda admitted, "but we acted very well!"
(E! and Bravo are both members of the NBCUniversal family.)