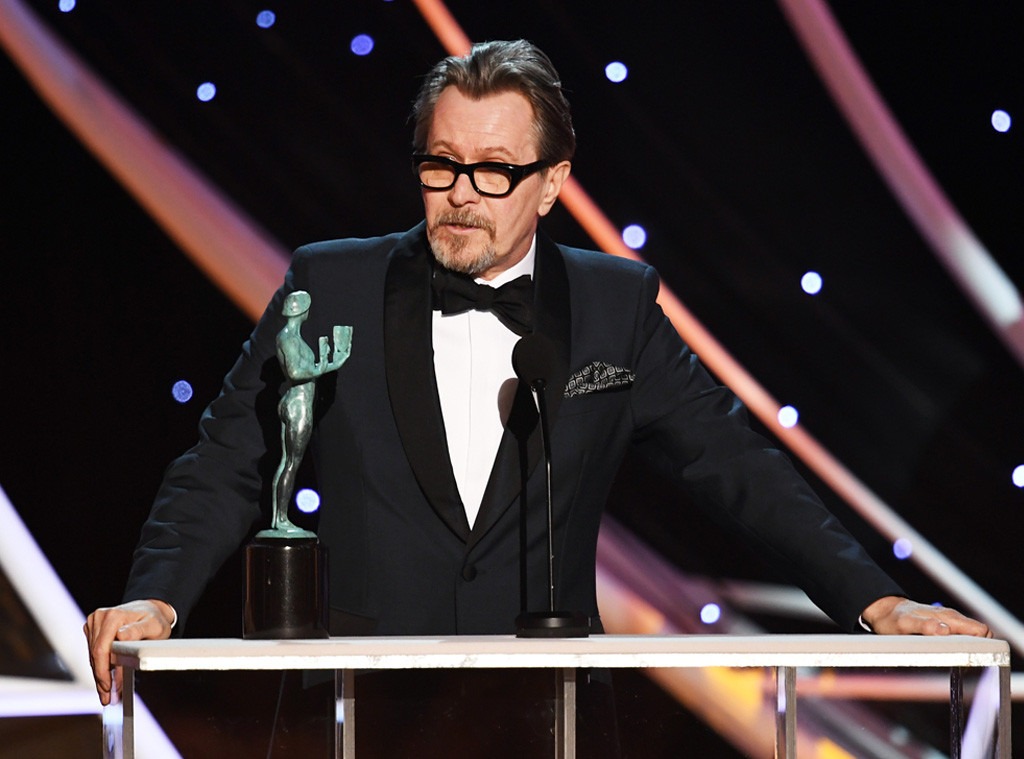 Kevin Winter/Getty Images
Gary Oldman's winning streak continues! 
Just weeks after accepting his first Golden Globes win, the actor received his very first SAG Award for Outstanding Performance by a Male Actor in a Leading Role in a Motion Picture.
"I've become emotional. Thank you, SAG-AFTRA for this tremendous honor. I am honestly and truly thrilled and overjoyed to be in this room tonight, not only with my amazing fellow nominees, but my friends and peers," he shared while on stage. "There are giants of acting in this room tonight. Two of them share my table, Geoffrey Rush and Richard Jenkins, Robert de Niro, Morgan Freeman, and of course, the extraordinary, my old sparring partner, Denzel Washington."
Gary continued, "They are telling me to wrap up and that very sad music seems to follow me everywhere, so I will just say this, that [Winston] Churchill reminds us we make a living by what we get, but we make a life by what we give and you have given enormously tonight and I am so deeply, deeply honored and proud to receive this magnificent award. God bless you all, thank you!"
Watch:
Gary Oldman Endured Hours of Makeup for "Darkest Hour"
The award comes after his performance in the Darkest Hour that takes moviegoers back to the early days of World War II.
Many eyes were on this category as James Franco was also nominated for the award. Just last week, the actor was a no-show when he won Best Actor at the 2018 Critics' Choice Awards. The win came after he faced sexual misconduct allegations from multiple women. He would address the claims during a late-night appearance with Seth Meyers and his attorney Michael Plonsker has denied the women's allegations.
When the winner was announced, however, James graciously clapped and was supportive.
Timothée Chalamet, Daniel Kaluuya and Denzel Washington were also nominated in the special category.
For complete coverage of the 2018 SAG Awards, watch E! News Monday, Jan. 22, at 7 and 11 p.m.!