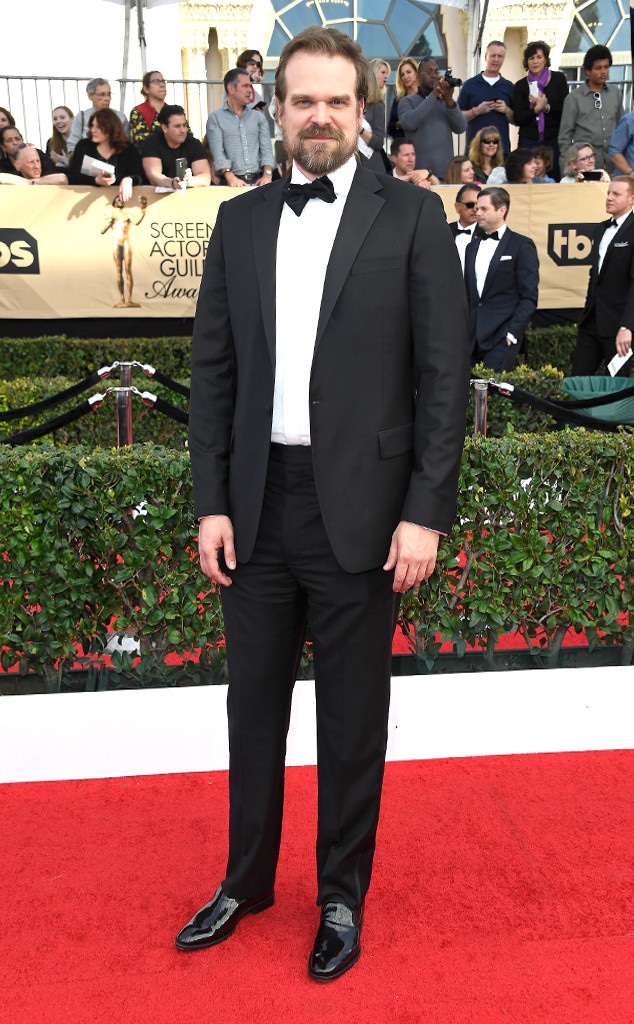 Frazer Harrison/Getty Images
Time to get ordained, David Harbour!
The Stranger Things star made a not-so-small digital deal with a fan this week when she asked what it would take to get him to officiate her wedding in September. The answer? 125,000 retweets...and the first slice of cake. 
"Provided date works with s3 shooting schedule, I will get ordained and perform ceremony," he tweeted back on Tuesday. "I get to read an esteemed love letter of my choosing, and after the cake is officially cut, I get the very first piece. #allthecakes."
Well, ask and you shall receive! Less than 24 hours, the Internet had delivered. 
"Dammit. Not even 24hours. You're kidding me. @ErickaElizabth DM me please to get the ball rolling," he agreed. "I'm making it seriously hard next time, internet, this is not over between us..."
He did make one follow-up stipulation about the cake considering he doesn't want to take away from the wedding tradition. "I will allow the smearing of it on each other's faces, licking icing off fingers and all other bride and groom cake shenanigans, but the actual first whole piece is mine, dammit," he tweeted. 
This isn't the first time the beloved actor has delivered on a fan's request. Last week, he posed for senior portraits with high school fan Damaris Fregoso after agreeing to be in the photos it if she got 25,000 retweets. "And I get to wear the school sweatshirt and hold a trombone," he tweeted back his demands. Naturally, the Internet circulated the tweet beyond that and the portraits turned out hilariously great. 
"Once again I wanna thank everyone from the bottom of my heart!" the California fan tweeted. "I would've never met David if it wasn't for you who rt'ed! It's still hard to believe that I met him, but I thank you, for the continuous love and support on all my social medias! y'all are too sweet! much love xoxo."
Needless to say, we're excited to see the photos from the upcoming fall wedding. So, what will Harbour agree to do for a fan next? Time to submit your Twitter requests!