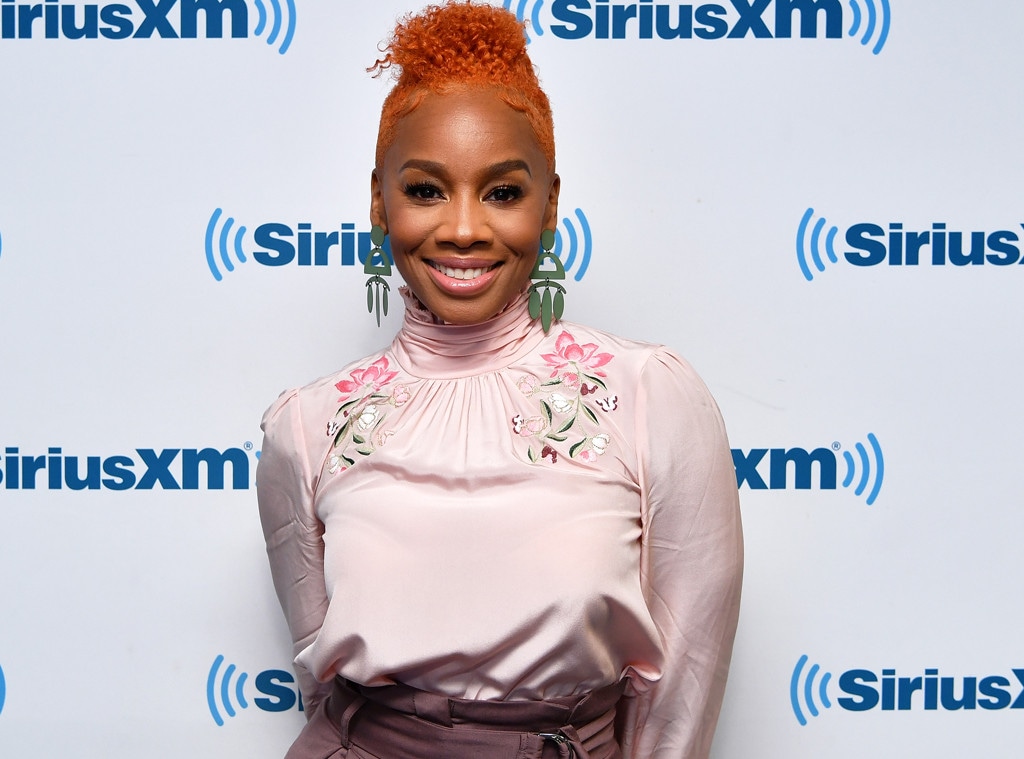 Slaven Vlasic/Getty Images
Anika Noni Rose shared her own #MeToo story on SiriusXM's Make It Plain show Thursday. In a candid and emotional interview with with host Mark Thompson, The Quad actress revealed, "I have never spoken of this, but I will say this out loud now: I was assaulted on a plane last year. And I haven't been able to get this person's name; they won't give me the name of the person."
Rose, who told a handful of friends about the assault, recalled it happened without warning. "I don't know this person. He didn't introduce himself. There was no, 'Hi, how are you doing?' And I was asleep before the plane even took off; I'm one of those sleepers," she said in the pre-taped interview. "That engine started and I'm like a baby in car. I'm out. He ruined it. Ruined it."
The stranger's assault "woke" Rose up, so she alerted the airline's crew. "We turned that plane around," she said. "I was offered that option in the beginning, and I said no, because it seemed like the person was then going to go to sleep. I felt like, 'Maybe he's chilling.' I told the steward and stewardess, 'I just want you to keep an eye on this person. I just want you to know that this is happening.' And then he said some things that were so out of the box, that I was like, 'Let's stop the plane.' But at that point, the plane was...We had left late. We were starting to take off late. I didn't know who had connections somewhere else, who was trying to get somewhere important, so I was like, 'It's a short flight. Just pay attention to him. Let's just keep it moving.'"
Unfortunately, Rose said, things only escalated from there. "I was like, 'I don't know what to do with myself. Yes, please turn the plane around.' I was shaking. I was so upset and so hurt and angry. Like, angry," she said. "I wanted to punch that man, and I knew that that would take away from the story that I had to tell. I had to hold in everything that I was feeling to be able to tell this story and be heard and taken seriously from the place I was in. It's been...interesting."
The man was eventually removed from the plane, she added.
Rose, who next appears in the movie Assassination Nation, has tried in vain to bring her attacker to justice. "There's a Freedom of Information act. You're supposed to be able to get people's names. I made a report right then with the FBI and they dropped it. They dropped the case," she said. Asked why, the actress sighed and said, "I really don't know. I really don't know." Rose said the airline is "not allowed to tell me the name of the passenger, apparently." Since the incident occurred, she admitted, "I can honestly say that I have not done much with it. I made my report. I followed up with the police, like I was told to do. The police did nothing."
"I don't really know how you deal with that. It was such a sly violence—such a sly violation," she added, saying, "It's a really tough thing to deal with when something happens to you, and you do everything you're supposed to do, and somebody somewhere else decides: 'Well, we're not going to go forward with this. We're not going to look into this any further.' You're walking around in circles asking for information that is owed you. The amount of care that is taken to protect perpetrators is vastly heavier and stronger than the amount of care that is taken to protect victims." Rose took a picture of the man, vowing, "I'm not finished. I'm not finished."
Rose explained that she was withholding certain details in the hopes of finding the man and pursuing her legal options. She also warned other women to be vigilant, since what happened to her could happen to anyone—not just to female celebrities. "I say this to say, I was a woman asleep on a plane. I wasn't dressed up. I wasn't fancy. I actually looked like I was probably in school, and somebody felt free to touch me in that moment," she said. "You don't have to be in Hollywood. You don't have to be dressed up. You don't have to be a siren. I was on a plane, in a skullcap, looking like a kid, basically, and this person felt free to touch me. It is mind-blowing."
"It sounds like a very small thing. You know, it's not. It is the police definition of rape. It is not the definition of rape that we think of, because we think of rape as intercourse. Rape is really beyond intercourse, when we look at what the definition is," Rose said. "It doesn't make it less of a violation. It's a different type of violation, but it doesn't make it less shocking—I'll say that."