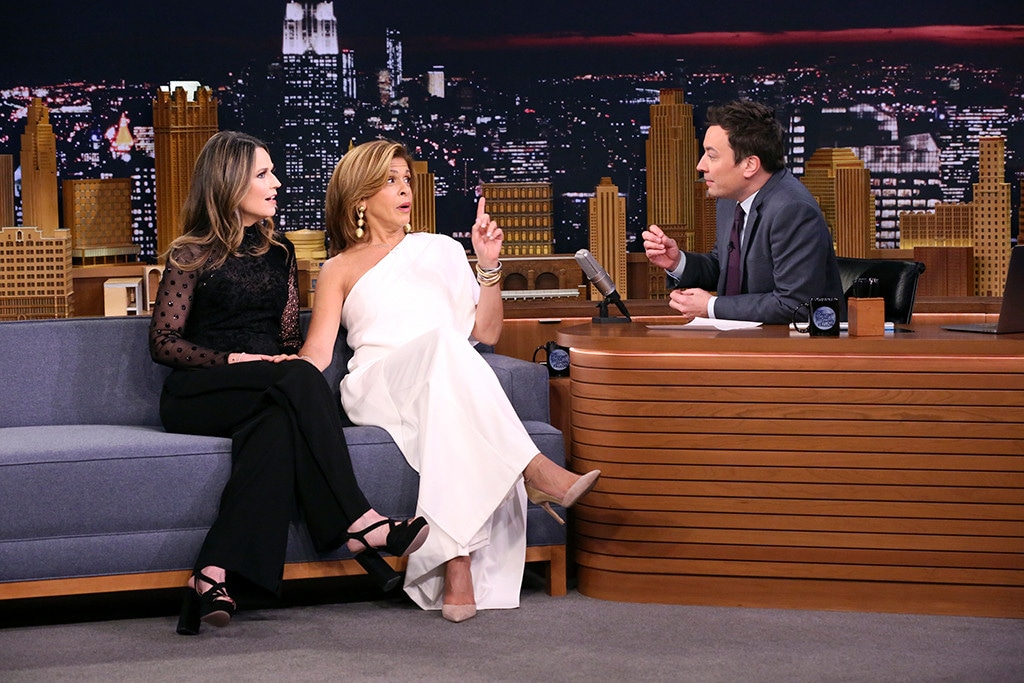 Andrew Lipovsky/NBC
Savannah Guthrie and Hoda Kotb opened up about Matt Lauer's departure on Wednesday's episode of The Tonight Show. 
Kotb replaced Lauer on Today after he was terminated from NBC News for alleged inappropriate sexual behavior.
"It was a difficult time for the show—no question," Kotb said about Lauer's departure. "We were just talking about how do you navigate those waters."
Viewers will recall how Guthrie announced the termination back in November and said she she felt "heartbroken" for both Lauer and the accuser. She also opened up about dealing with conflicting feelings. 
"We are grappling with a dilemma that so many people have faced these last few weeks: How do you reconcile your love for someone with the revelation that they have behaved badly?" she said at the time. "And I don't know the answer to that."
However, both anchors seem like they're ready to move on.
"It was hard. Everyone saw it. We all went through it," Guthrie told host Jimmy Fallon. "But, you know, as you say, it's like something really lovely and positive has happened. So, I think that's where we're focused."
One of the "really lovely and positive" things to happen is Guthrie and Kotb have become the show's first female co-anchors in 66 years.
"Whaaaaaaaat?" they said together.
Guthrie said she and Kotb "just clicked" as co-hosts.
"Hoda said it was like a first date and I was like, 'I'm easy and desperate.' So I was like, 'Yeah, no problem.'" Guthrie teased. "It just clicked, and it felt so good and we're so happy."
Even though it's been less than a month since Kotb officially took over for Lauer, her lifetime experience has made her more than prepared. According to NBC News, Kotb joined the organization in 1998 as a correspondent for Dateline and started co-hosting the fourth hour of Today with Kathie Lee Gifford in 2008.
"The combination of those two things, I think, made everything work out just right," Kotb said. 
Watch the video to see the full interview.
(E! News and NBC are both part of NBCUniversal)