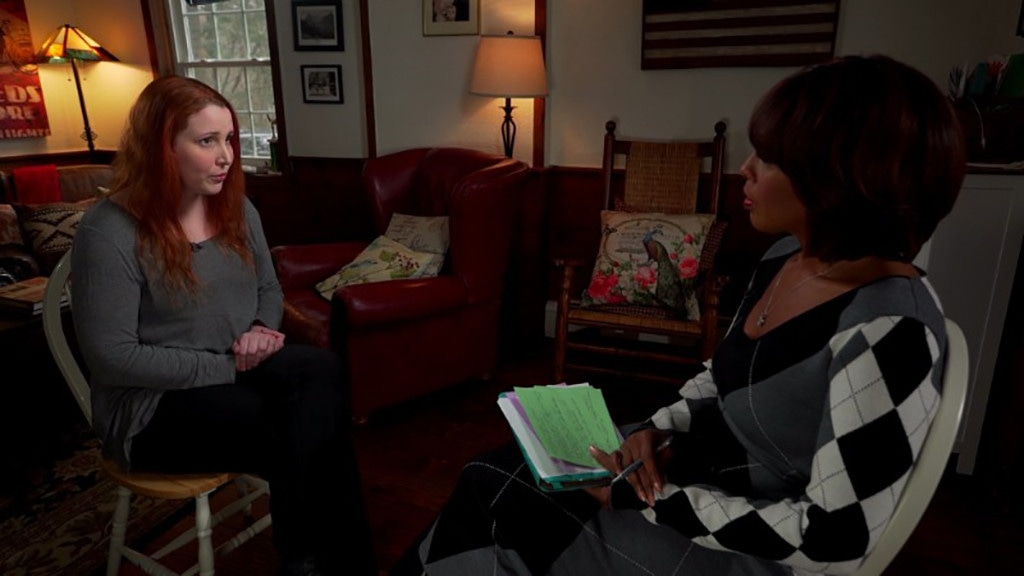 CBS This Morning
Dylan Farrow opened up about her sexual assault allegations against her adoptive father and famed director Woody Allen during Thursday's episode of CBS This Morning.  
Speaking in her first televised interview about the accusations, 32-year-old Dylan recounted the harrowing incident that allegedly took place on Aug. 4, 1992—back when she was just 7 years old.  
"I was taken to a small attic crawl space in my mother's country house in Connecticut by my father," she told interviewer Gayle King. "He instructed me to lay down on my stomach and play with my brother's toy train that was set up. And he sat behind me in the doorway, and as I played with the toy train, I was sexually assaulted…As a 7-year-old I would say, I would have said he touched my private parts, which I did say. As a 32-year-old, he touched my labia and my vulva with his finger."
Dylan claimed her mother Mia Farrow had been out shopping that day but was "upset" when she heard the allegation and took her to a pediatrician. Dylan said she had been too "embarrassed" to tell the doctor about the alleged assault and that she told him Allen touched her shoulder instead. After Mia allegedly asked Dylan why she hadn't detailed the same accusations, Dylan reportedly told the doctor about the alleged assault.  
According to CBS This Morning, Allen suggested Mia prompted Dylan to change her story after the mother had found nude pictures of her adult daughter Soon-Yi, whom she had adopted during her previous marriage, in Allen's apartment months earlier. Allen and Soon-Yi had had an affair and have been married for more than 20 years.
During the interview, King showed Dylan a past 60 Minutes interview in which Allen denied the alleged assault. 
"Isn't it illogical that I'm going to, at the height of a very bitter, acrimonious custody fight, to drive up to Connecticut, where nobody likes me and as I'm in a house full of enemies?" Allen said in the clip. "I mean, Mia was so enraged at me and she had gotten all the kids to be angry at me that I'm going to drive up there and then suddenly on visitation pick this moment in my life to become a child molester. It's just incredible. If I wanted to be a child molester I had many opportunities in the past. I could have quietly made it a custody settlement with Mia in some way and done it in the future. It's so insane."
The interview caused Dylan to break down in tears. 
"He's lying, and he's been lying for so long," she said. "And it is difficult for me to see him and to hear his voice. I'm sorry."
Dylan also alleged this wasn't the only time Allen acted inappropriately.
"He would follow me around. He was always touching me, cuddling me and if I ever said, you know, like I want to go off by myself, he wouldn't let me," she told King, adding that he didn't act that way with her sibling Ronan Farrow. 
She also claimed the director would ask her to get into bed with him when he, and sometimes she, had only underwear on.
Although Allen was investigated by both the Child Sexual Abuse Clinic of the Yale-New Haven Hospital and by New York State Child Welfare, he was never charged with abuse. However, Frank Maco, the Connecticut state prosecutor involved with the case, questioned the credibility of the Yale-New Haven report, CBS reported, and thought there was probably cause to charge Allen. CBS also reported that Marco thought Dylan was "too fragile" to become involved in a celebrity trial.
In addition, Maco told CBS News that, in his experience, there had been no manipulation by Mia and that there was nothing in the state police investigation that indicated Dylan had been controlled or manipulated.
"Here's the thing: Outside of a court of law, we do know what happened in the attic that day. I just told you." Dylan said. 
At the top of the interview, Dylan said she had "loved" and "respected" her father as a child.
"He was my hero," she told King, "and that doesn't obviously take away from what he did. But it does make the betrayal and the hurt that much more intense."
Allen, who has denied the allegations in the past, continued to deny the claims to CBS News.
"When this claim was first made more than 25 years ago, it was thoroughly investigated by both the Child Sexual Abuse Clinic of the Yale-New Haven Hospital and New York State Child Welfare," Allen stated. "They both did so for many months and independently concluded that no molestation had ever taken place. Instead, they found it likely a vulnerable child had been coached to tell the story by her angry mother during a contentious breakup."
He added, "Dylan's older brother Moses has said that he witnessed their mother doing exactly that – relentlessly coaching Dylan, trying to drum into her that her father was a dangerous sexual predator. It seems to have worked – and, sadly, I'm sure Dylan truly believes what she says."
He then concluded, "But even though the Farrow family is cynically using the opportunity afforded by the Time's Up movement to repeat this discredited allegation, that doesn't make it any more true today than it was in the past. I never molested my daughter – as all investigations concluded a quarter of a century ago."
Christopher Polk/Getty Images for Turner
Dylan first publicly addressed her accusations in 2014 when she wrote an open letter for The New York Times.
"For as long as I could remember, my father had been doing things to me that I didn't like," she wrote at the time. "I didn't like how often he would take me away from my mom, siblings and friends to be alone with him. I didn't like it when he would stick his thumb in my mouth. I didn't like it when I had to get in bed with him under the sheets when he was in his underwear. I didn't like it when he would place his head in my naked lap and breathe in and breathe out. I would hide under beds or lock myself in the bathroom to avoid these encounters, but he always found me."
Allen wrote his own open letter in response that same year. 
"Of course, I did not molest Dylan," he wrote at one point. "I loved her and hope one day she will grasp how she has been cheated out of having a loving father and exploited by a mother more interested in her own festering anger than her daughter's well-being."
Dylan's siblings Ronan and Moses Farrow have also been vocal about the accusations.
After Allen received the Golden Globes' lifetime achievement award, Ronan tweeted, "Missed the Woody Allen tribute - did they put the part where a woman publicly confirmed he molested her at age 7 before or after Annie Hall?" 
Mia also tweeted, "A woman has publicly detailed Woody Allen's molestation of her at age 7. GoldenGlobe tribute showed contempt for her & all abuse survivors."
In an interview for People, Moses defended his father.
"My mother drummed it into me to hate my father for tearing apart the family and sexually molesting my sister," he told the magazine at the time. "And I hated him for her for years. I see now that this was a vengeful way to pay him back for falling in love with Soon-Yi."
Watch the video to see the full interview.