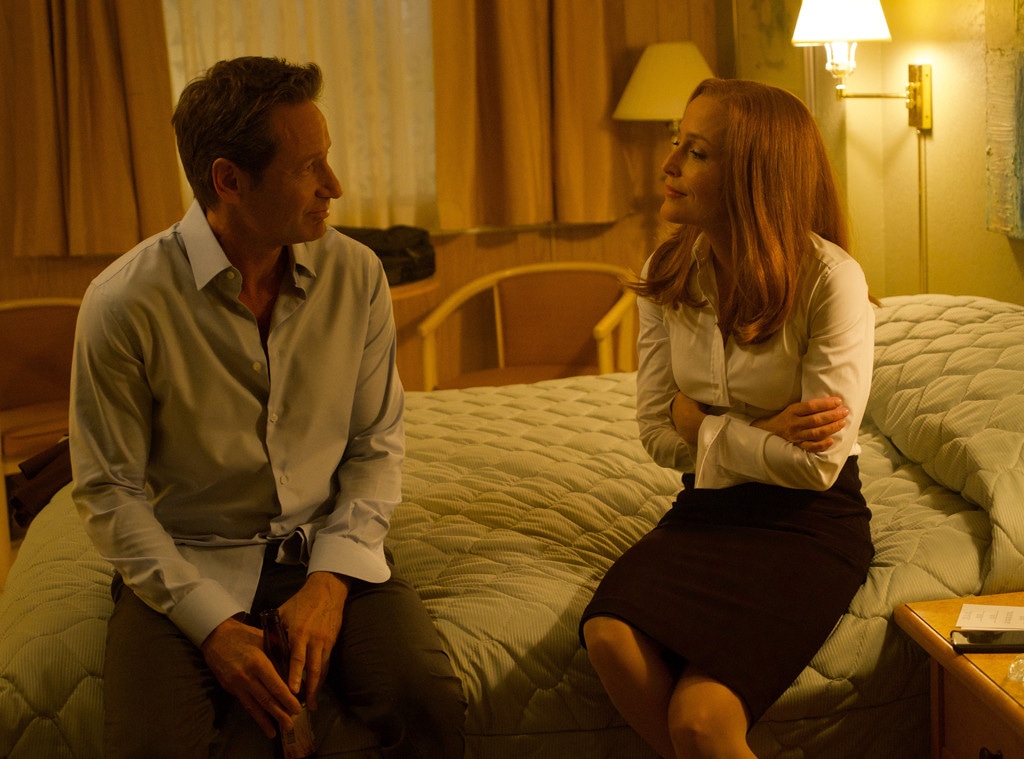 Fox
"And then they had sex." It happened, The X-Files fans. Mulder and Scully and a bedroom. Not once, but twice.
In "Plus One," the third episode of The X-Files season 11, Mulder (David Duchovny) and Scully (Gillian Anderson) reconnected in an intimate way and fans finally got a shot of the two of them in bed together. It may not be the full on sex scene fans have clamored for since the original series, but it's still something. Anderson took to Twitter to mark the occasion, using The X-Files fan lingo as a celebration of the pairs return to a physical relationship.
Predictably, fans went wild over both the moment and Anderson's tweet in celebration of the shipper landmark.
At the 2018 TCA winter press tour, Anderson and Duchovny spoke about the relationship between their iconic FBI agent characters and what it's meant to fans worldwide.  Anderson said her relationship to Scully and the pairing has changed "so much year after year after year," mostly because she was naïve to the way American TV worked.
"And I only feel, actually, that now, in retrospect...Fox asking us to look back and to comment on our favorite episodes and actually trolling through some of the episodes that it's been years since I've seen I feel like every time I'm asked to reflect, I have a completely different and new perspective on what it was and what it meant and a new understanding of what it might have meant for other people," she told press. "And this year, in doing that at Fox's request, I feel like for the first time I truly understood how special and unique the dynamic was between Mulder and Scully. It's taken me a while."
However, watching old scenes, "beautifully written scenes and really intimate scenes between them," has opened her eyes a bit more.
"Nothing intimate in a sexual way, but certainly in their connection with each other and how unique and almost old fashioned it was. You know, some of...the original shows feel like, you know, they could be in the '40s or something. It's the weirdest thing. And I feel like just this year, I've developed a whole new appreciation for the uniqueness of what people always ask me about and referred to, 'What about your chemistry,' and, you know, 'You got chemistry'…But it was...it's special, you know. And it's a chemistry that often there are elements of it that show up when we're, you know, side by side doing interviews…But most of the time when the cameras are rolling…my feelings about it have changed drastically over the years. But I'm so grateful. I'm so grateful."
"Some actors get stuck with characters that they could take or leave or they're not that crazy about, and...to have the opportunity to play somebody as extraordinary a character, as iconic a character as Scully and to be in this duo is a very special thing, indeed," she concluded.
The X-Files airs Wednesdays, 8 p.m. on Fox.