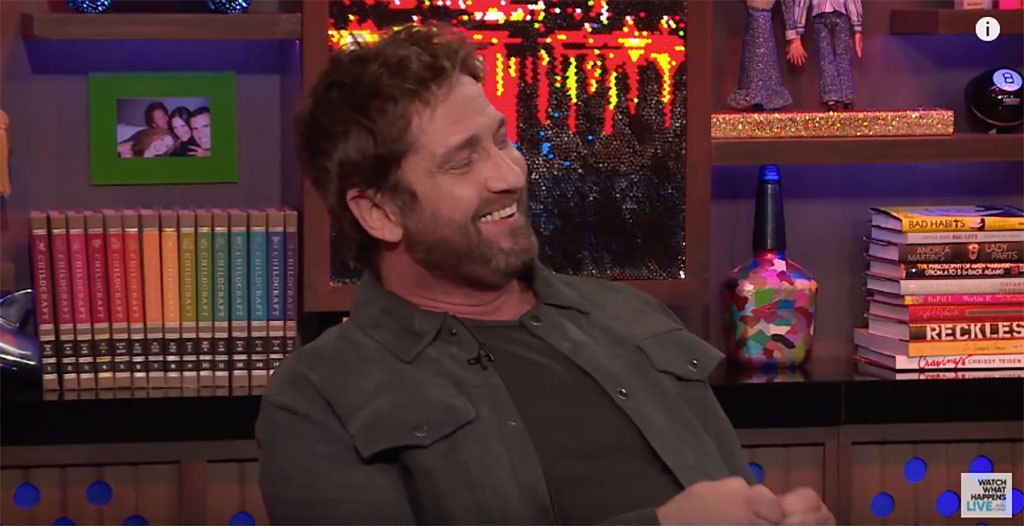 YouTube
Gerard Butler is spilling all the hot personal tea. 
During a visit to Andy Cohen's Bravo clubhouse on Wednesday night, the action star dished out a few juicy details about the craziest place he's had sex, which of his co-stars was the better kisser and his past hookup with reality star Brandi Glanville.
Thanks to a fan caller, the actor faced an inquiry about his past sex spots. "I've had sex in some crazy places," he confirmed. So, where were you, Gerard?
"I had sex on the side of a volcano once—that was pretty cool. Actually, it was pretty hot—and on a glacier," he quipped. If you're wondering "Why?" Butler had the answer for that, too. "If you're somewhere interesting, you kind of think it would be nice to make this a more interesting story," the actor explained. 
However, the glacier romp wasn't exactly as cool as he imagined. "I gotta be honest—it was not fun," the star admitted. "My ass stuck to the ice."
The single star made headlines a few years ago when he didn't seem to know who Glanville was after she revealed on Watch What Happens Live with Andy Cohen that they had slept together.  
"It was kind of a crazy time in my…Anyway, we hung out. We had fun and then I never saw her again," Butler recalled of that time on the show Wednesday night. "Suddenly, I was walking down the street with a director and these guys from TMZ come running down the street going, 'What about you and Brandi Glanville?' and I'm like, 'Who's Brandi Glanville?' because I didn't even know her last name."
"She got pretty upset about that," he added. 
During a round of "Plead the Fifth," Butler also kiss and told on his former co-stars Angelina Jolie and Jennifer Aniston. He acted opposite Jolie in 2003's Lara Croft Tomb Raider: The Cradle of Life and with Aniston in 2010's The Bounty Hunter. When asked, "Who is the better kisser?" the actor was visibly apprehensive about answering at first. "No, we need to know this," 50 Cent, who was also in the interview, insisted. 
After some uneasiness, Butler gave his answer: "Jennifer Aniston."
(E! and Bravo are both part of the NBCUniversal family.)