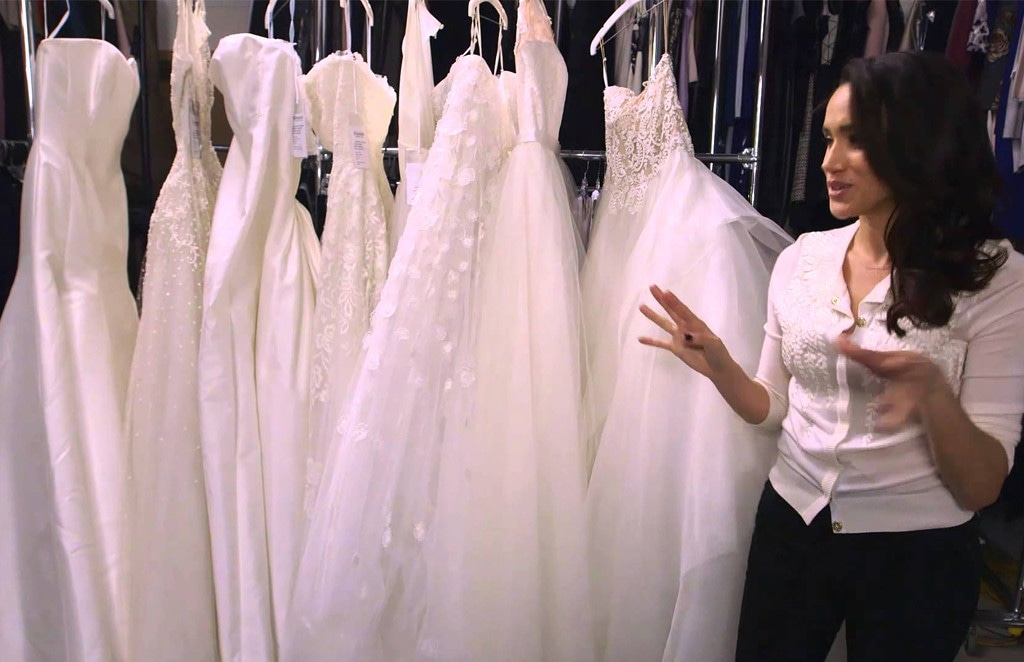 USA Network
When Megan Markle steps out in front of the world to marry Prince Harry, one thing is guaranteed to bring the biggest gasp from the millions of viewers tuning in for the nuptials—her wedding dress, of course.
It will be the biggest fashion moment of the year and the most closely guarded secret of the day. Like Kate Middleton and her intricately designed Sarah Burton for Alexander McQueen dress and Princess Diana's dramatic 25-foot train crafted by David and Elizabeth Emanuel, Meghan's choice promises to be just as iconic and will earn whoever the lucky designer is a place in the royal history books.  
And with just four months to go until May 19, the clock is ticking fast.
 "It's a lengthy interview process," explains Christine Ross, editor of Meghan's Mirror, a site dedicated to everything you could possibly want to know about Meghan's fashion. "I imagine Meghan has reached out to designers she loves and admires and has spoken with them about design options and their design process. From there, she would choose a designer who she clicks with to create the perfect bespoke gown."
At the moment it's anyone's guess whom Meghan might collaborate with—although luckily for her, she won't be making the decision purely on her own because her best friend is Canadian fashion stylist Jessica Mulroney.
George Pimentel/WireImage
Jessica has proved she can keep a secret (she has known about Meghan and Harry's clandestine romance since their very first date) and is the perfect person to bounce fashion ideas off of."[She] loves everything from high-end iconic name brands like Burberry and Prada, to smaller designers like Mackage and Sarah Flint," Ross explains. "I think Emilia Wickstead, the go-to bespoke bridal designer for posh London brides-to-be, would be a very safe choice. She may also surprise us with a bespoke gown from Erdem, a Canadian designer she has worn for many years."
Picking a Canadian designer would certainly be a way for the California native to honor her home away from home during her time shooting Suits in Toronto (during which she actually got to pick out a wedding dress in character).
An American choice, meanwhile, would be a lovely way to pay tribute to her country of birth. Or she could opt for someone in the British fashion world, such as her friend Misha Nonoo, as a symbol of allegiance to her new home (she is currently in the process of becoming a British citizen).
"I think she should wear Stella McCartney," stylist Karla Welch told us with a twinkle in her eye at the Stella McCartney Fall Fashion Preview event in L.A. But she had plenty of reasons to back up the endorsement: "British and modern, and a feminist," Welch said. "And strong and unconventional."
Watch:
Meghan Markle's Former Stylist Talks Wedding Gown Styles
"I'll take that as a compliment," added Stella McCartney herself. Asked if she would take on the job if asked, she says she would "definitely think about it." Prodded a little further, McCartney admitted she'd of course be honored.
"I've done a few wedding dresses for very close friends and it's an incredible honor," she explained, "so of course, you know, I think it's one of the most special days in anyone's life. And it's such a personal affair, so I'm a big fan of doing wedding dresses in general."
In 2011 Meghan's soon to be sister-in-law, Kate Middleton, did just that and went with a British designer. But that decision wasn't without its issues. While Sarah Burton was able to nab the gig because of her ability to be discrete, the biggest surprise of the year was spoiled when she was spotted sneaking into Kate's hotel for a last-minute fitting the night before the big day. Despite hiding her face under a huge hat, an eagle-eyed reporter noticed the mystery woman was wearing Burton's trademark uniform, which was well known within fashion circles: a studded belt and ballet flats.
And just like that, the biggest secret of the year was out.
It's a faux pas Meghan's designer will be making every effort not to repeat.
Watch:
Meghan Markle's Former Stylist Talks Wedding Gown Styles
It's also why, despite rumors that Israeli designer Inbal Dror is up for the job, the likelihood of the couture dressmaker being chosen is slim to none. Late last year, the fashion house admitted they had been in communication with the palace and even sent dress sketches to Meghan for review. That willingness to spill the beans has likely taken them out of the running—although the fashion house certainly garnered its share of headlines thanks to the mishap.
"Respecting Meghan's privacy and being attuned to the extremely sensitive nature of this design process will be the biggest factor in Meghan's choice of designer," says Ross. "Whoever designs the dress will need to be very discreet and available for many private meetings and fittings at Kensington Palace."
So what will Meghan's dress look like?
David X Prutting/BFAnyc.com/REX/Shutterstock
Stylist Jessica Paster, who used to work with the bride-to-be before she moved to Toronto and describes her as "the sweetest girl," predicted to E! News at the Stella McCartney party that Meghan's wedding day look will be "girly, feminine and beautiful. I think we're going to see lace, but a tiny bit of sparkle here and there."
Hollywood stylist Charlene Roxborough, who has worked with Eva Longoria and Kim Kardashian West, says she expects Meghan to bring a fresh look to the traditional style usually favored by the British royal family. "Everything she wears is always so well put together and so, in that sense, I feel like she would be just very modern and fresh," she says.
"When it comes to picking a designer, it [should be] something that comes from the heart, a designer that you've always loved and dreamt of wearing as a little girl. It [should be] something that makes you feel comfortable, makes you feel good."
As for those rumors that Meghan should refrain from wearing white because it will be her second marriage (she was married to Hollywood producer Trevor Engelson from 2011 to 2013), Charlene advises, "Everyone has their own idea when it comes to what they should and shouldn't do on their second wedding. But I think that for her this is a wedding with someone she fell in love with it, with someone she feels secure with and someone she is spending the rest of her life with. I don't think that anything that happened in the past is going to come to life for her…She is focusing on the bride that she always wanted to be. White is something that is very pure and very innocent and I feel like Meghan is that person. She is very pure, very innocent and it adds to who she is."
It's certain that, whomever Meghan chooses as her design partner, her dress will become an instant style classic. It will be an image we will see time and time again and will be reproduced in bridal shops around the world, printed on mugs and other memorabilia and, as Christie perfectly sums up, "[will] send a message of what kind of royal Meghan is going to be."
The biggest hint of all about Meghan's choice for the big day may have actually come from Meghan herself. During an interview with Glamour magazine a few years ago she admitted, "Classic and simple is the name of the game, perhaps with a modern twist. I personally prefer wedding dresses that are whimsical or subtly romantic."
As for her favorite celebrity wedding gown of all time? "Carolyn Bessette Kennedy," she replied. "Everything goals!"
We're just going to have to stay tuned.
For more details on the battle to dress Meghan Markle for her wedding day, tune into E! News tonight at 7 & 11 p.m.