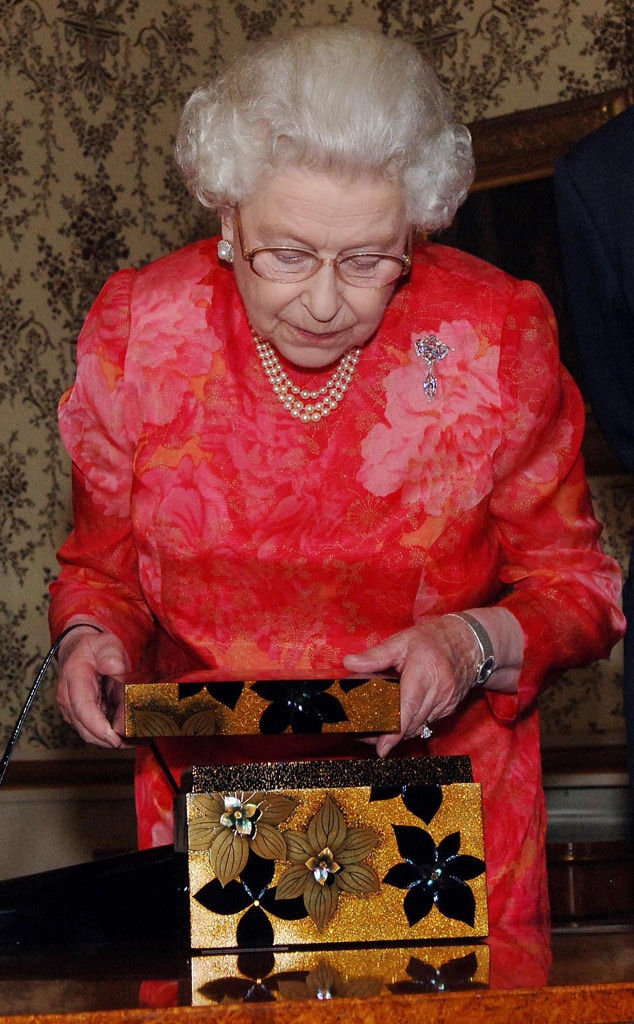 Fiona Hanson - PA Images/PA Images via Getty Images
When it comes to the art of accepting presents, the royals are quite the experts. 
After all, they're royal and, as such, everywhere they go they are met with doting fans offering up a variety of trinkets. Wednesday morning alone Duchess of Cambridge Kate Middleton went home with two freshly gifted teddy bears, compliments of a 9-year-old hospital patient with well wishes for the younger members of the royal family, Prince George and Princess Charlotte. 
With the new year well underway, the official record of gifts the royals received in 2017 has been released. Needless to say, finding something to give any member of the royal family can be quite the daunting task, so it seems many have turned to their own lives for authentic gift ideas. 
For example, Kenyan president Uhuru Kenyatta gave Queen Elizabeth II an ostrich egg decorated with Maasai beadwork for her 91st birthday present. Meanwhile, British astronaut Tim Peake, who has worked on the International Space Station, gave the queen the flag from his spacesuit when he stayed at Windsor Castle in April 2017. Talk about an out-of-this-world present!
Samir Hussein/Samir Hussein/WireImage
Of course, the monarch's well-known interests can also serve as inspiration. For example, during a visit to the Canine Partners National Training Center in November, the longtime corgi lover and owner was given a purple fleece dog bed and toy. 
However, the queen isn't the only royal to be showered with thoughtful presents. In addition to a variety of books, purses, cufflinks and earrings, Middleton and Prince William have also been gifted standout items like a replica cavalry saber from Polish President Andrzej Duda, a bamkuch cake from a bystander in Luxembourg and a vase and ceramic rose from former French President François Hollande. 
Meanwhile, their little ones Prince George and Princess Charlotte were not forgotten. Particularly, during their tour of Poland and Germany with their parents in July, the siblings receives toys, lollipops, trains, socks and even a dreamcatcher, totaling in 59 items. 
What would you gift the queen? Sound off in the comments below!