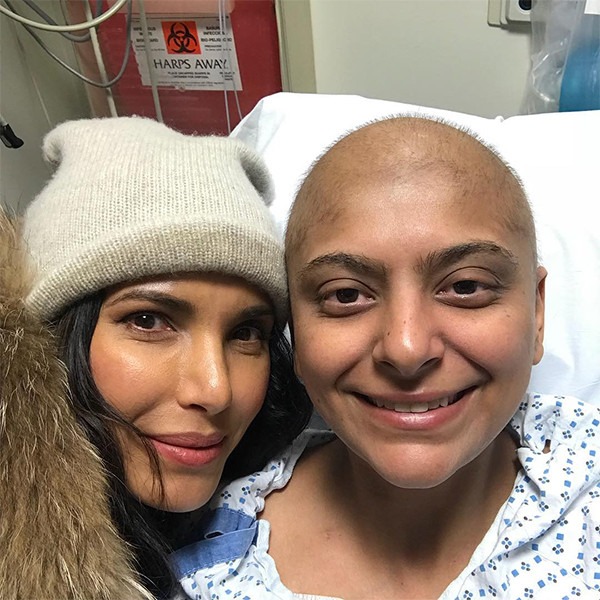 Instagram
Top Chef host Padma Lakshmi recently visited contestant Fatima Ali just before she underwent surgery to remove a cancerous tumor and called on fans to say a prayer for her friend.
Lakshmi, who had previously joined her during her chemotherapy treatments, posted on her Instagram page on Tuesday a selfie of the two by Ali's bedside at a Memorial Sloan Kettering Cancer Center in New York.
"I'd love it if everyone joins me today in saying a special prayer for our @cheffati who went into surgery a couple hours ago," the host wrote. "She was in good spirits when we walked her into OR, and am hoping for a great outcome today. #topchef #topchefmemories @bravotopchef #f--kcancer."
Ali, 28, told Bravo's The Daily Dish in December that she was recently diagnosed with a Ewing's Sarcoma, a rare type of cancerous tumor that grows in the bones or the soft tissue around the bones, in her left shoulder. She said she was on her fourth cycle of chemotherapy.
"I started to experience pain in my shoulder in the early fall, but I was working on a popup restaurant for the U.S. Open, so I brushed it off as a pulled muscle from cooking," she said. "Then I woke up one morning, towards the end of the event, with excruciating pain in a very swollen shoulder and went straight to the emergency room. From there, I went through many tests and biopsies and finally got the diagnosis three weeks later."
Ali said all of her Top Chef co-stars had reached out to her and that she had also received "lovely messages" and care packages from the production team.
"And Padma has been wonderful," she said. "We've caught up over lunch, and she has come to sit with me during my chemo treatments to keep me company. I'm pretty thankful for my Top Chef fam."