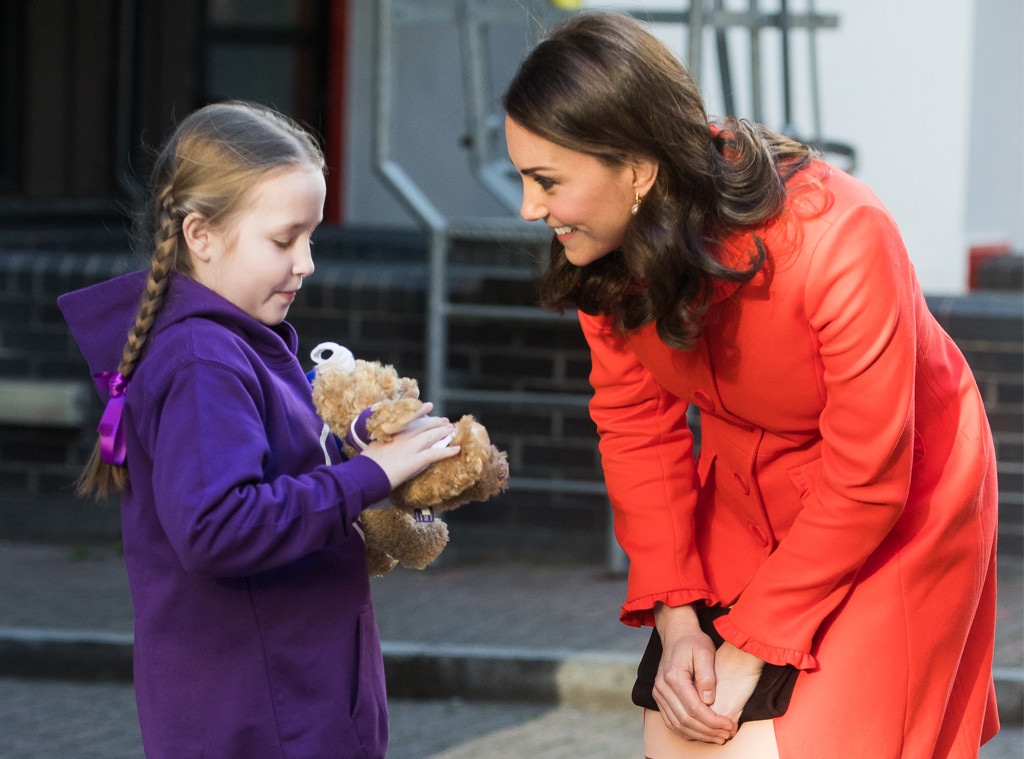 Samir Hussein/Samir Hussein/WireImage
She may be a royal, but Kate Middleton is also just like every doting mom. 
As a future mother of three, the expectant Duchess of Cambridge let her maternal instincts shine through during a visit to the Great Ormond Street Hospital in London on Wednesday, where she was slated to officially open the Mittal Children's Medical Center. 
In typical fashion, the down-to-earth mama was greeted by onlookers as she arrived at the hospital donning a ruffled red Boden coat. The royal beamed as she spoke with 9-year-old Ava Watt, who has Cystic fibrosis. The youngster presented Middleton with two sweet teddy bears, which the duchess happily accepted for her son Prince George and daughter Princess Charlotte.  
Frank Augstein-WPA Pool/Getty Images
Inside, Middleton sat down for some coloring with the children and met with patients at the center, including 4-year-old Rafael Chana, whom brought a smile to her face as the two high-fived at his bedside. Chana, who is waiting for a heart transplant, bonded with the royal over their shared love of olives. "I used to eat lots and lots of olives when I was little as well," Middleton told him. Chana also learned he has something in common with Princess Charlotte—they both like pasta.  
Ultimately, it was time to officially open the center. Joined by a group of young patients, Middleton let the little ones have the honor of pressing the red button during the official ceremony. 
"It's been wonderful to meet so many families and young people," she said at the podium. "I've been so inspired by their bravery and courage at such a difficult time."