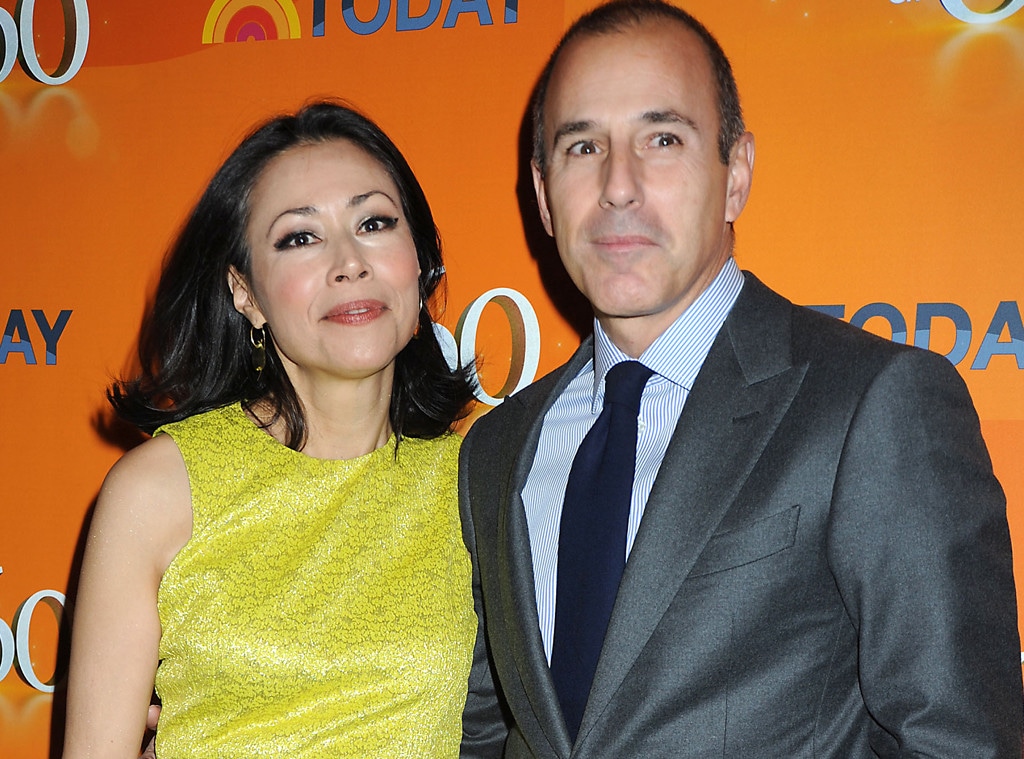 Robin Platzer/ Twin Images/ Lfi/UPPA/ZUMAPRESS.com
On CBS This Morning Wednesday, Ann Curry gave her first television interview since leaving NBC's Today five years ago—and, as expected, it centered on her unceremonious exit from the leading morning news program and her thoughts on Matt Lauer's firing nearly two months ago.
With so many people sharing stories of sexual abuse and harassment in recent months, we're in a time of reckoning, she said. "I think it's, in general, overdue. We clearly are waking up to a reality and injustice that has been occurring for some time, and I think it will continue to occur until the glass ceiling is finally broken. This is about power and power imbalance, where women are not valued as much as men. I'm not talking about people being attracted to other people. I'm talking about people in the workplace who are powerful who are abusing that power and women and men are suffering. And I think the act that people are speaking out is important," she said. "The fact that we are moving against this imbalance of power is absolutely overdue."
"Do you believe that Matt Lauer abused his power?" Norah O'Donnell asked.
"I'm trying to do no harm in these conversations," Curry said. "Um...I can tell you that I am not surprised by the allegations." Co-host Gayle King then asked her to clarify her response. "That means that, in… See, now I'm walking down that road," Curry explained. "I'm trying not to hurt people. I know what it's like to be publicly humiliated. I never did anything wrong to be publicly humiliated, and I don't want to cause that kind of pain to somebody else. But I can say, because you're asking me a very direct question, I can say that I would be surprised if many women did not understand that there was a climate of verbal harassment that existed. I think it would be surprising if someone said that they didn't see that. So, it was verbal sexual harassment."
O'Donnell stopped King from asking another question to follow-up on Curry's last line. "She just said verbal sexual harassment was pervasive at NBC at the time," O'Donnell said. Nervous, Curry said, "I don't want to...Oh, boy! You know, I don't want to cause more pain. You're asking me a very direct question, I'm an honest person, and I want to tell you that it was. Yes. Period."
In the court of public opinion, King said, it looked as if Lauer "derailed" his colleague's career. King told Curry she didn't want to "upset" her, which made her smile at the memory of her emotional farewell on Today. "Don't worry!" Curry assured King. "I'm not going to start crying!"
Asked if she thought Lauer was partly responsible for her exit, Curry demurred. "You know, you should ask someone else. I'm to the one to ask about that. Because I don't know what was all behind it. I do know that it hurt like hell. It wasn't a fun moment. I've learned a great deal about myself. I've really, at this point, let it go. I've just let it go. And I think that...it's been years and I want to sort of move on from that. At this point, I'm thinking, 'Hakuna Matata.' It's just sort of over," the broadcaster said. "But no, I think that the real question, in my view, is: What are we going to do with all this anger? And it's not just, obviously, about where I used to work. It's not about where you're now working. But it's about the problem that's pervasive across industries, in workplaces across America. And this is actually the issue. And the question is, ultimately: What are we going to do about it? I wonder if we keep focusing only on these individual scandals if we're going to move off that foot into creating something better in the future."
In October, Curry tweeted "#MeToo," adding her voice to the chorus of people who have faced sexual misconduct. "I don't know a single woman who has not endured some form of sexual harassment, and many women have endured workplace sexual harassment. It's happened to me in multiple jobs," she said. "It is a way of sidelining women. It's ultimately not just bad for the women, it's bad for the companies and it's bad for our nation, because it's a limiting of people."
"Really, ultimately, also, we should be talking about the victims. We're talking about he scandal, the scandal, the scandal. What about the victims? What are we going to do to remove the stigma and the shame? What are we going to do to make sure these women work and are not sidelined and prevented from contributing to the greater good, that we all are trying to do?" Curry wondered. "Until that balance [between the sexes] actually occurs, then the culture that we're talking about that enables the diminishing of women will continue. And this is really what we need to fix—and this is one of the reasons why breaking the glass ceiling is so important."
Curry previously sat down for her first interview with People Nov. 29, the same day Lauer was fired from NBC News. "My phone started ringing at 7 a.m.," she said in the magazine's Jan. 29 issue, on stands Friday. "And it still hasn't stopped." Though some people assumed Curry would revel in Lauer's downfall, she took the high road. "I'm not a vengeful person. I know what it's like to be humiliated," Curry said. "I just don't want to play a part in anyone else's humiliation."
During a follow-up interview a month later, Curry told People, "I wish I could say that I was celebrating. But actually I immediately checked myself. Because I knew women had suffered."
Curry also admitted it "hurt like hell" when she was abruptly axed from Today on June 28, 2012. "It hurt so much, but I learned a lot about myself. I can say I've done nothing wrong. I've been honest and true. I've tried to stay pure. I've tried to not respond in a knee-jerk manner, and I've stayed very close to who I am. So it hurt, but I'm also proud of myself," she said. But there was a bright side, too. "During those darkest days, one by one, these wonderful women reached out. Jane Pauley, Connie Chung, Paula Zahn, Deborah Norville, they took me to lunch one by one. [Meredith Vieira] wanted dinner. [Oprah Winfrey] called. They all gave me words of wisdom and comfort," Curry recalled. "All these years later it still resonates—these kindnesses."
After leaving Today, Curry continued to work for NBC News until 2015, when she left to start a multi-platform media startup. She returns to TV Jan. 23 with PBS' docu-series We'll Meet Again.
Today's Hoda Kotb officially replaced Lauer as Savannah Guthrie's co-anchor earlier this month. Having two female anchors is "long overdue," Curry argued, "especially when you consider that these days the majority of viewership for morning news programs is women."
(E! and NBC are both members of the NBCUniversal family.)