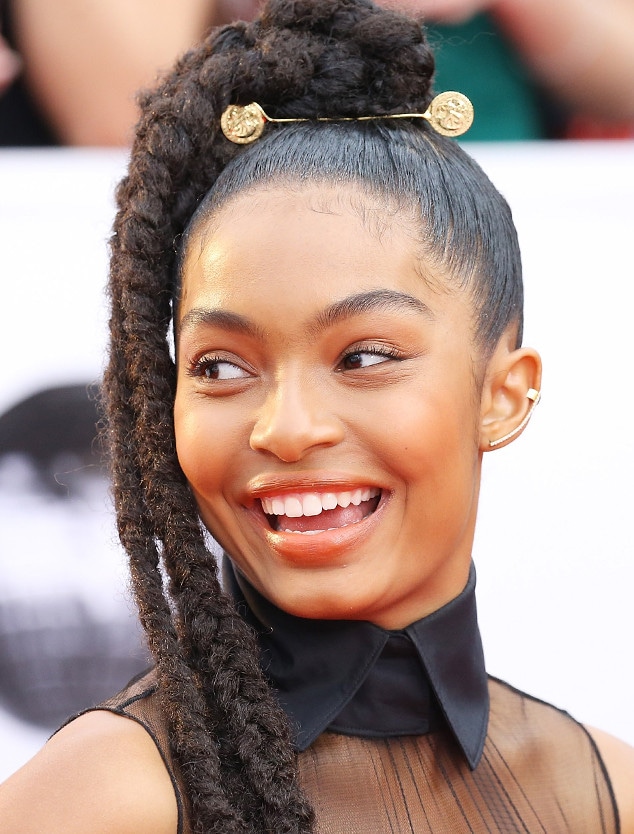 Michael Tran/FilmMagic
There's more to Yara Shahidi's hairstyle than meets the eye.
In honor of the 2018 NAACP Image Awards, the Grown-ish star appeared on the carpet with an "embellished high trio braided ponytail," created by celebrity hairstylist Nai'vasha Johnson.
"The look was actually inspired by the first episode of Grown-ish—Zoey's ponytail," Nai'vasha told E! News. 
The hairstyle is a celebration of the actress' transition from supporting actress on black-ish to leading lady on the new college-set television series, a large accomplishment for the 17-year-old star. However, in comparison to the long braid in the series, her red carpet look features three braids with kinky texture.
"I used the kinkiest Marley hair I could find," she shared, gladly revealing the length and texture of the style comes from the hair she added. "I felt like it give it that bit of texture that we don't often see. When we see a braided ponytail on the carpet, we see that straight ponytail that everyone braids, so I wanted to do something different."
The NAACP Images Awards on MLK Day is the perfect opportunity to do something different that pays homage to the African-American community. Kinky hair does that, especially on the ultimate platform for American beauty: the red carpet. 
To achieve the look, the beauty pro used Tailah Waajid Green Apple & Aloe Nutrition Leave-In Conditioner, Curls, Waves, Naturals Curly Curl Gello and Shea Monoi Oil to smooth hair into a tight ponytail, section it into three sections, and then add in the Marley hair to create three braids. To finish it, she added a metallic accessory, courtesy of Oribe.
Love this look? Check out the best beauty looks from the 2018 NAACP Image Awards below!