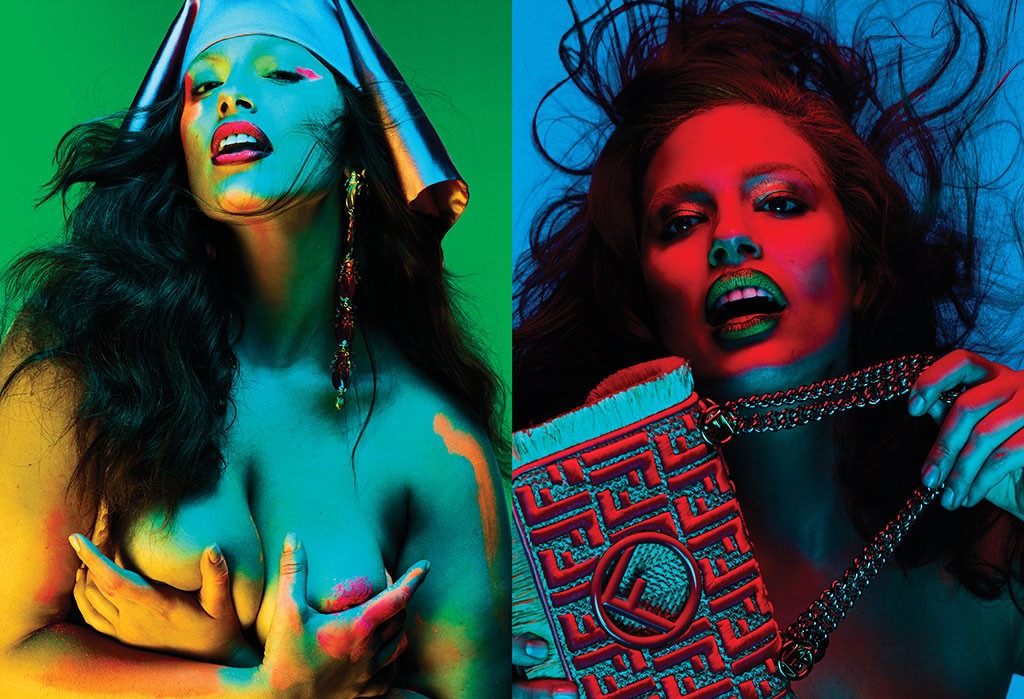 Ben Hassett
Ashley Graham is making a sartorial splash. 
For the latest issue of V magazine, the supermodel stripped down and made quite a colorful statement in the name of accessories. Sporting standout earrings, Louis Vuitton and Fendi purses, the body positive activist struck a few shirtless poses for the camera.
There's no shortage of color at play in the pop art-inspired images. Meanwhile, Graham's graphic eye makeup looks are the work of makeup artist to the stars and Maybelline's global makeup artist, Erin Parsons. 
"Individuality means feeling comfortable enough to be your authentic self," she was quoted with the images. "I hope we continue having progressive conversations about inclusion and equality, and that the next generations sees themselves represented more diversely in the media!"
Ever the posing pro, Graham looks undeniably confident. In May 2017, the America's Next Top Model judge posed nude for an unretouched black and white photo shoot for the magazine, complete with an empowering accompanying interview.  
"I remember my first signs of cellulite, in middle school. I remember telling my mom, 'Isn't it disgusting? It's so ugly.' She pulled her pants down and said, 'Look, I have it, too.' And I was like, 'Gasp!' She looked at me, then at it, and just rolled her eyes. She didn't tell me that it's beautiful or ugly. She just made it a nonissue," she told Tracee Ellis Ross, who interviewed her for the magazine at the time. 
"It doesn't define my worth. If women like you and me continue to preach that, then I feel like younger girls are going to grasp it and they're going to be like, 'Who cares!'"