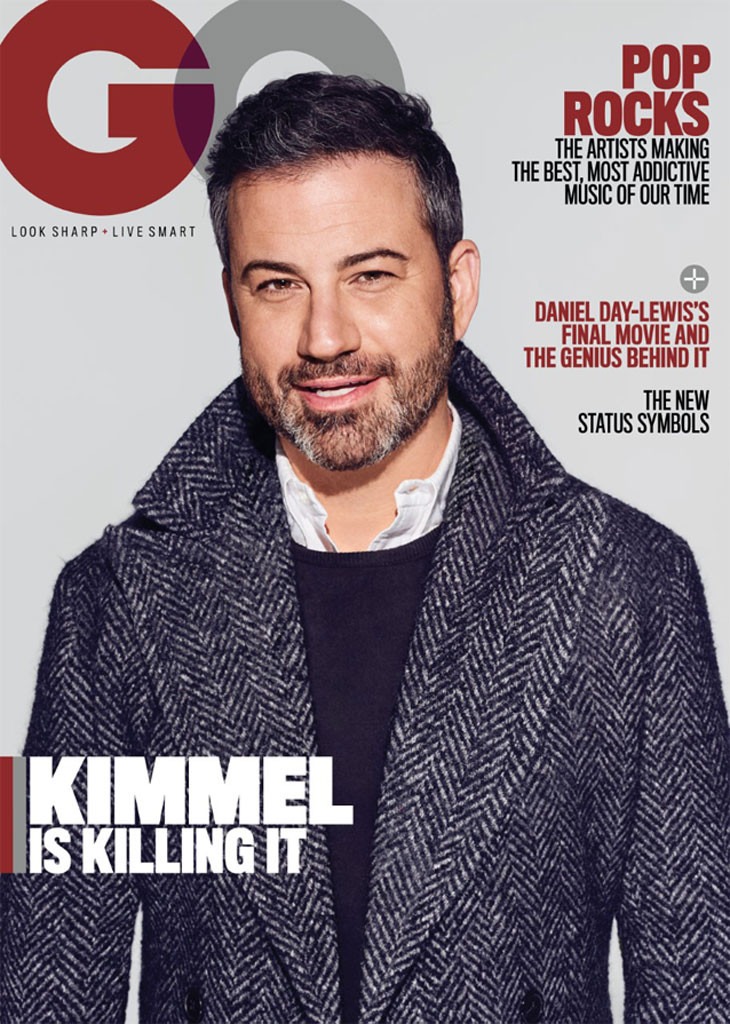 Eric Ray Davidson
It was a simpler time when the most unpredictable public figure on Twitter was Kanye West, but not even his 2013 tirade against Jimmy Kimmel ruffled the late-night host's feathers.  
Kimmel is GQ magazine's February 2018 cover star, in it discussing why even the most flammable of celebrity interactions actually bring him joy. Case in point: That time when Yeezy lashed out at Kimmel over a sketch shown on Jimmy Kimmel Live! spoofing an interview West had given. 
Calling Kimmel a "manipulative mother f--cker," West's all-caps rant continued in part, "JIMMY KIMMEL PUT YOURSELF IN MY SHOES... OH NO THAT MEANS YOU WOULD HAVE GOTTEN TOO MUCH GOOD P----Y IN YOUR LIFE."
And perhaps most memorably, the rapper also tweeted, "SHOULD I DO A SPOOF ABOUT YOUR FACE OR YOU F--KING BEN AFFLECK…#NODISRESPECTTOBENAFFLECK #ALLDISRESPECTTOJIMMYKIMMEL!!!!"
So what's Kimmel's take on the feud almost five years later? 
"I live for moments like that," he told GQ. "When I got in a Twitter battle with Kanye, I was so happy. My wife [Molly McNearney] makes fun of me. She's like, 'You are so happy right now.' I'm absolutely beaming. I feel very confident in a situation like that."
Jimmy and West have since buried the hatchet, with Kim Kardashian actually reading one of her husband's infamous tweets during a "Mean Tweets" segment in honor of the comedian's 50th birthday. 
The hip-hop artist would ultimately make an appearance on Kimmel's show, comparing the back-and-forth to a "high school" squabble. 
West defended himself, "I'm not running for office. I'm just here to make good music. When I did that interview [with BBC], I was really vocal with a lot of things I've been dealing over the last 10 years. For me, I'm a creative genius, and I know you're not supposed to say that about yourself. I say things the wrong way a lot of times, but my intention's always positive. For me to say I wasn't a genius, I would be lying to you and myself."
From Kimmel's perspective, he sees value in pushing the envelope with his comedy. 
"You take a risk when you make a comment that is dark," he explained. "In a way, it's you saying, 'I trust you. I trust your sense of humor, and I trust that you will not use this against me.' It's a little gift, I think. When somebody makes a truly offensive joke to me, I love them a little bit more. If it's just offensive, it's no good. But there's nothing better than when something emotional or serious is going on, maybe it's a wedding toast, and somebody funny leans over and whispers something terrible into your ear. I live for those moments. I live for being the one who does the whispering."
The February 2018 issue of GQ is on stands now.