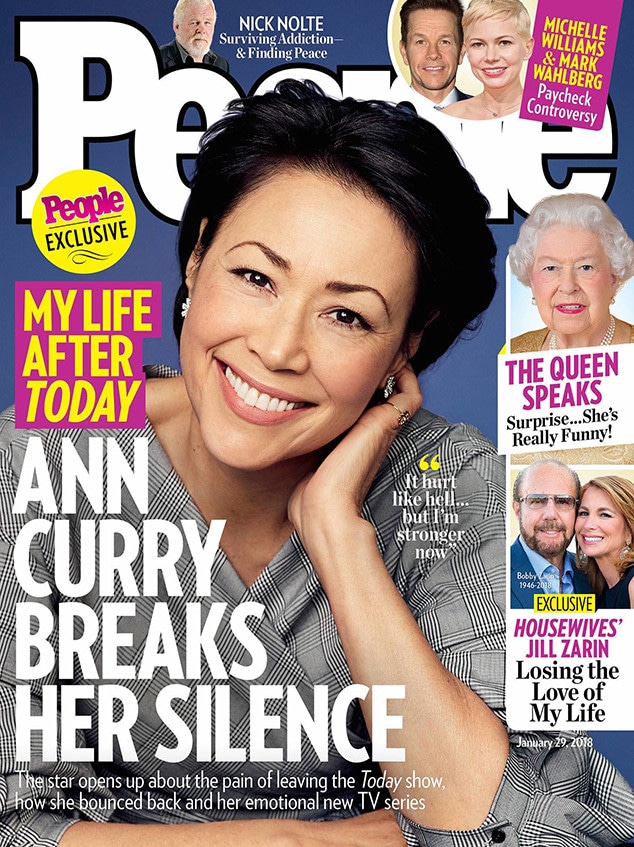 People
Today, Ann Curry is doing better than ever.
It's been five years since the journalist left NBC's Today, and now, for the first time ever, she's finally ready to talk about it. "It hurt like hell...but I'm stronger now," she says in People's Jan. 29 issue, on newsstands Friday. Curry, who reportedly lacked "chemistry" with Matt Lauer, is not bitter about her exit. "I'm not going to say it wasn't hard," she admits. "But I had to let go."
Curry says she eventually learned to look for life lessons in every experience, "no matter how bad," by embracing them with "arms wide open." Do that, she says, and "that's when you rise."
In 2015, after nearly 25 years, Curry left NBC News and founded a multi-platform media startup. She will return to TV Jan. 23 with the new six-part PBS docu-series We'll Meet Again, and she will sit down for her first TV interview Wednesday on CBS This Morning. In her People cover story, the journalist also shares her reaction to the Matt Lauer sexual misconduct scandal that led to his termination. "Most of the men I've worked with have been exemplary," Curry says. "I feel real hope that change is coming, that our daughters are not going to have to face what the majority of women in this country who've entered the workplace have had to face."
Lauer said in November that he was "embarrassed and ashamed" by his behavior, but maintained that some of the allegations against him were "untrue or mischaracterized." At the time, Curry told People she was still "processing" the news about her former colleague. "The women's movement got us into the workplace, but it didn't make us safe once we got there. And the battle lines are now clear. We need to move this revolution forward and make our workplaces safe. Corporate America is quite clearly failing to do so, and unless it does something to change that, we need to keep doing more ourselves," she said. "I admire the women who have been willing to speak up both anonymously and on the record. Those women need to keep their jobs, and all women need to be able to work, to be able to thrive, without fear. This kind of behavior exists across industries, and it is so long overdue for it to stop..."
(E! and NBC are both members of the NBCUniversal family.)